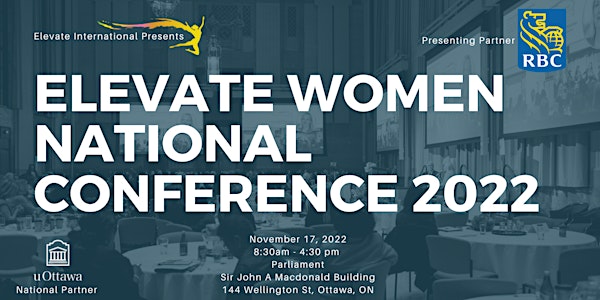 Elevate Women National Conference 2022
The Elevate Women National Conference is hosted in honour of Persons Day with the purpose to advance women's leadership in Canada.
When and where
Location
Parliament Hill Sir John A Macdonald Building 144 Wellington St Ottawa, ON K1P 5B9 Canada
About this event
This is an Officially Sold Out Event! Join us for Part 2 - An evening reception and poweful conversation on Women's Economic Power! If you are an entrepreur, you won't want to miss our fireside chat with the amazingly brilliant Vicki Saunders, Founder of Coralus (SheEO)
Registrations are still open - https://elevateeconomicpower.eventbrite.com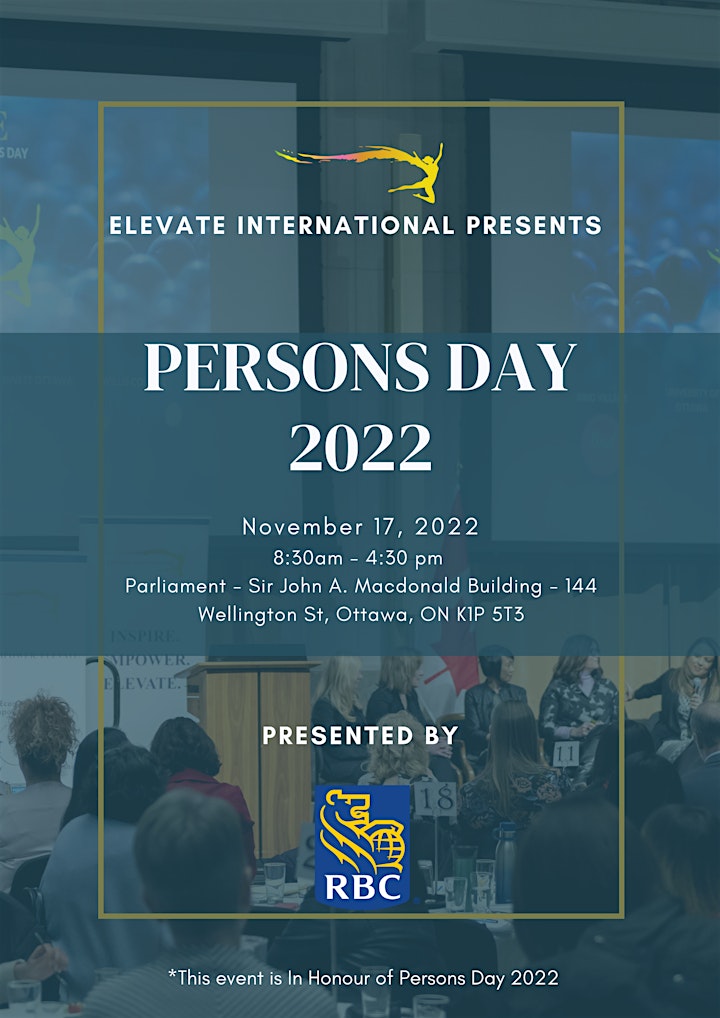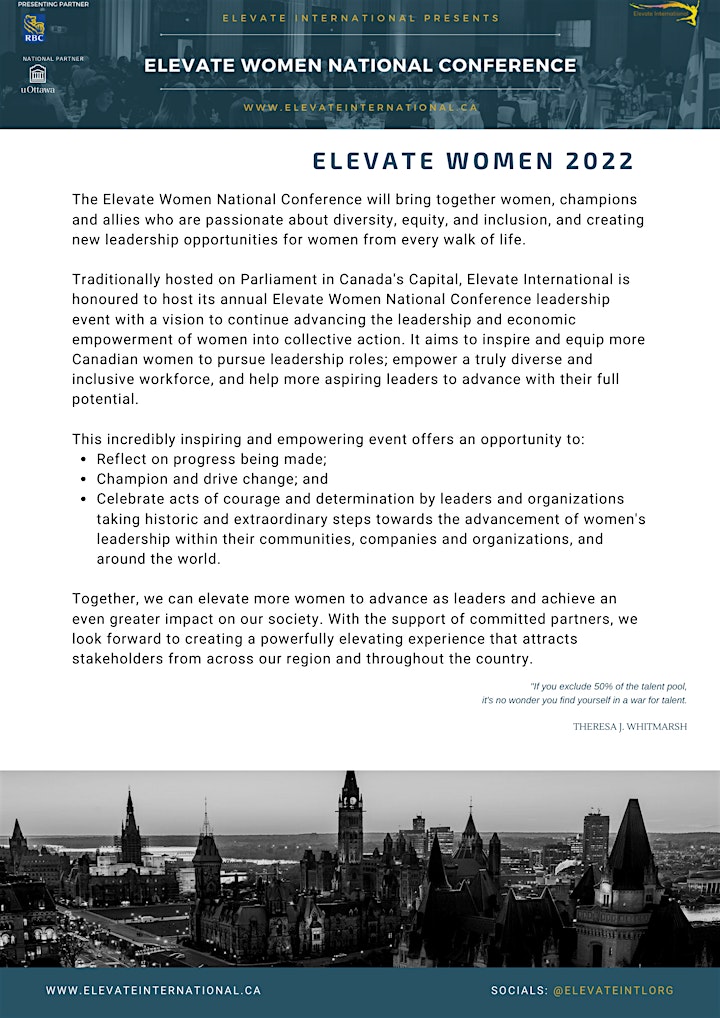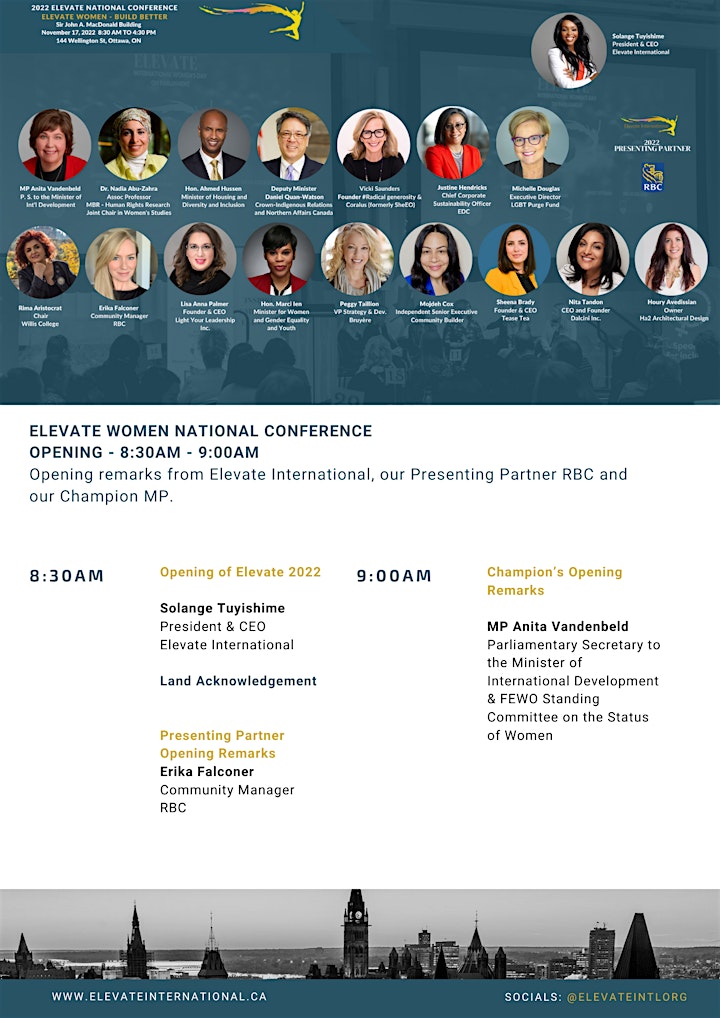 Elevate Women Part 1: LEADERSHIP
9:00AM - 11:00AM (EST)
How do we help leaders and organizations nurture and retain the very leaders the world needs right now.
Even before COVID-19, women were playing on an uneven field. Global data shows that women are underrepresented at all levels of decision-making worldwide, and achieving gender parity in political life is far off. In Canada, the proportion of women executive officers increased slightly to 18.2% from 17% last year, but is largely unchanged since 2015.
This session will:
Explore current challenges and best practices that are shaping the culture within organizations and leadership team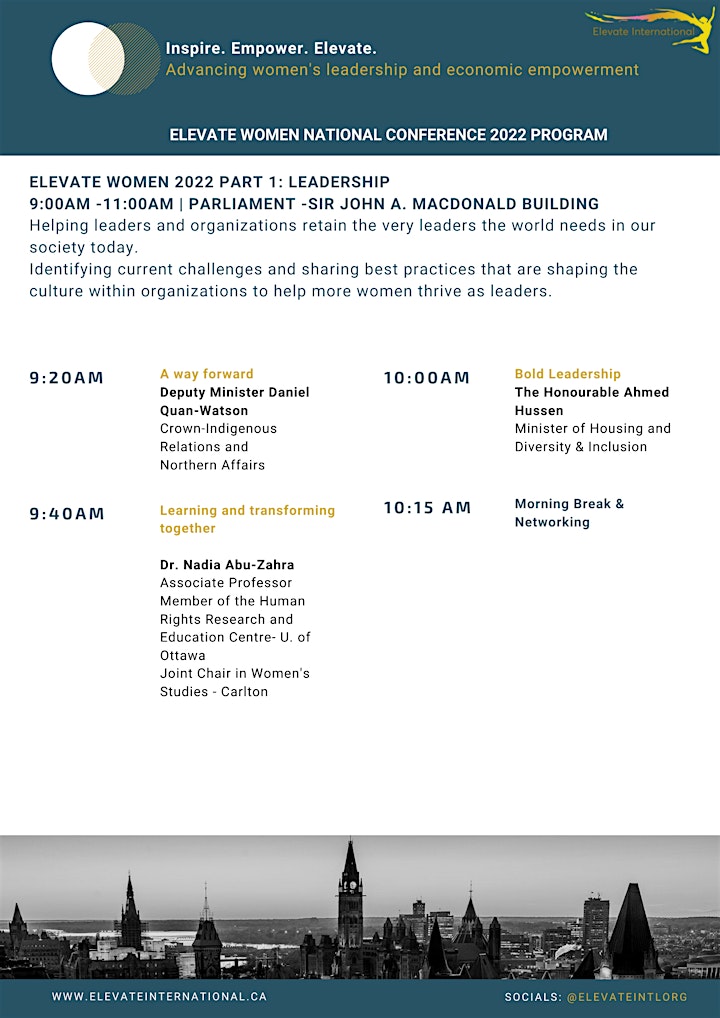 Elevate Women Part 2: ECONOMIC EMPOWERMENT
11:00AM - 12:00PM (EST)
According to McKinsey & Co., Canada's economy could achieve $150 Billion in incremental GDP by 2026 by prioritizing gender parity. Our nation must increase the women in high-productivity sectors to seize this economic opportunity.
This session will stimulate important dialogue on women's economic growth and scaling oportunities.
It will bring together the experiences women entrepreneurs who will offer inspiration and actionable insight on opportunities to drive change and take action from strategies to successes, challenges, personal journeys, lessons learned and recommendations.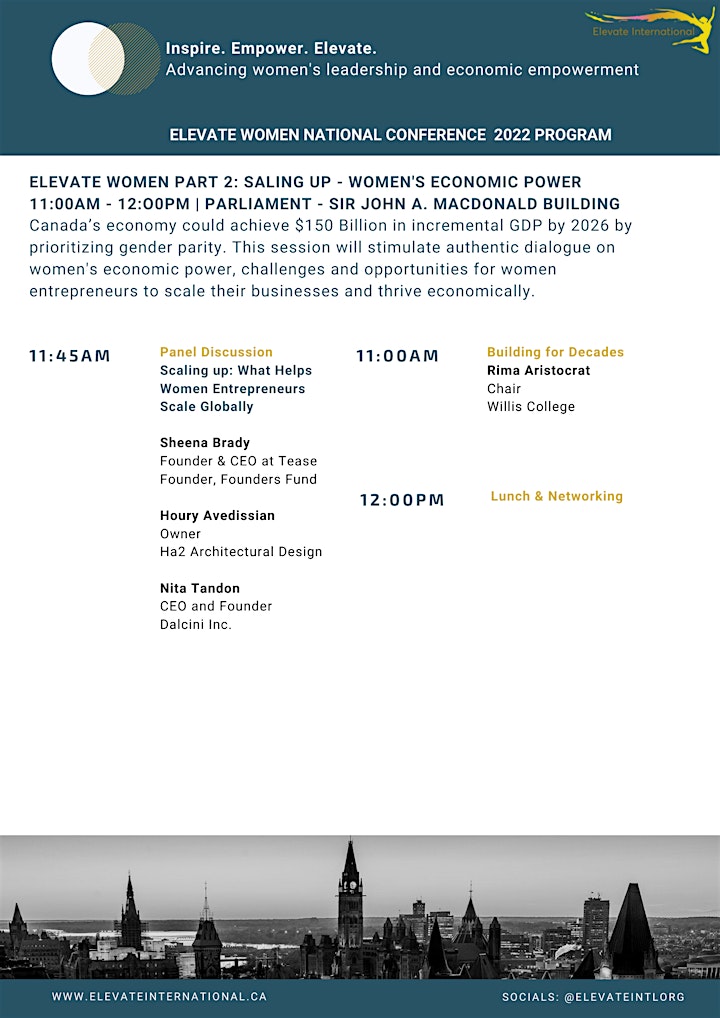 Elevate Women Part 3: Build Better - Women's Leadership
1:00PM - 3:00PM (EST)
A More Equal World
2020 marked the twenty-fifth anniversary of the Beijing Platform for Action, intended to be groundbreaking for gender equality. Instead, there has been very limited gains in the past decades.
A conversation with women in senior leadership positions from various sectors sharing experiences, insights and critical challenges facing women's leadership today and how we can invest in effective solutions for long-term change. Recovery must lead to a more equal world that is more resilient to future crises.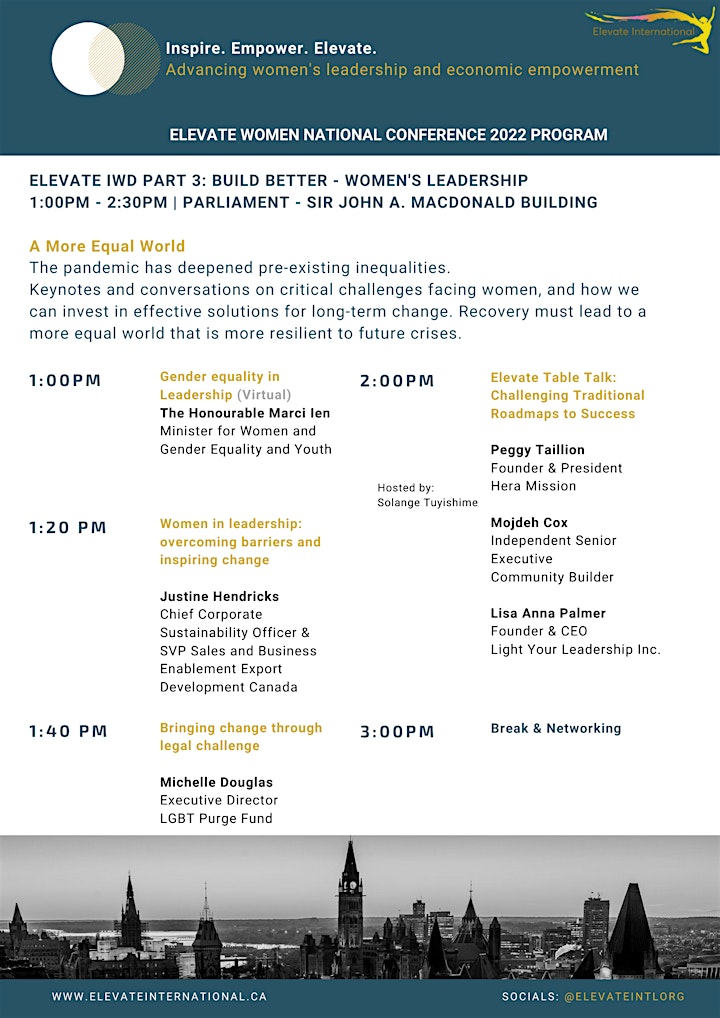 Elevate Women Part 4 - Driving Change: #TakingBoldSteps
3:00PM - 4:30PM (EST)
We are pleased to welcome the amazingly brilliant Vicki Saunders, Founder of Coralus (SheEO) as our closing keynote speaker.
Breaking the bias will be imperative to building better:
Women continue to face a "broken rung" at the first step up to manager
Women of colour lose ground at every step in the pipeline - women of colour continue to face significant bias and discrimination at work.
Asian women are often unfairly overlooked at work.
Women with disabilities are often overlooked and undervalued in their workplaces.
LGBTQ+ often face disrespectful and "othering" behavior in their workplaces.
Latinas are less likely than other women to have a high degree of flexibility in their jobs, which makes balancing work and life especially difficult.
Indigenous women face the triple burden of discrimination when advancing in leadership ranks
By almost any measure, Black women are facing disproportionately high barriers in the workplace.
Vicki will be sharing lived experiences, knowledge and insights to inspire companies, organization, communities and society as a whole to continue building a more equal society - particularly for women in leadership and in business.