Event Information
Refund Policy
Contact the organizer to request a refund.
Eventbrite's fee is nonrefundable.
Global AfroLatinX Ecstatic Dance Experience
About this Event
Ecstatic Dance En Un Mundo Maya and Sol Vida Worldwide invite you to this virtual encounter and body exploration, which invites you to be part of a moving meditation experience, where intention, music and movement free us from a systematic and social structure to meet our inner being and redirect the way we think, feel and interact individually and collectively.
Divine Booty Shaking
+
Danza Libre!
Fortify your body, mind and spirit. Excavate your emotions, transform your energy, release frustration, and attune to your personal rhythm in this workshop.
Led by dj Mandy Joha (Guatemala) and Axé (United States)
Workshop Format:
Welcome ///Nawal Reading of the Day (Mayan Astrology)/// Movement Workshop/// Ecstatic Dance///Meditation/// Gratitude
Opening (Greetings, Intros - Name + Location)
SOL VIDA™ Dancing Mantra Movement Workshop with Axé. Learn an original choreographic meditation infused with the Mayan Nawal energy of the day. All levels of dancers can be nourished. SOL VIDA™ fuses form and freedom mixing up cross-cultural, contemporary and conscious dance forms for empowerment and holistic transformation. Release your mind, have fun, and get free in your body! #DivineBootyShaking
ECSTATIC DANCE with dj Mandy Joha. Free yourself. Live the present. Love. Dance and enjoy your universe. #DanzaLibre
Closing (Meditation/Gratitude)
October Dates: 10/10 (Tz'i) + 10/24 (K'at)
Tme:
10 am PST
11 am GMT / MST
1 pm EST
7 pm CEST
Find your timezone here: https://www.thetimezoneconverter.com/
Location: Online- Facebook Rooms (Facebook's version of Zoom. You do not have to download anything special to participate.)
Cost: $5-55 Abundance Offering
($5, $11, $22, $33 or $55)
Reserve your space: Link will be sent via email and posted in Facebook event discussion just before the event starts.
For the workshop:
~Find an open/ private space
~Yoga mat (optional)
~Plug in a speaker or use hands free headphones for better sound quality
~Wear comfortable clothes/ clothes that make you feel good. Layers are recommended...
~Add candles if you like
~Use essential oil and/or light incense to clear your space.
~ Please silence your sound during the workshop and free dance.
~Come as you are.
ALL ARE WELCOME HERE. You will hear Spanish and English here. We will speak the universal languages of music and dance.
About Your Guides:
Mandy Joha is a Guatemalan multidisciplinary artist, who uses music and movement as a portal to enter our essence, she uses Ecstatic Dance with a structure of the 5Rhythms of (Gabrielle Roth) is the methodology that this artist shares with us, it is a practice that leads us to be more in the present a fun cathartic work through free dance that seeks to teach how to travel within ourselves and thus be able to inhabit our bodies (physical, mental, spiritual, emotional and energetic) a way of empowerment.
April Axé Charmaine
She/They. Axé is devoted to creating safe spaces for authentic expression and embodied social justice on a global level is a seasoned holistic performing arts educator, choreographer, leader, and fusion artivist who carries embodied wisdom from lineages in Ghanaian Dance, Symbology of The Orixas, SomaSourceⓇ, 5 Rhythms, Ecstatic Movement, Laban Technique, Ballet, Jazz, Musical Theatre, Spoken Word, Guerilla Theatre, Performance Art, Yoga, and Modern Dance including Horton, Graham, Dunham and Limon Techniques.
Follow Mandy and Axé on social media for more event and life inspiration.
www.instagram.com/ecstaticdance_mundomaya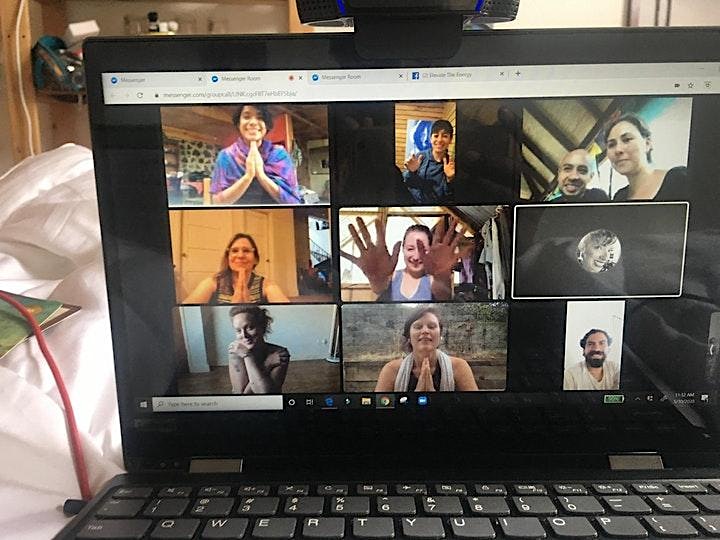 "Thanks for elevating the energy and nourishing my inner dancer." - Bay Area participant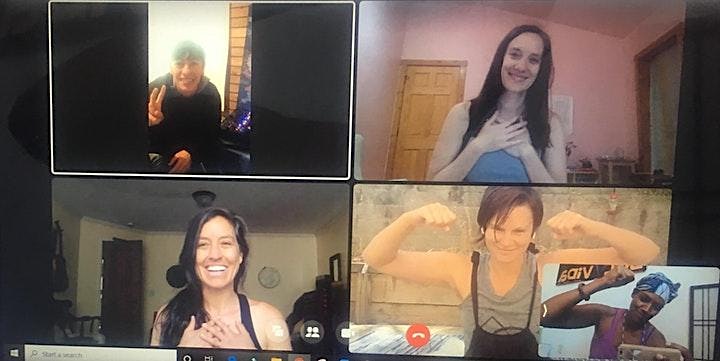 "Just want to thank you so much for providing this space for dancers to express and just let go. I really need this today and I believe everything happens for a reason. I really needed to reconnect to dance and be reminded about why I dance and why I need to continue to grow with my dance and creations. Thank you, thank you, thank you!!!" - Denver dancer
Date and Time
Location
Refund Policy
Contact the organizer to request a refund.
Eventbrite's fee is nonrefundable.