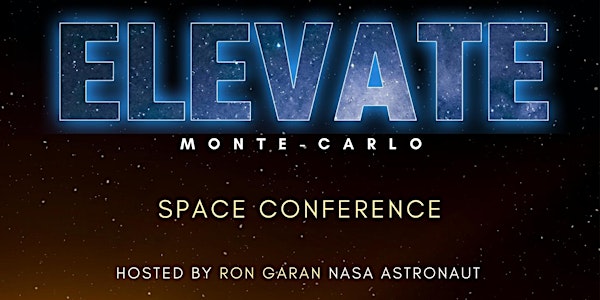 ELEVATE Space Presentation for Children
Free of charge space session for local Children with NASA Astronaut, Ron Garan. Contact: info@elevatemontecarlo.com
When and where
Location
One Monte-Carlo 1 Place du Casino 98000 Monaco Monaco
About this event
Supporting local students, Monaco resident Zsolt Szemerszky invited NASA astronaut, Colonel Ron Garan to visit the Principality of Monaco on the 2nd of November and inspire them with amazing stories of spaceflights and spacewalks from his journey beyond the edge of space.
Learning about space has become more important in local education too, as in some local establishments children are studying space science for the first time this year.
Recommended age: 7-17.
PROGRAM:
02 November, 2022 . One Monte-Carlo Business Center
09:30 - 11:00 . Free of charge space session for local children, a great opportunity to meet a NASA Astronaut and ask their questions at One Monte-Carlo.
MEET & GREETS OF A NASA ASTRONAUT
SPACE TRAVEL & LIFE IN SPACE
THE ORBITAL PERSPECTIVE
AUDIENCE QUESTIONS
The participation is free of charge for local student. Pre-registration is required due to the limited space.
Contact: info@elevatemontecarlo.com
Space and innovation are highly important nowadays, the government also entered into the Space Race with the Creation of a Bureau of Space Affairs. Through his interactive presentation and storytelling, using his fascinating experiences, Ron Garan will share his experiences of his space travel.
"My goal was to bring an authentic voice to the Principality of Monaco who can deliver a renewed sense of awe and wonder, someone who actually has experienced living in the space station. Many people and future space tourists want to represent this industry but learning from someone like Ron, who has spent 178 days in space, and has accomplished four spacewalks is a special opportunity." - Zsolt Szemerszky, founder of the ELEVATE Space Conference.
Having enjoyed an illustrious career that has cemented Colonel Ron Garan's place as one of the world's most influential individuals, the iconic father of three is a decorated NASA astronaut, fighter pilot and test pilot, humanitarian, and social entrepreneur.
From that thrilling first launch, to what it was like for him to step out into space on his very first spacewalk, Ron's interactive presentation and storytelling will make you feel like you're traveling with him on these incredible journeys.
You'll be sitting in awe as he describes what it felt like when leaving Earth for the very first time or seeing the beauty we never imagined could exist outside our planet.
The conference is built up around this breathtaking 71 million miles space journey of wonder and inspiration with Ron to understand what we are capable to achieve together in unity and peace.
"Not so long ago a fellow Monaco resident presented to me a letter from the late Chilean philosopher, Darío Salas Sommer who is known especially for his exploration of moral aspects of human life and personal development. A message that is so timely in our troubled times that he decided to incorporate it to leave a bold impact on the next generation. The event is about awe and wonder, as well as leaving a positive footprint," - says Zsolt Szemerszky, founder of the ELEVATE Space Conference.