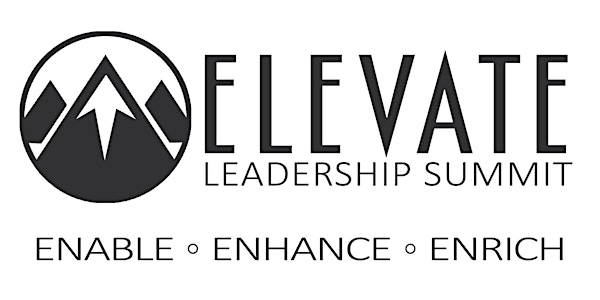 Elevate Leadership Summit 2021
Leaders at all levels - The Elevate Leadership Summit seeks to take attendees from strategy to execution.
When and where
Location
ISU Pond Student Union 1065 Cesar Chavez Ave Pocatello, ID 83209
About this event
The purpose of this event is to increase networking and collaboration opportunities, increase professional leadership and development skills, and provide opportunities for innovation in their organizations. It will foster collaboration between managers and their employees, encourage the development of new ideas at all levels, and allow attendees to effectively align strategy with execution.
The Elevate Leadership Summit will:
Enable communication and teambuilding
Enhance employee motivation
Enrich leadership skills at every level within your organization
This event will be held on Thursday, Sept 9, 2021, from 8:30 a.m. – 4:30 p.m. at the ISU Pond Student Union. Doors open at 8:00 a.m. with coffee and light snacks provided prior. Plan on staying afterwards for the Pocatello-Chubbuck Chamber of Commerce After-Hours event immediately following for extra networking opportunities. 
Tickets:
General Registration $200
***Each registered attendee will be eligible to receive a free professional headshot at the event***
This year we are excited to announce that the event will feature Larry Gelwix as our keynote speaker!
Larry Gelwix is known as "The Winningest Coach in America" from his service as the volunteer Head Coach of the Highland Rugby team for 36 years. The team's success and varsity record of 418 wins and just 10 loses, including 20 national championships, caught the attention of Hollywood which produced a major motion picture, "Forever Strong", which tells the true life story of Coach Gelwix and the Highland team. Gelwix was also the subject of a documentary entitled, "Larry Gelwix: No Regrets", which won an Emmy Award for "Best Documentary" and has aired on national television. Fox News and other national media have labeled Coach Gelwix as the "Winningest Coach in America".
Larry was born and raised in San Francisco. He received his Masters degree in Organizational Communications from Brigham Young University where he also played on the rugby team. Larry's professional career is in the airline and travel industry. He owned one of the largest travel agencies in the country, formerly served as an airline CEO, is a published author, and the recipient of numerous awards, honors, and distinctions. Coach Gelwix hosts a syndicated radio talk show and is the feature of a weekly TV news report on the local CBS network affiliate.
As a volunteer, Larry coached varsity football and for 36 years coached the Highland Rugby team. The team attracted 200+ players each year grades 7 through 12 and featured 15 coaches and five different teams. Coach Gelwix and the Highland team qualified for the World Schools Rugby Championship in Zimbabwe, Africa, which featured the national school champion teams from around the world and came home with a bronze medal and third place world finish.
Coach Gelwix has addressed conventions, seminars, groups, corporate meetings, university commencements, and conducted training sessions across the country and around the world on leadership, ethics, and universal moral values that contribute to sustainable success. A highly sought after speaker, his travels and presentations have taken him to over 100 countries around the globe. Coach Gelwix is a master storyteller and electrifies audiences with his combination of wit, wisdom, and practical leadership skills.
Please feel free to contact us with questions or concerns regarding the Elevate Leadership Summit.