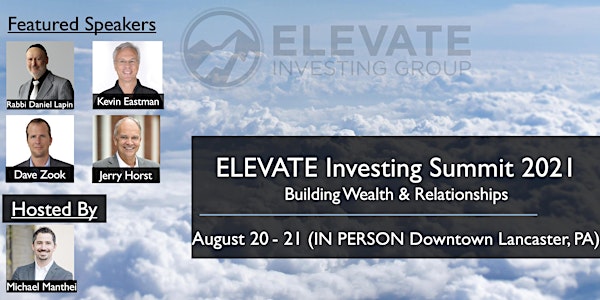 ELEVATE Investing Summit 2021 - Building Wealth & Relationships
Wealth strategies for today's environment, plus focused relationship building time to help you connect with the other amazing attendees!
When and where
Location
Lancaster Marriott at Penn Square 25 South Queen Street Lancaster, PA 17603
Refund Policy
Contact the organizer to request a refund.
Eventbrite's fee is nonrefundable.
About this event
I'm so excited to announce our 3rd Annual ELEVATE Investing Summit!!!
August 20 & 21 we will be back at the Downtown Marriott in Lancaster PA for TWO PACKED days of life-changing content, wealth strategies, and relationship building opportunities.
And for this event, we are going to shake things up a bit ...
Each speaker at our event is coming IN-PERSON and there will be no online streaming of this event. That means 100% of the focus will be on those who invest in themselves and are IN THE ROOM!!
Not only that, but we are restructuring the schedule to include specific relationship building time, to encourage relationships and connections for you with the other attendees.
This is such a huge factor to success. Every year we hear about deals, partnerships, and life long friendships that blossom at our event. So this year we are creating extra space for this and you won't want to miss it!
After more than a year of seclusion, Zoom meetings, and "online only" events, people are ready to re-engage, meet other like minded folks, and take hold of their financial future. So in addition to life changing content shared from the stage, we will have built in activities to help you engage with and build relationships with other attendees.
It's going to be powerful!
Our speakers:
- Kevin Eastman, NBA Champion Coach with over 40 years experience - Author of the bestselling book "Why the Best Are The Best", Kevin is known as a thought leader in the basketball and sports world. He has spent a lifetime studying the best of the best and shares these powerful mindsets, strategies, habits, and routines so that you can be your best too. Kevin carries profound wisdom and I'm so excited he's joining us!!!!
- Rabbi Daniel Lapin is coming back! This man carries so much wisdom and I am thrilled he can join us again! Known worldwide as "America's Rabbi", RDL is a frequent guest on Fox News and other outlets where he condenses 3000 years of Hebrew wisdom to help you improve your Family, Faith, and Finances!
- Dave Zook, The Real Asset Investor – Successful Business Owner, Investor, and Tax Strategist who's helped investors place over $250,000,000 in real assets! I always learn and grow when I'm around Dave.
- Dave Van Horn, PPR Note Company - Veteran investor for over 30 years, Dave is the CEO of a +$150mm company managing funds that buy, sell, and hold residential mortgages (notes) nationwide. This will be Dave's first event with us!
- April Crossley, Lazy Girl REI - April is a very accomplished investor who cuts out all fluff and gives it to you straight. She's been successful flipping houses, wholesaling, private lending, and syndicating. Her authenticity is inspiring!
- Jerry Horst, Vanguard Development Group - 40 year veteran developer and builder, Jerry is also an amazing philosopher who has a way of connecting business, wealth, family, and purpose in a way that leaves listeners changed!
- Chad Gallagher, Chief Investment Officer for Home365 - Co-Founder of one of the nation's largest and fastest growing scattered site property management companies, Chad brings a unique background of disruptive technology to investing. Get ready to have your mind expanded as you learn how technology is being used to transform industries!
- other speakers yet to be announced!!!!!
Our theme this year is Building Wealth & Relationships.
Join us August 20-21 to learn wealth building strategies, while also building relationships with like-minded individuals from around the country. I have talked to a lot of our members who feel isolated and can hardly wait for the energy, inspiration, and new connections that come from uniting at a live event.
A few of the topics we will cover:
- How the wealthiest investors are allocating their assets now.
- Proven principles and tactics used by the best of the best and how you can apply them in your life.
- How to identify attractive investment opportunities.
- Tax strategies that allow you to keep more of what you earn and compound your wealth.
- Technology disruptions on the horizon and how to prepare.
- Critical mindsets from the people group with the highest wealth per capita.
- How to profit from the debt side of real estate (notes), not just the equity side.
- How wealth is a positive and noble pursuit that empowers you to serve!
- and many many more.
I am SO EXCITED to see you and the rest of our friends and members!! Feels so good for travel restrictions to be lifting and to join together again.
With the pent-up demand for in-person events, I am expecting a large response to a positive and uplifting gathering like ours.
The surest way to know you can get a ticket is to move quickly. Our past events have sold out, and with the pent up demand for live events, we are expecting this one will as well! Don't miss it, buy your ticket today!
Lastly, thanks to our amazing members, we have raised over $187,000 through our last two events to build orphanages and combat human trafficking! Amazing!!!!!
Through this year's Summit, we are partnering with an amazing work happening in Ethiopia called Omo Child, which is saving children in Ethiopia who would otherwise die (see documentary on Amazon Prime Video called "Omo Child"). Donation and silent auction opportunities will be available (no obligation).
I can hardly wait to host and experience this event together with you!!! It's time to rise up into all we've been created to be, get equipped to a greater degree, connect with others aligned in purpose, and go impact the world!!
Michael Manthei
& the ELEVATE Team
PS: If you have any concern over the value of this event, allow me to absorb all risk: if at any point throughout the event you don't feel you've received more than the value of your ticket, talk to any member of my team and we will refund 100% of your purchase, no questions asked or forms to fill out. And as my gift to you, keep your bonuses and access to our past Summits. I believe in my events wholeheartedly and will stand behind them fully, or your money back.