About this Event
Development of hardware products (electronics, mechanical, software) has challenges and complexities that don't apply to other types of products. This masterclass will cover the development process for hardware products, including details about each development stage, and how to maximise outcomes as well as reduce risks and costs.
By the end of the masterclass you will have a better understanding of:
The typical stages in the development of hardware products
The key activities, outputs and deliverables required at each stage
The importance of documenting product requirements early
How to maximise outcomes from your product development effort
There'll also be opportunities to network with other hardware innovators over refreshments.
Guest Speakers:
HardworX - Vela Georgiev
Tekt Industries - Matthew Adams
Outerspace Design - David Menzies
Who should attend?
To kick off our educational series, this masterclass will give an overview of the full product development process and is suitable for:
Hardware innovators at any stage in their journey, but especially those who are entering into the "Design It", "Produce It" phase
Entrepreneurs, investors, engineers, makers, accelerator managers, students who are interested in learning more about the hardware product development process. No prior knowledge assumed.
Scholarships
We have scholarships available to help enable the participation of underrepresented* groups in the startup ecosystem and science, technology, engineering, manufacturing and/or supply chain fields. We encourage any interested person to apply for our scholarships, and we support a diverse, flexible and inclusive learning environment.
* Underrepresented groups include, but are not limited to: those identifying as female, people of colour, LGBTQIA+ people. Regional participants are also encouraged to apply.
To express your interest and enquire about your eligibility for a scholarship please email hello@elevatehardware.com and include a short paragraph on why you are applying for a scholarship.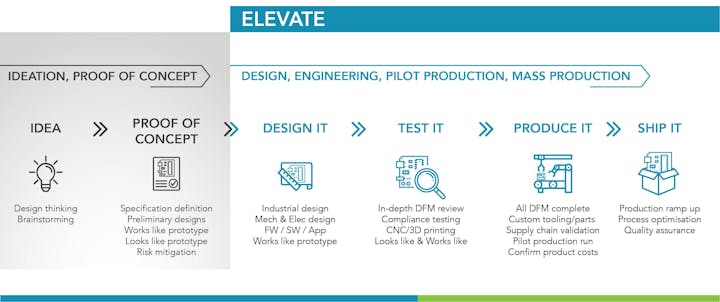 ABOUT ELEVATE
ELEVATE - Created by Western BACE and HardworX - is a twelve month education series to support Victorian founders who have a desire to design, create, bring to market and mass manufacture a hardware product. The hardware focused series will consist of meetups, masterclasses, bootcamps, 1-1 expert support and an in depth innovation tour of the Melbourne Hardware ecosystem. ELEVATE will focus on demystifying product design, manufacturing and supply chain.
ELEVATE will be delivered as a not-for-profit, community-driven series with content created by hardware innovators for hardware innovators.
For more information regarding ELEVATE and register to be the first in the know when the program is rolled out, visit elevatehardware.com
ELEVATE - Taking Hardware from Concept to Commercialisation is proudly supported by LaunchVic.