Discover what the accelerating trend toward stakeholder capitalism means. Prepare to stay relevant in investment, consumer & talent markets
About this event
Have you noticed that something is shifting in business? When the Business Roundtable proclaimed the purpose of business is to bring value to its stakeholders, they put a stake in the ground for the next decade and more. The changes will be significant across every level of business.
This conference will help you discover what this accelerating trend toward stakeholder capitalism means for you and pinpoint next steps to keep you relevant in investment, consumer, and talent markets.
Embrace the shift to stakeholder capitalism
Maintain and grow profits
Attract investors
Build heart into your business
Become a triple bottom line business
EXPLORE AND LEARN - Get ready for the triple bottom line reality. Take away ideas and practical next steps from experts on investment, lending, and issues related to "human capital."
BUILD COMMUNITY - Connect with local companies, business partners, and professionals who commit to making business a force for good in the world.
INSPIRE, INVOLVE, AND EMPOWER - Ignite your passion for positive business and decide your next steps to apply these practices in your own business or team.
Highlights include:
Top-notch talent, keynote presenters, and featured speakers!
Master of Ceremonies - Corey Blake, celebrated speaker, artist, and storyteller; Publisher of Conscious Capitalism Press, Founder and CEO of Round Table Companies (RTC).
Keynote Presenters
The event begins with a video Welcome message from U.S. Senator Ron Wyden followed by our keynote presentations:
With a deep background in law, business and philosophy, John Montgomery, CEO of Lex Ultima and Benefit Corporation pioneer, is a national leader in transforming capitalism toward a new paradigm of social impact.
Drs. Dean and Linda Anderson, CEO and VP of Being First, Inc. are the pioneers of Conscious Change Leadership, an advanced body of work that integrates the inner work of personal transformation and mindfulness with an advanced organizational change methodology.
Featured Speakers
The day is filled with local leaders speaking on topics to guide direction and action toward stakeholder capitalism.
A Case Study from NW Natural
Serilda Summers-McGee, Founder and Principal of Workplace Change, LLC
Craig Hill, VP, Client & Treasury Manager at Beneficial State Bank and Certification Chair at B Local PDX
Andrew Nelson, Director of Workplace Advisory at human investing, inc.
Matt Mylet, Vice President, Relationship Manager at Beneficial State Bank
Jake Kindrachuk, Partner, Village Family Capital
Kymm Nelsen, Co-Founder & Co-Chair, Conscious Capitalism Portland
Vawn Hicks, Co-Chair & Marketing Manager, Conscious Capitalism Portland
Matthew Koren, Partnership Manager, Conscious Capitalism Portland
Abby Schwalb, Conscious Capitalism, Inc.
and more!
CEOs, executives, entrepreneurs, and changemakers from the Pacific NW and beyond who will share their stories and case studies.
Practical activities to help you and your business start/move forward on your conscious business journey.
Opportunities to interact, connect, and share experiences with other purpose-driven professionals from the Portland business community.
Continental breakfast, sack lunch, and snacks provided from local companies.
Visit the ELEVATE Business website to learn more about the schedule and other details to plan your day. Read our Coronavirus Update.
Why Portland and Oregon?
Oregon's business landscape is comprised of a variety of urban and rural business communities. Portland is home to a number of iconic brands and celebrated companies that represent a higher purpose in business by supporting social enterprise, amazing cultures, stakeholder engagement, and conscious leadership. Companies such as NW Natural, Keen Shoes, Oregon Chai, Ruby, Dave's Killer Bread, XPlane, New Seasons Market, Salt & Straw, Nossa Familia Coffee, and many more represent progressive, positive business in our community. Our dedicated rural small businesses are the heart of opportunity and growth for our wider communities.
Over 2200 Oregon companies have adopted Oregon's Benefit Corporation legal structure and Portland has the most active Certified B Corp community in the US. Numerous other companies are dedicated to sustainable practices, integrated social responsibility programs, and creating great workplaces for their employees. Together, we represent a community that strives for a triple bottom line and to elevate business to new levels of service to humanity.
Sponsorship Opportunities
A variety of sponsorship opportunities are available for the ELEVATE Business 2020 conference. Please contact Kymm Nelsen at kymm.nelsen@portland.consciouscapitalism.org for more information.
Volunteer Opportunities
Update: Thank you! All volunteer positions have been filled.
A limited number of volunteer opportunities are available in exchange for a reduced cost or free conference ticket. Please contact stephanie.maul@gmail.com and indicate you want to volunteer for ELEVATE Business 2020. We'll get back to you as soon as possible.
Supporting Diversity
We especially encourage leaders and changemakers from underrepresented groups to join us. If you are a member of the community with historical/institutional barriers to access or who may be precluded from attending due to ticket cost please contact vawn.hicks@portland.consciouscapitalism.org. These include (but are not limited to) individuals who live on a fixed income or experience ongoing financial hardship, individuals living with a disability or impairment, military veterans, and students. This includes individuals whose attendance would contribute to diversity and equity at the conference, including people of color and LGBTQ+ identifying individuals. We are only able to offer a limited number of these discounts and therefore request that attendees hold space for individuals who identify with this.
If you have any questions on whether you meet these criteria or if ticket cost is a barrier to your participation, please contact Vawn Hicks at vawn.hicks@portland.consciouscapitalism.org.
Nearby Accommodations
Hotel Eastlund (1021 NE Grand Ave.) Sophisticated hotel offering chic rooms, a rooftop bar/eatery & a cafe, plus a gym.
DoubleTree by Hilton (1000 NE Multnomah St.) Classic hotel with modern rooms, pool, fitness center, 2 restaurants & business center.
KEX (100 NE Martin Luther King Jr Blvd.) Refined dorms & private rooms in a trendy hostel with a restaurant, a shared kitchen, & a sauna.
The Jupiter (800 E Burnside St.) Midcentury motor inn-turned-stylish hotel with an art gallery & a woodsy-chic bar with live music.
Jupiter NEXT (900 E Burnside St.) Trendy boutique hotel offering city views & dining, plus a lively concert hall & a bar.
Thanks to our generous Sponsors!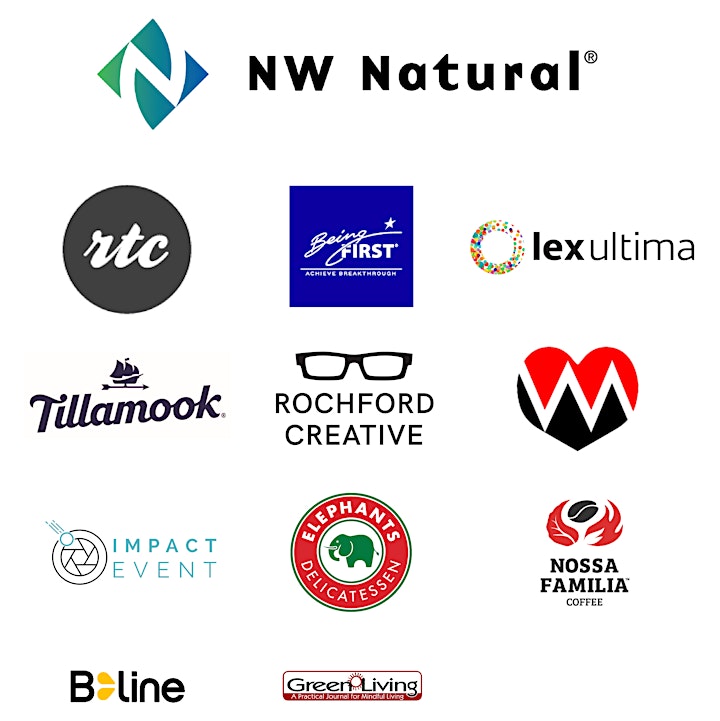 Collaborating Organizations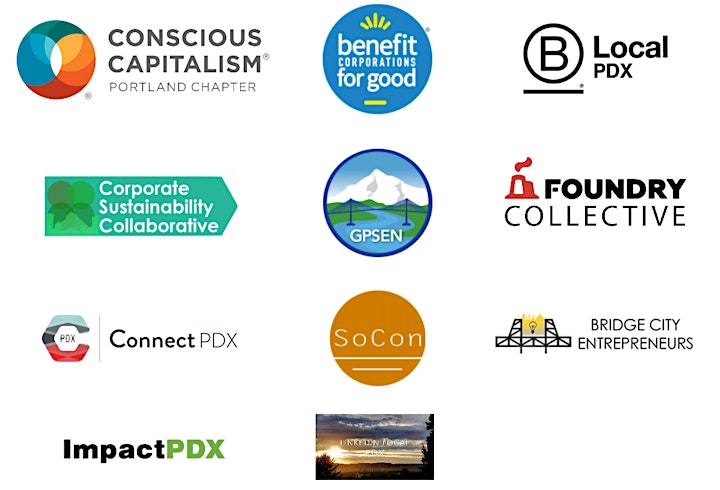 About Conscious Capitalism Portland
Conscious Capitalism Portland is the local chapter of Conscious Capitalism Inc., a global movement helping forward-thinking leaders reframe the way they do business to focus on its higher purpose, embrace the interests of all stakeholders, and bring consciousness to leadership and business culture.
CCPortland serves the Portland metro area, Salem, NW Oregon, Vancouver, WA, Clark County, WA, and SW Washington. We help connect, educate, and inspire businesses, organizations, and individuals who share a commitment to elevate humanity through business. CCPortland is a volunteer-run 501(c)3 non-profit organization. Learn more about our chapter at ConsciousCapitalism.org/portland.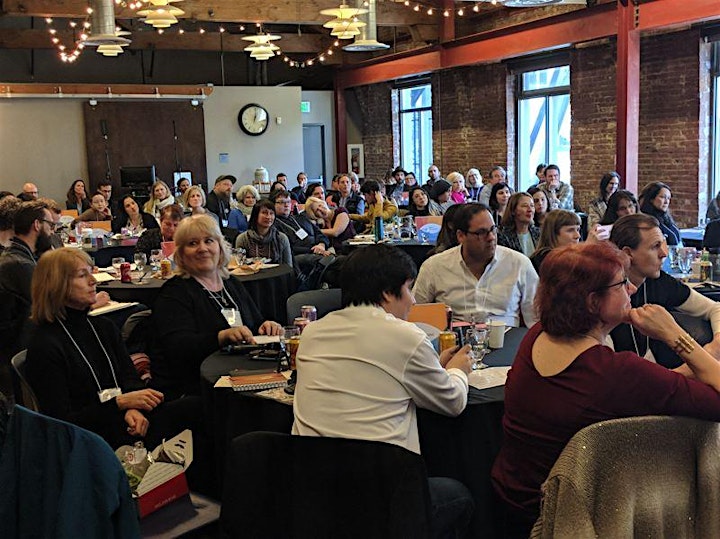 ELEVATE Business 2018 Conference
Photo Credit: PAMPLIN MEDIA GROUP/JOSEPH GALLIVAN