GET THE REAL-TALK LEADERSHIP DEVELOPMENT ADVICE YOU NEED AT THIS STAGE IN YOUR CAREER.
About this event
Navigate your career with insights from over 40 speakers on what matters now: leadership, engineering, mental health, inclusion, social change & much more.
Celebrate International Women's Day with thousands of women & allies at the 5th annual ELEVATE virtual conference on March 8th, 2022. Tune in to the live-stream event!
9:00 AM (Pacific) - Welcome to Elevate 2022!
Celebrate International Women's Day with the team behind Girl Geek X – Angie Chang and Sukrutha Bhadouria. Join us online as we share our motivations for creating this conference for mid-to-senior career level women – and why it's so important.
🔥 Angie Chang - CEO & Founder at Girl Geek X
🔥 Sukrutha Bhadouria - CTO & Co-Founder at Girl Geek X
9:10 AM (Pacific) - Morning Keynote: Decision-Making at Scale
How do you know what is the "right" decision? Which actions are easily reversible and which cause irreparable harm? In this session, Arquay will discuss techniques that can aid you in making decisions at scale.
🔥 Arquay Harris - VP of Engineering at Webflow
9:40 AM (Pacific) - How to Get the Promotion You Deserve
Do you talk about your achievements in a way that comfortably gives recognition to yourself and others while providing communication value to others? Self-promotion provides visibility around your specific impact at the company, which could grant you further opportunities and investment from leadership.
🔥 Ali Littman - Director of Engineering at Modern Health
10:00 AM (Pacific) - Let Them Shine: A Different Approach to Hiring
Learn from Camille and Elyse about how Strava rewrote their engineering hiring playbook to support the company's antiracism value and build a diverse team. They will cover the process changes that were implemented as well as how they brought their teams along.
🔥 Camille Tate - Head of Talent at Strava
🔥 Elyse Kolker Gordon - Senior Director of Engineering at Strava
10:20 AM (Pacific) - Transitioning From IC to Manager, and How To Lead If Management is Not For You
Are you considering a transition from Individual Contributor (IC) to Manager for yourself? In this panel, Slack engineers and managers discuss both whether it's the right choice, how to do it successfully and how to do leadership if you don't transition to manager.
🔥 Rukmini Reddy - SVP of Engineering, Platform at Slack
🔥 Tracy Stampfli - Principal Engineer at Slack
🔥 Mina Markham - Staff Software Engineer at Slack
🔥 Brook Shelley - Engineering Manager, Infrastructure at Slack
🔥 Leena Mansour - Engineering Manager, Product Engineering at Slack
10:40 AM (Pacific) - From Culture to Products: Why Diversity in Technology Matters
Executives from Intel will share their first-hand experience about the value of diversity and inclusion in technology from ensuring more bias-free AI to designing consumer and business products and services that consider the broadest possible set of perspectives.
🔥 Caroline Chan - VP, Network & Edge Group at Intel
🔥 Huma Abidi - Senior Director of AI Software Products at Intel
🔥 Hema Chamraj - Director, Technology Advocacy, Ai4Good at Intel
11:00 AM (Pacific) - Riding the Highs and Lows: Navigating Bad Mental Health Days in the Workspace
Have you ever have a day with a big presentation or deliverable at work, but your mental health was just not cooperating? With a mental health condition like bipolar disorder, you tend to have a lot of these bad days and often at inopportune times. There is hope! Learn how to mindfully build a scaffolding with five techniques to hold you up through your highs and lows so you can bring your best to work, every day that you need to.
🔥 Ashu Ravichander - Principal Product Manager at Workday
11:20 AM (Pacific) - Slack Coffee Break ☕ Launching and Leading Cross-Functional Initiatives as an Engineer
You've got a great idea for a large impactful project you'd like to lead, but you don't know how to make it happen. Izzy and Tracy, both lead engineers at Slack, will talk about what they have learned from their experiences heading cross-functional projects and initiatives. We'll discuss how to get buy-in and resources from engineering leadership, techniques for managing the project while it's running, and how to ensure its success.
🔥 Izzy Clemenson - Senior Staff Engineer at Slack
🔥 Tracy Stampfli - Principal Engineer at Slack
11:35 AM (Pacific) - Unique Paths to Machine Learning Careers
MosaicML women talk about the decisions that led them to where they are now. You'll hear about their unique journeys through several tech companies (8 total), including a few unicorns and bluechips, and their reason for joining forces at MosaicML, a new startup focused on making ML Training better, for everyone.
🔥 Julie Choi - Chief Growth Officer at MosaicML
🔥 Laura Florescu - AI Researcher at MosaicML
11:55 AM (Pacific) - Tech is a Team Sport: When Women Lead Everything is Possible
Come hear from two awesome White House tech leaders about the gnarly challenges of government tech, and how they are building a team that is transforming government services for millions by putting people at the center of everything they do.
🔥 Clare Martorana - Federal Chief Information Officer at Office of Management & Budget, Executive Office of the President
🔥 Mina Hsiang - Administrator at United States Digital Service
12:15 PM (Pacific) - Become the Role Model You Wish You Had
Often the only woman in the room for many years, Reeny and Susanna will talk about what it takes to forge your unique path to leadership with consistent and focused work. How do you tackle the subtle constraints? How do navigate the important yet challenging role of allies? How do you recognize your worth and learn to own it?
🔥 Reeny Sondhi - Chief Security Officer at Autodesk
🔥 Susanna Holt - VP of Strategic Technologies at Autodesk
12:35 PM (Pacific) - AWS, GraphQL with Apollo-Vuejs: Simple Technologies that Help Deliver Enterprise-Grade Applications
GraphQL allows consumers to get exactly what they need. In this session, Maria and Divya will cover some GraphQL fundamentals and AppSync, AWS's implementation of GraphQL. Next, we'll explore a Vue.js SPA that leverages the Apollo-Client to connect to AppSync with Cognito. Finally, we will examine how a mixture of AWS services, including S3, Route53, CloudFront, can be leveraged to serve the application safely and reliably.
🔥 Divya Mahajan - Director of Architecture at Fidelity Investments
🔥 Maria Lucena - Director of Architecture at Fidelity Investments
1:10 PM (Pacific) - Afternoon Keynote: #BreakThe Bias: From Work to Mission
The 2022 International Women's Day campaign theme is #BreakTheBias; what does that mean to you? Meet Leyla Seka, a leader who evolved her work into a mission to break the bias. Whether it's raising awareness, smashing stereotypes, challenging prejudice, effecting change, or championing equality, in this session, Leyla will highlight her extraordinary professional journey and inspire you.
🔥 Leyla Seka - COO at Ironclad
🔥 Jiahan Ericsson - Senior Director of Engineering at Ironclad
1:40 PM (Pacific) - Embracing Failure in Order to Grow
Despite launching over a dozen products in her career and building several new multi-billion dollar categories, Tiffany To has learned more from her failures than her successes. In this talk, she'll explore ways to embrace failure in small and big ways in our current roles, how to be open to new "failure" opportunities, and how to identify the best environments for professional growth and career progression.
🔥 Tiffany To - VP of Product at Atlassian
2:00 PM (Pacific) - You're a Sales What? Life as a Sales Engineer
For women looking to make a mid-career change into tech, even fewer knew that sales engineering is a great way to make that move. In this session, Melissa will introduce you to the sales engineering career and provide tips for those thinking about entering the field.
🔥 Melissa Andrews - Sales Engineering Manager at Splunk
2:20 PM (Pacific) - Striving to Build a Happier Workplace
Front is on a mission to make work happier by meaningfully connecting teams and customers. One place it gets truly reflected is in the way Engineering, Product and Design operate as one team. Jill, Kaitlin and Vrushali will share how they use Front's company values around collaboration, low-ego and transparency in their day-to-day interactions, hiring process, driving decision-making and collectively owning outcomes.
🔥 Jill Schweitzer - Product Lead at Front
🔥 Kaitlin O'Donnell - Product Design Manager at Front
🔥 Vrushali Patil - Head of Platform at Front
2:40 PM (Pacific) - Your Ableism is Showing: How You're Missing the Mark By Not Including Accessible Practices
Erin, a deafblind woman, will share personal experiences, challenging us to think about how we can step outside of our own comfort zone, and make small, easy changes to improve accessibility across the board. Why accessibility is better for everyone, just not people with disabilities.
🔥 Erin Perkins - CEO & Founder at Mabely Q
3:00 PM (Pacific) - In the Tech Trenches: Tips & Tricks for Managing Managers
This is a panel of engineering leaders sharing insights on how they set and execute strategy, plan their careers, and effectively manage their teams to deliver high quality products on time.
🔥 Jenn Clevenger - Senior Director of Data Engineering at Etsy
🔥 Kamilah Taylor - Head of Financial Products Engineering at Gusto
🔥 Sukrutha Bhadouria - Director of Engineering at Salesforce
🔥 Willie Hooykaas-Baldwin - VP of Engineering at Salesforce
3:30 PM (Pacific) - It's A Hot Job Market. Do You Stay or Do You Leave?
Meet three women technologists who decided to make the big move from their tech company to forge a new beginning with a bigger role. Participants who attend will learn elements to consider when planning your next move, the importance of applying the principle of running to something (versus away from something), and share some thoughtful techniques in searching.
🔥 Aliza Carpio - Director, Tech Evangelist at Autodesk
🔥 Rocio Montes - Senior Engineering Manager at GitHub
🔥 Sharon Hunt - Head of Product at Clovers
3:50 PM (Pacific) - Strava Coffee Break ☕ How To #HumbleBrag Effectively
Many are shy of accepting praise, or highlighting their professional achievements to the detriment of their own career success. In this talk, Shailvi will highlight specific ways to reframe negative perceptions of advocating for yourself, and become comfortable sharing wins effectively and authentically. Everyone deserves to be rewarded equitably for their amazing achievements!
🔥 Shailvi Wakhlu - Senior Director of Data at Strava
4:05 PM (Pacific) - Moving Up: How To Fast Forward Your Career by Shifting Out of Auto-Pilot and Rising to the Top
Are your goals accelerating your career or holding you back? In this session, Opendoor executives share how to set the right goals for yourself, deconstruct common career roadblocks, and share approaches to deliver measurable impact that will get you noticed as you rise toward the top.
🔥 Raji Subramanian - VP of Engineering at Opendoor
🔥 Heather Natour - Head of Engineering, Seller & Consumer Growth at Opendoor
4:25 PM (Pacific) - Why Knowledge is the Future of Data
Harnessing knowledge and data together leads teams to faster modeling and insights, enabling teams to ask questions – and get answers – data alone can't provide. In this session, Michelle will show relational knowledge graphs in action.
🔥 Michelle Yi - Senior Director, Applied Artificial Intelligence at RelationalAI
4:45 PM (Pacific) - Cryptocurrency for Economic Justice
Cryptocurrencies have the potential to facilitate a massive redistribution of wealth. What opportunities are there to leverage this change for economic justice? We'll be talking about how motivated justice-minded artists, engineers, and strategists can make a huge difference.
🔥 Jen-Mei Wu - Community Organizer
THANK YOU TO ELEVATE 2022 SPONSORS!
OUR SPONSORS ARE HIRING! Check out: GIRLGEEK.IO/JOBS
ATLASSIAN, SLACK, STRAVA, AUTODESK, FRONT, INTEL, IRONCLAD, MOSAICML, OPENDOOR, RELATIONALAI, SPLUNK, UNITED STATES DIGITAL SERVICE, FISHER INVESTMENTS, META!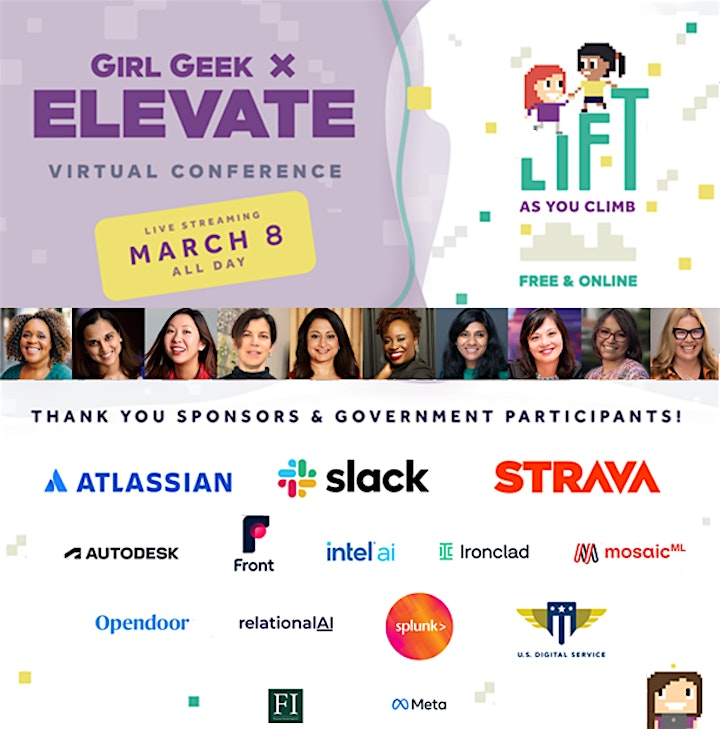 Date and time
Location
Refund policy