Description
Beach House Sunday's Presents Elephante with Benzi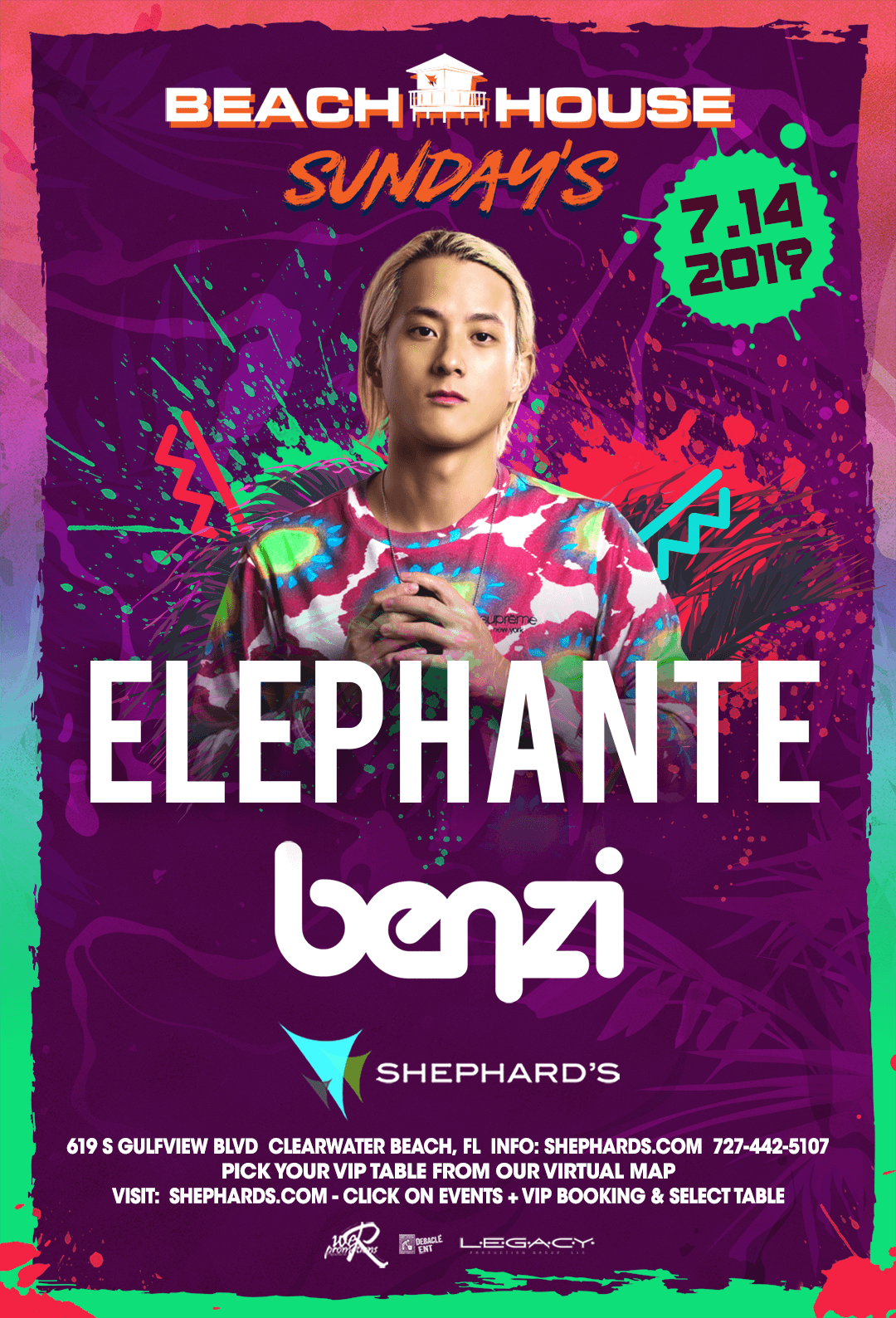 Beach House Sunday's is the Largest weekly Electronic music event on the Gulf. DJ's From around the globe perform on a stage right over the Gulf of Mexico. Relax on our private beaches or poolside in a Cabana then dance the afternoon and night away on our tiki stage. Arrive early and indulge in our Champagne brunch.

Tickets are non refundable Rain or Shine event

21 & up to enter

Dress code enforced for full dress code visit Shephards.com

For a detailed map of the VIP section and to choose your VIP area visit

https://

shephards.uvtix.com/

For more information contact: 727-442-5107
Date of Show
Sunday July 14th, 2019
Clearwater Beach, Fl.
Tiki Beach Sunday
12:00pm-2:00pm - TBD

2:00-5:30pm - Cutty Jones X Jay Slay– Live Set

5:30-6:30pm – D2

6:30-7:45pm – Kid UNot

7:45-9:15pm – Benzi

9:15pm-10:45pm Elephante

10:00pm-cl – Brandon James (House Closer)
Biography
Benzi is a busy man. International DJ. Record label head honcho. Brand builder. Radio host. Genre chemist. He may have been born and bred in Michigan--where he's still based out of to this day--but the man gets around. And his reach is only growing.


Armed only with access to a burgeoning DJ scene online and an insatiable hunger, Benzi was able to kick off his career from a small island outside of Detroit with the instant classic "We Got The Remix" series. He worked with artists like Clipse, Lil Wayne, Rick Ross, and Kanye West on the series, and has since performed alongside LMFAO, Gym Class Heroes, Diplo, Wiz Khalifa. In addition to his own international club appearances, Benzi was the tour DJ for Chiddy Bang, Travie McCoy, Mike Posner, Big Sean, to name just a few.


But rap (and dubstep) does not make a career the way it used to. As such, Benzi has used his immaculate taste and outside-the-box thinking to collaborate with brands such as Red Bull, Mountain Dew, Young & Reckless, PLNDR, Karmaloop, Budweiser, and 10*Deep. He's also performed at events for the Super Bowl, MTV Spring Break, Lollapalooza, and tennis' US Open.


In 2011, Benzi launched The Mike Posner Show with DJ Benzi on Faction on Sirius/XM, and also founded his indie label Get Right Records, which helped launch new acts Solidisco and Silver Medallion. He has also collaborated with Diplo twice to produce albums for Mansions on The Moon and Paper Route Gangstaz, both of which were critically acclaimed and cultivated by cult enthusiasts.

It's been busy and the business has paid off, in the quality of music and because people have paid attention. Benzi has been name-dropped by New York Post's Page 6, MTV News, The Washington Post, XXL, Pitchfork, Rolling Stone, and many, many more. He's toured all over America and sold out gigs in Australia, Germany, South America, Vancouver, Oslo, and yes, more.

But the building is only beginning. An upcoming EP of all original material is just around the corner, to be released on his Get Right Records in 2013, and its debut single "This Is Paradise" (featuring Willy Joy) is already tearing down the club and internets. And Benzi thought he was busy before.