Description
Join us for food and drinks as we celebrate the installation of our new show! This collection will showcase the works of Susan Levin, a local artist from Rockville, MD. Her works will be on display and for sale until June 30, 2019.
Many thanks to Danielle Glosser, Founder of Client Raiser, for bringing Susan our way! Looking forward to working with her to support local women artists with our art shows!


---
About the Artist:
As a self-taught painter and digital photographer, I work hard to create pieces that evoke emotion and conversation. While my work is an expression of my moods, they are also an abstract interpretation of real-life experiences. I began painting after I had an intense dream and I continue to paint not only what I dream, but also what is right before me in life.
For me, art is like a form of meditative yoga - but without the stretching. It balances me and calms my mind.
I find painting to be free of judgment. It's therapeutic. My work allows me to live outside the lines of organization because it is extremely liberating.
In my everyday life I am highly organized, and everything has its place. But in my workspace, while my paints and tools have a home, I can mix them up and be perfectly content. It's a dichotomy and the irony of my art and my life.
I'm drawn to nature. It can be the veining of a flower petal, the color and shape of a singular raindrop, or the innocence of birds swinging from limb to limb.
While all of these images are beautiful, I don't necessarily want to paint them in the literal sense.
Abstract painting allows me to blur those well-defined lines.
The freedom that the art of painting and photography affords me, allows me to live out loud and share my artistry with you.
---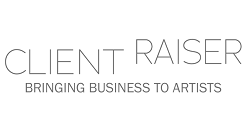 DANIELLE GLOSSER
Danielle is the Founder and Principal of Client Raiser, a business dedicated to helping artists to increase their client volume and the visibility of their art. Since 2014, she has worked with dozens of artists across the country in support of their professional goals. Emerging and established artists alike begin with Client Raiser's in-depth interview process, which results in a tangible assessment of their art practices and concrete next steps for advancing their careers.
Prior to launching Client Raiser, Danielle implemented social justice initiatives at The White House and in communities across the country that required her to manage complex projects with multiple constituents. Inspired by collecting art, Danielle was exposed to the unique career challenges that artists face and was moved to use her professional skills in strategic planning, project management, research, writing, and networking to support their aspirations.
Danielle is a 25-year resident of Washington, D.C. She has led workshops and partnered with arts organizations across the region, including Washington Project for the Arts, Gateway Arts District, Artomatic, District of Columbia Arts Center, Montgomery Arts Association, Capitol Hill Arts League, Washington Sculptors Group, Women's Caucus for Art and the D.C. Commission on the Arts and Humanities.
---
Artist Professional CV:
Exhibitions, Dates, Venues
2019 – Hera Hub Art Installation
2018 – No outside events
2017 – Bloom Art Series, Washington, DC
2016 – Elements Fitness and Wellness Center, Washington, DC
2015 – Collaborative Art Event with Annette Schiller Ombiasy Pr Wine Tours – Rockville, Maryland
2014 – Sara Nightingale and Hampton Hang Gallery in collaboration with Karyn Mannix Contemporary Water Mill, NY 9th Annual Love and Passion Group Art Show
2014 – Taste of Sunrise Art Show, Rockville, Maryland
2014 – Solo Art Show at the Sotheby's International Realty, Sag Harbor, NY
2014 – Southampton NY, Sotheby's
2014 – Live out Loud Art Event in East Hampton, NY
2013 – Capitol Arts Network Art Show, Rockville, Maryland
2013 – International Exhibition in New York City – The Story of the Creative
2011 – Gallore Gallery, Middletown Connecticut, Solo and Group Show
2011 - Art in the Cabin – Bethesda, Maryland
2011 – Rockville Innovation Center
2010 – The Grand Art Exhibit
2010 – DC Metropolitan Expo, National Harbor, Maryland
2009 – Niland Gallery, Annapolis, Maryland
2009 – Citibank Art event sponsored by the Art Registry
2006 – JCCGW Goldman Art Gallery Jewish Community Center of Greater Washington
2006 – Light Street Gallery, Baltimore, Maryland
Media
2019 – American Art Collector
2018 – American Art Collector
2017 – American Art Collector
2016 – American Art Collector
2016 - Bethesda Magazine article entitled, 'Home' features Susan Levin's abstract work
2015 – American Art Collector
2014 – American Art Collector
2014 - Fine Art Magazine, Featured Article Susan Levin's Art Dream
2014 – Curbed Hamptons
2014 – Nice Niche
2014 – The Art Marketer
2013 – American Art Collector
2012 – Art Specifier – Was a featured Artist of the day
2011/2012 – Washington Project for the Arts Feature
2012 – American Art Collector
2011 – American Art Collector
2010 – American Art Collector
2009 – American Art Collector
2006 – Participated in an Art Talk at the Goldman Art Gallery in Rockville, Maryland