Description
Elegant Questions Design Answers.
Design is the secret sauce pumping juice into the veins of everything. Karin Hibma, the strategic identity muse behind names like Amazon Kindle and TiVo, advocates for Elegant Questions unlocking hidden insights to Design powerful, resonant Answers.
Come share a Saturday conversation at : : CRONAN : :
Request an invitation today! Tickets are limited; and pre-registration and acceptance is required: you will not be admitted without a ticket. Studio is 30 minutes from SF by car only and parking is limited so we recommend carpooling!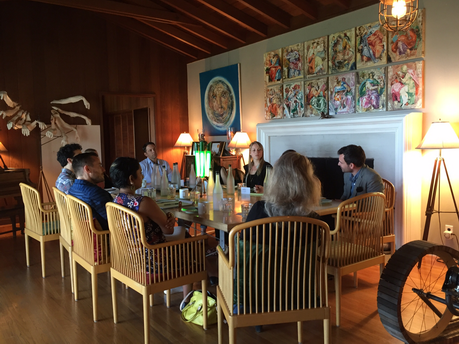 HOSTED BY: : : CRONAN : :
Design thinking and creative process are potent strategic ingredients in any worthwhile endeavor.
With a first-hand understanding of the power of design, Karin Hibma works to see the world through the eyes of customers, using cognitive identity insights and design thinking to find the strategic "big idea" inherent in every project.
Co-founder and principal of : : CRONAN : :, a strategic identity design consultancy working with change-makers looking for innovative answers, from startups to Amazon Kindle, Apple, Estée Lauder / Origins, Levi Strauss & Co., SFMOMA, TiVo and the White House. Hibma consults with Dr. Paul Polak's international organizations concentrating on ending rural poverty and advising multi-nationals.
She is on the board of advisors for the cross-disciplinary MFA program Design for Social Innovation at the School of Visual Arts in NYC. Advisor to the Creative Summit and host of the upcoming CS29 in San Marcos, Texas. Hibma is an AIGA Fellow, and AIGA National Board Member. Featured in Fast Company's "100 Most Creative People in Business", "MCP 1000", and Graphis Masters of Design. Hibma is an AIGA SF Fellow, and AIGA National Board Member.
CONTACT INFO:
Email : karin@cronan.com
---
Event Type : Workshop
Event Focus : Branding
REFUND POLICY : We do not offer refunds. If event is sold out, we might be able to give your spot to someone on the waitlist.