Electronics Waste: Progress through Solutions
Description
Thank you to all of the particpants for an enlightening event!

Pictures are available on our facebook page!
Video of the event is here! In five parts!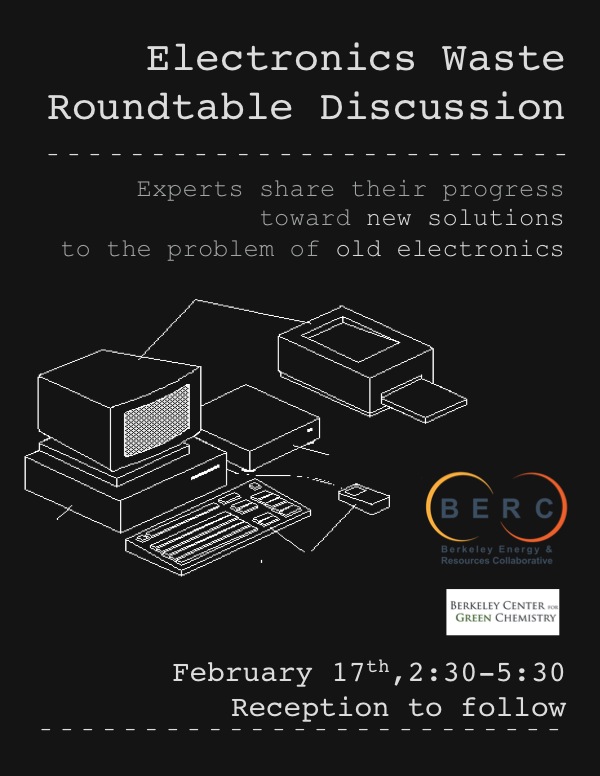 Agenda
2:30-2:50 Alastair Iles Keynote Introduction to E-waste
2:50-4:00 Panel: E-waste management policy drivers
Barbara Kyle, Executive Director, Electronics TakeBack Coalition
Heidi Sanborn, Executive Director, California Product Stewardship Council
Andre Algazi, Supervising Hazardous Substances Scientist, CA Department of Toxic Substances
Prof. Dustin Mulvaney, San Jose State University, Department of Environmental Studies
Fran Valluzzo, Manager, State & Local Government Affairs, Dell
4:00-4:20 Coffee break
4:20-5:30 Panel: E-waste management market drivers
Sheila Davis, Executive Director, Silicon Valley Toxics Coaltion
James Kao, CEO, Green Citizen
Renee St. Denis, VP Business Development, Americas, Sims Recycling
Jim Taggart, CEO, ECS Refining
5:30-6:30 Networking Reception
See this event on facebook for updates and recent news surrounding our panelists and e-waste.
Email BERCeWasteDiscussion@gmail.com with questions or fee waiver requests.
Here's a primer on why we're talking about electronics waste in the first place!