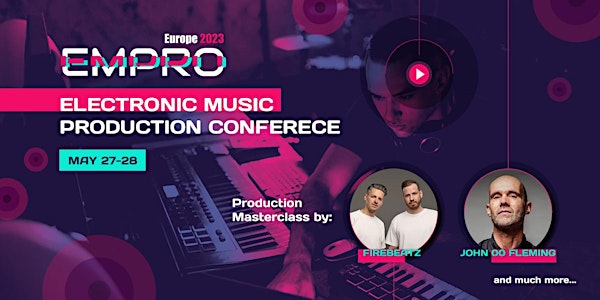 Electronic music production conference - EMPRO
The online event offers you an exciting weekend jam-packed with masterclasses, workshops, demo drops, virtual exhibitions, and much more.
Date and time
May 27 · 1pm - May 28 · 8am PDT
About this event
Electronic music producers and artists, I hope you're excited, because we are!
💥 Demo-drop your music and be seen by EMPRO '23 partnering Record Labels
💥 Join over 40 live sessions and workshops led by some of the most fascinating music production masters out there
💥 Network and join roundtable discussions, receive valuable insight from other attendees and EMPRO sponsors
And much more! Tune in to EMPRO 2023 to be in sync with the latest electronic music production trends, tools and field players!
For any inquiries please reach out info@empro-con.com
Frequently asked questions
How do I log in on the day of the event?
Do I need to download or install any software to be able to attend this event?
Will I be able to take away any documents or files from the event?
Where will the event be held?
Why should I buy the FULL EMPRO when there is a free option?