About this Event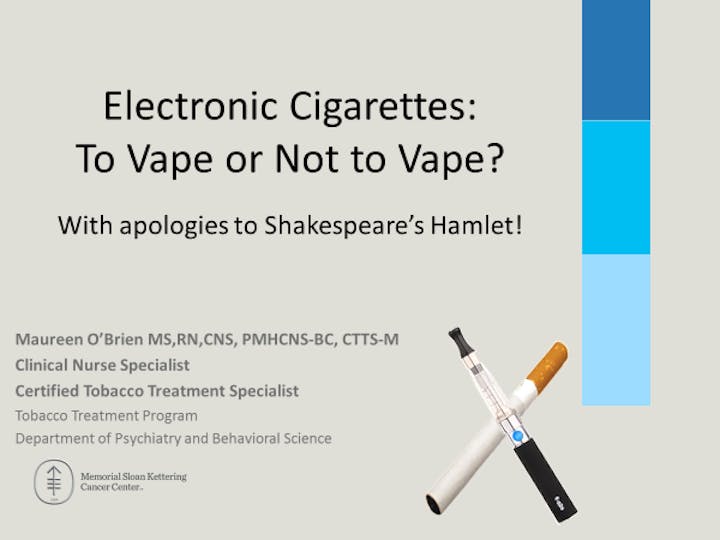 Please join Clinical Nurse Specialist and Certified Tobacco Treatment Specialist Maureen O'Brien, as she explains the facts of vaping.
Maureen O'Brien's Bio:
As a Certified Tobacco Treatment Specialist and Clinical Nurse Specialist, Maureen addresses the specific needs of cancer patients, cancer survivors, and their families who want to improve their health through treatment for tobacco dependence. She works collaboratively with multidisciplinary colleagues from Memorial Sloan Kettering (MSK) Cancer Center's Tobacco Treatment Program to develop individualized quit strategies for outpatients and hospitalized patients that incorporate both motivational counseling and evidence-based, FDA-approved tobacco cessation medications. Maureen received her Bachelor of Science in Nursing from SUNY @ Plattsburgh and her Masters in Psychiatric Nursing from Columbia University. She completed her tobacco treatment training at the University of Massachusetts (UMASS) Center for Tobacco Treatment Research and Training and obtained her certification as a Tobacco Treatment Specialist in 2002. She also completed a Train-the-Trainer Workshop in June 2015 from UMASS. Maureen is Secretary for ATTUD - the Association for the Treatment of Tobacco Use and Dependence. Maureen is responsible for the development and implementation of patient and staff education related to tobacco treatment at MSK. She also works collaboratively with her colleagues from MSK's Tobacco Treatment Program to conduct program evaluation and clinical research initiatives to improve the quality of tobacco treatment in cancer care.