Description
Welcome to Electrofied #2
Join us for a night of pulsating electronic music and stunning visuals in The Granary Bar at The George Hotel Frome. Featuring live sets of original electronic music from Stereo Kela, Sweet Machine and Laugh Clown Laugh, with DJ c/o Raves from the Grave, Frome.
www.georgehotelfrome.co.uk/home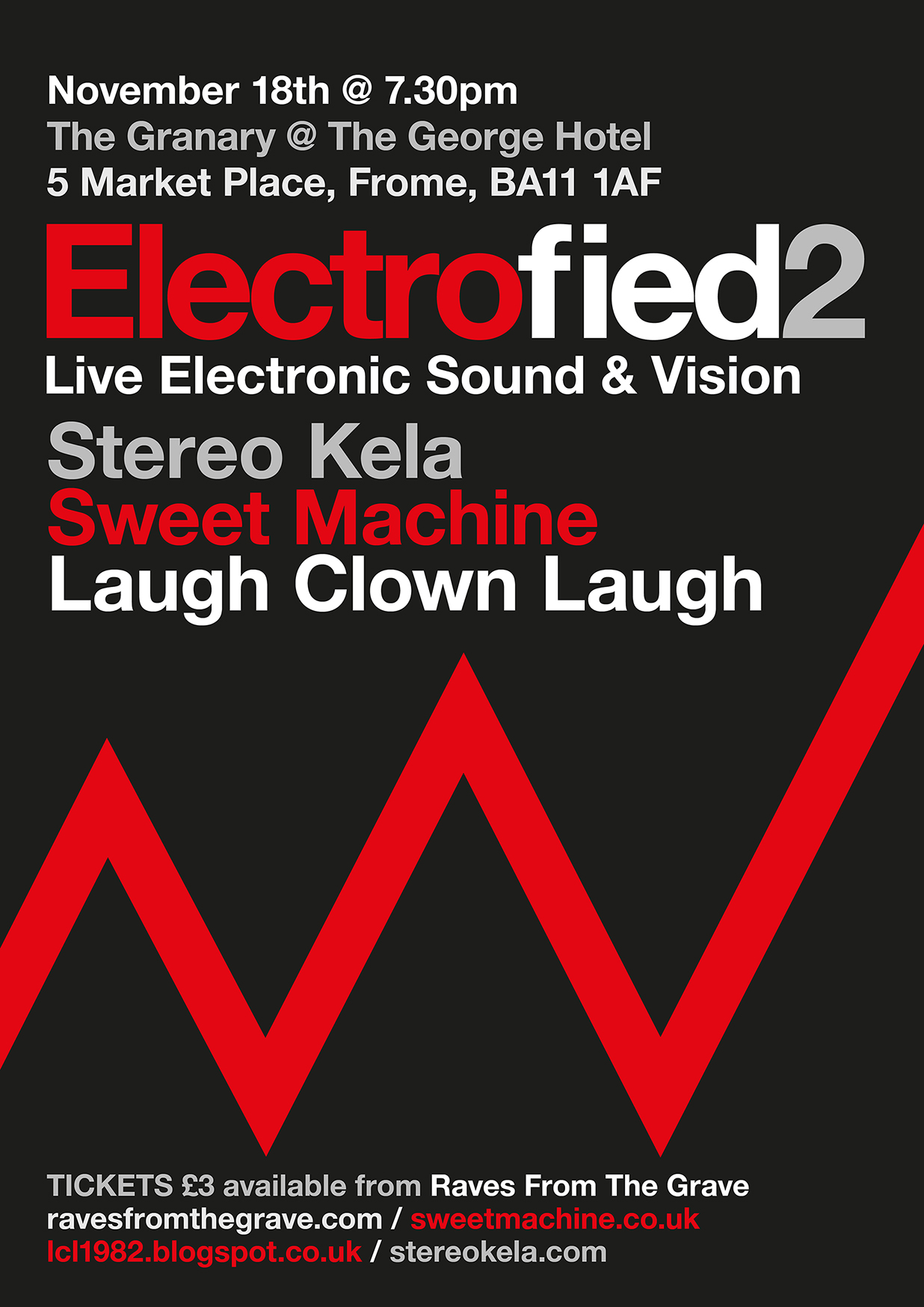 Sweet Machine
With a diverse range of influences Sweet Machine fuse 70s/80s synth-pop with 90s dance and contemporary sounds, topped with bittersweet lyrics to create modern, original electro-pop. Their captivating sound will get your feet moving and make you feel like you've seen this band before!
Laugh Clown Laugh
Laugh Clown Laugh are Frome's ORIGINAL synth-pop sensation, their song 'Feel So Young" featured on a 1984 101International 2LP compilation, and after 30 years their never released debut album was restored, re-mastered and reissued by Medical Records. Reminiscent of early Human League and Vince Clarke era Depeche Mode these are some of the greatest minimal synth-pop masterpieces the world has yet to hear!
https://medicalrecords.bandcamp.com/album/laugh-clown-laugh-mr-025
Stereo Kela
UK born Josh Childs, and US born Raquel Peralta began working together in 2007 as part of trip hop duo State Recall. Inspired by their opposing musical influences yet incredibly similar world perspective, their songs aimed at exploring the nature of existence.
In 2014 after a spiritual crisis turned awakening sparked a conscious revamp of their artistic mission, Stereo Kela was born. As the upbeat and dance-inspired, wise, and free flowing sister of State Recall, Stereo Kela incorporates things like sacred sonic resonance and ancient spiritual mantra to inspire the listener and bring them back to their inner truth.