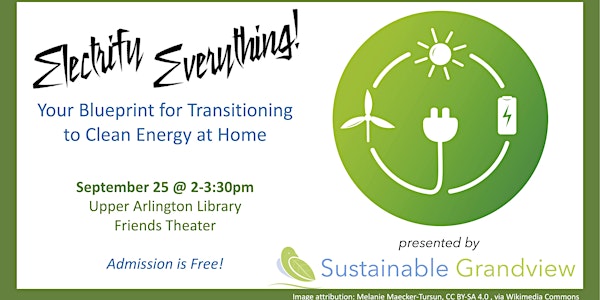 Electrify Everything! Your Blueprint for Switching to Clean Energy at Home
Do you live in central Ohio and want to reduce your climate footprint, but aren't sure where to start? Join us to learn how!
When and where
Location
Upper Arlington Public Library, Friends Theater 2800 Tremont Road Upper Arlington, OH 43221
About this event
Technological innovations over the last decade have made it more affordable and achievable for ordinary people to switch from burning fossil fuels to using all-electric appliances powered by clean energy to significantly reduce their household greenhouse gas emissions. You may have already installed solar or bought an electric vehicle and now want to know what to do next, or maybe you're just beginning to think about what you can do. Either way, come join us for a FREE information session to learn about the most important steps to comprehensively switch to clean energy, and how new federal climate programs can help you along the way. We'll discuss how to make the move to modern and efficient electric HVAC, water heating, cooking, laundry, vehicles, and more, with presentations by Madeline Fleisher, clean energy attorney and member of Sustainable Upper Arlington, and Andy Leber, organizing member of Sustainable Grandview, followed by a Q&A session. We're also kicking off a new Central Ohio Electrification Group, which will come together to share advice and information for successfully completing these projects. So even if you can't make the session in person, email us at sustainablegrandview@gmail.com to get on our interest list and stay updated on our activities!
Image attribution: Melanie Maecker-Tursun, CC BY-SA 4.0 , via Wikimedia Commons