Refund policy
Contact the organizer to request a refund.
Eventbrite's fee is nonrefundable.
Use clean energy to save money, your health and the planet.
About this event
WATCH THE VIDEO OF THIS MEETUP!
• Watch it on Vimeo
• Watch it on YouTube
• Watch it on Facebook
Share this video far and wide!
EVENT DESCRIPTI0N
Did you know that using clean electric appliances instead of burning fossil fuels can save you money, protect your health and the environment?
To learn more, sign up for our Electrify Everything meetup on Monday, July 11, at 6pm PT.
In this informative Zoom event hosted by Green Change, you will find out how to electrify your home, electrify your ride, use clean electricity – and help others electrify.
A select group of clean energy experts will speak on these topics:
You will learn about the many ways you can benefit from using clean energy in your own life, by replacing harmful natural gas appliances and dirty gas-powered vehicles with clean electric solutions that can save you time and money, as well as protect our future.
REGISTER NOW ON THIS EVENT PAGE!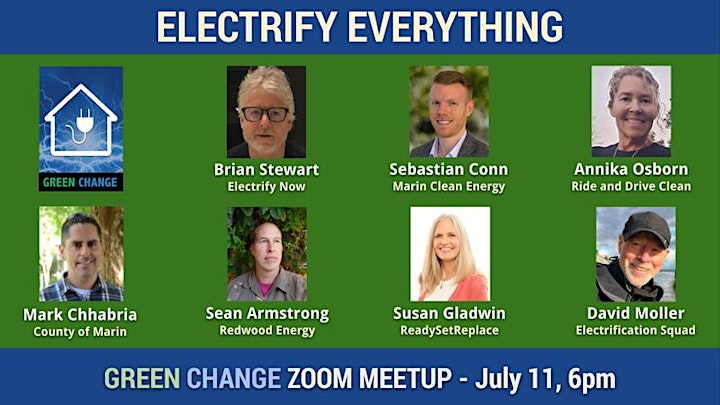 In the second half of our meetup, we will focus on electrifying your home -- and hear about using electric heat pumps to heat your water, as well as a heat or cool your home. We will also offer practical tips to help renters and low-income households electrify their homes or rides.
Burning fossil fuels for energy is the leading cause of climate change. Each of us can help accelerate the transition to a sustainable, clean energy future. Find out how you can use your energy dollars to be a part of the solution, instead of part of the problem.
This free community meetup is hosted by Green Change director Fabrice Florin, with the Green Change Team.
After you register, you will receive an email with the Zoom call link, as well as event updates and reminders. If you have any questions, please email team@greenchange.net.
Learn more about Green Change, our nonprofit climate action network.
We hope to see you soon!
Image Credits: Electrify Now and Green Change partners