Electricity Futures – Powering Singapore's Full Liberalisation of the Elect...
Description
The Singapore Semiconductor Industry Association (SSIA) and Singapore Exchange (SGX) are pleased to bring you this event to share how electricity futures and the liberalisation of Singapore's electricity market will benefit the semiconductor industry.
The launch of the electricity futures market in 2015 has helped to foster more competition in Singapore's retail electricity space, which has seen the number of electricity retailers more than double in the last two years, from less than 10 retailers prior to 2015, to more than 20 retailers now. Large electricity consumers, especially those in the semiconductor sector, now have more options on how they procure and hedge their electricity. All of these are set to put downward pressure on electricity prices, benefitting consumers as a whole. In the second half of 2018, the remaining 1.3 million small consumers in Singapore will also get to freely choose their electricity suppliers. Electricity retailers, such as iSwitch, will be able to provide first-hand advice on how to make the most of the recent changes to the industry and how you can benefit from them.
Please join our panel of experts and industry practitioners as they share their insights on the latest electricity market developments in Singapore, and talk to the sponsors/retailers directly as they showcase their retail electricity products.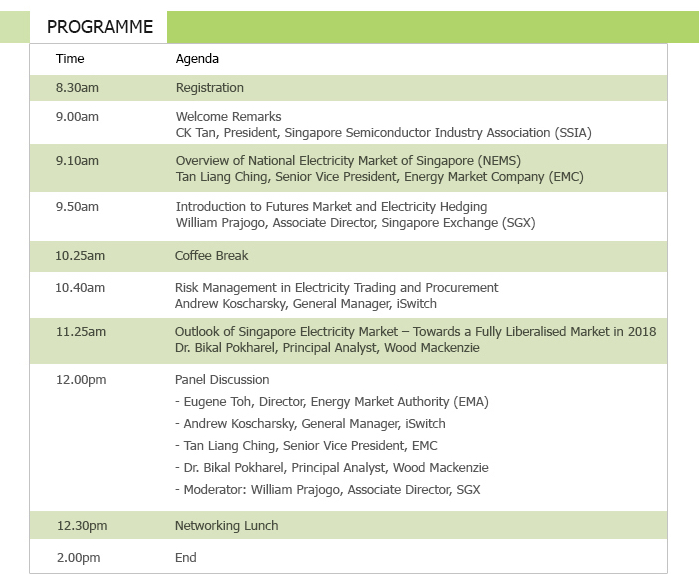 Click here to our website for more information.