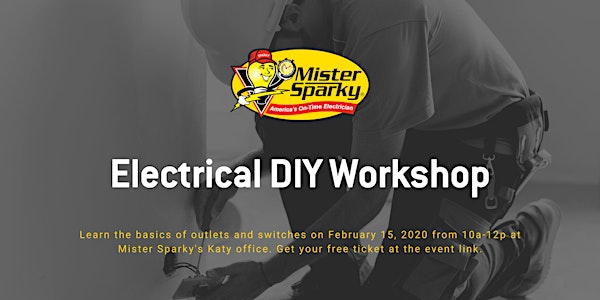 Electrical DIY Workshop: Outlets and Switches
Houston homeowners – join us at our first ever Do-It-Yourself workshop! We'll cover the basics of OUTLETS and SWITCHES.
When and where
Location
21819 Katy Fwy 21819 Katy Freeway Katy, TX 77450
About this event
Houston homeowners –
Join us at our first ever Do-It-Yourself electrical workshop! We'll cover the basics of OUTLETS and SWITCHES.
If you've ever changed an outlet, hung a ceiling fan, or just wanted to . . . these workshops are for you.
For years it's been a no-no in our industry to empower you - the homeowner. We believe that working with each other, not against each other, is a better way forward.
So leave behind the YouTube tutorials and blogs for this weekend only (Feb 15), and let's learn together!
We'll see you there.
P.S. This event is BYOT. (Bring Your Own Tools!) Bring Phillips and flat head screwdrivers, wire strippers and/or pliers.
_________
Important warning:
Certain home improvement projects are dangerous by nature and may present a risk of serious injury or death if not done properly, particularly when dealing with electricity. Always read and follow instruction manual and safety warnings.
Know your limitations. The information at this event assumes sufficient experience on the part of the attendee as to the subject involved. Consult a qualified professional for assistance if you are not qualified to perform the work we'll cover.
For electrical work, always follow electrical code requirements specific to your area, and before undertaking any home project, contact your local electrical authority and ensure that you comply with all applicable rules and regulations.
Any work you perform is done at your own risk. You expressly agree to hold harmless Mister Sparky, its affiliates and franchisees for any property damage, personal injury and/or death, or any other loss or damage that may result from your use of the information provided.