Electric vehicle ride and drive event- trends, planning considerations, and funding resources to get on the fuel efficiency fast track!
About this Event
Is your workplace considering a charging station or electric vehicle fleet? Perhaps you are looking for some resources to help with making electric vehicle purchasing decisions. Join us at our electric vehicle ride and drive event to discover the latest trends and technologies including battery systems and workplace charging stations. Our industry experts will discuss the tools and resources to help you with your purchasing decisions and provide an update of the infrastructure initiatives in the Midwest that support electric vehicles. After lunch, get behind the wheel and experience first-hand the advantages of electric vehicles.
AS A RESULT OF THIS TRAINING, YOU WILL BE ABLE TO:
1. Compare electric vehicle system features.
2. Understand the core elements of workplace charging stations with utility impacts.
3. Identify tools and resources for making electric vehicle purchasing decisions.
4. Describe the local, statewide, and regional electric vehicle infrastructure.
AGENDA
8 a.m. – 8:30 a.m.: registration
8:30 a.m. – noon: program
noon – 2:30 p.m.: lunch and electric vehicle ride and drive event
COURSE OUTLINE
8 – 8:30 a.m. - Registration and continental breakfast
8:30 – 8:45 a.m. - Welcome and introductions
Lorrie Lisek, Wisconsin Clean Cities
8:45 – 9:45 a.m. - Trends in electric vehicles
Theodore Bohn, Argonne National Laboratory-Center for Transportation Research
Review of the recent history of light duty and commercial electric vehicle types on the market today, sales trends and marketplace forecasts will be presented. Infrastructure for workplace, residential and public charging related to consumer, fleet, employer and the utility requirements will be covered.
9:45 – 10 a.m. - Break
10 – 11 a.m. - Electric vehicle planning considerations
Theodore Bohn, Argonne National Laboratory-Center for Transportation Research
Explore best practices for electric vehicle infrastructure installation, planning and considerations for electric vehicle supply equipment.
11 – 11:30 a.m. - Resources for making purchasing decisions and Midwest fuel corridor update
Lorrie Lisek, Wisconsin Clean Cities
Learn about tools and resources to help you make electric vehicle purchasing decisions. Lorrie will help you stay on top of funding opportunities for electric vehicles. She will also cover the results and outcomes of a Midwest Regional AFC Convening held in 2018 in Minneapolis/St. Paul, MN.
11:30 a.m. – noon - Regulatory and legislative policy updates for the state of Wisconsin
Jane McCurry, Renew Wisconsin
Noon – 2:30 p.m. - Lunch and electric vehicle ride and drive event
Get behind the wheel of an electric vehicle and experience first-hand the advantages of electric vehicles.
WHO SHOULD ATTEND?
Corporate sustainability managers, business owners, fleet managers, EV enthusiasts or anyone wanting to learn about electric vehicles and the local, state and regional initiatives to support them.
MEET OUR SPEAKERS: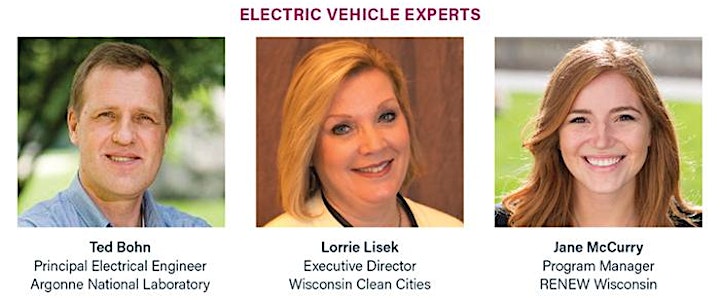 Ted Bohn, Principal Electrical Engineer, EV-Smart Grid Interoperability Center, Argonne National Laboratory
Ted Bohn is with the Center for Transportation Research at Argonne National Laboratory. He is a principal electrical engineer in the EV-Smart Grid Interoperability Center, identifying and validating interoperability issues related to PEV charging systems including grid impacts/opportunities. Recent research includes Smart Charging and standards related to adaptive charging controls tying vehicle charging requests to power flow from the grid under various grid marketing and stability conditions. His group at ANL is leading wireless charging standards interoperability and safety research as part of SAE charging standards. Mr. Bohn has worked for each of the US based automobile manufacturers as well as various Tier I automotive suppliers. He has been working on advanced technology and alternative energy fueled vehicle research for over 35 years. He actively serves on battery and PHEV related SAE technical standards committees. He is the chair of the several SAE vehicle standards work groups as well as the subcommittee chair of the NIST Handbook44 standard on measurement systems for commercial dispensing of electricity as a fuel.
Lorrie Lisek, Executive Director, Wisconsin Clean Cities
Lorrie Lisek is the president and co-owner of Legacy Environmental Services, Inc., a woman-owned, Indiana Certified Women's Business Enterprise located in Crown Point, Indiana. Lisek has served as Executive Director of Wisconsin Clean Cities since 2011, and has been affiliated with the U.S. Department of Energy Clean Cities program since 2005. Under Lisek's leadership, Wisconsin Clean Cities has been named a U.S. EPA SmartWay Affiliate Challenge Honoree six consecutive times for the coalition's role in reducing freight emissions. Lisek has also been instrumental in securing over $20 million in funding for coalition and member alternative fuel/technology projects. In 2015, Lorrie and her husband Carl -- who serves as vice president of Legacy Environmental Services and executive director of South Shore Clean Cities -- were inducted into the U.S. Department of Energy's Clean Cities Hall of Fame. She has also been recognized by former U.S. Sen. Richard Lugar as an Indiana Energy Patriot and has received the Northwest Indiana One Region Outstanding Achievement Award.
Jane McCurry, Program Manager, RENEW Wisconsin
Jane McCurry joined RENEW Wisconsin in July 2018 because she wanted to work for an organization that creates real change. With RENEW, she uses her passion for sustainability to be part of the shift to cleaner, greener energy sources. She grew up outside Detroit, Michigan and moved to Madison as a student at the University of Wisconsin. While in school, she studied Operations and Technology Management and Environmental Studies, was a pole vaulter for the Track and Field team, and was a leader of the Ethical and Responsible Business Network. She was also the Executive Director of Wisconsin Microfinance, a Madison-based nonprofit that provides small loans to women in Haiti and the Philippines. She now serves on the Wisconsin Microfinance board.

All cancellations are subject to a $25 administrative fee. We will refund 50 percent of the registration fee for cancellations received within two weeks of the training. Cancellations made within three business days of the training are nonrefundable. If this program is not held for any reason, our liability is limited to the refund of the program fee.