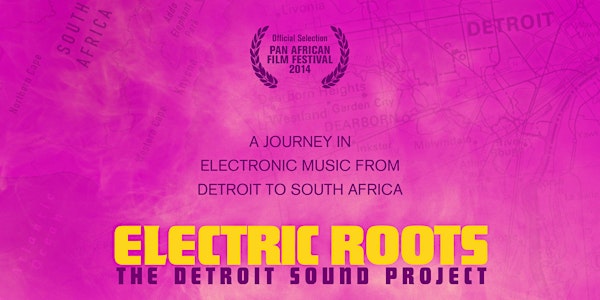 Electric Roots Virtual Film Screening Supporting Black Lives Matter
Exclusive Film Screening ELECTRIC ROOTS: The Detroit Sound Project, to support Black Lives Matter
About this event
After a full day free music with Electric Unity Live Stream Twitch DJ sets with Reggie Dokes, Stacey Hotwaxx Hale, Whodat, Killer Robot, Niskerone, and MEMCO DJs: cho, DSLRDJ, cat kenzie, parigi, Supreme Kai, and migs, come watch ELECTRIC ROOTS: The Detroit Sound Project on OVEE. Sponsored by Washington Hill Pictures, Michigan Electronic Music Collective, and The TAROTE' Foundation.
Your $20 ticket purchase includes a Free Poster (see images below!) and secure access to the OVEE film screening. Check your email for details which will be sent out prior to the event.
A portion of the proceeds from ticket sales, as well as GSGEDM.com merchandise purchases during the event, will be donated to Black Lives Matter.
Let Resident Advisor know you're coming! https://www.residentadvisor.net/events/1411705
More about Washington - Hill Productions and KPLtv's ELECTRIC ROOTS: The Detroit Sound Project :
Check out the trailer here - https://www.youtube.com/watch?v=DAas-nNogwo
ELECTRIC ROOTS: The Detroit Sound Project
Since its commencement in 2012, the Cape Town Electronic Music Festival has been attracting massive crowds from all corners of the world and some of the most influential DJ's in the business for three days of electronic music that must been seen to be believed. This particular look into the world of South Africa's amazing retelling of Techno music via its Detroit birthplace are sure to leave you wanting more, sandwiched between the amazing landscapes and views of Cape Town and Johannesburg. Relive all the moments again as if you're one of the attendees yourself and get lost in 'The Rainbow Nation' of love and great electronic music. In an extensive but concise exploration of the caliber of music widely available in other areas of the world, Electric Roots succeeds in pulling you in and detailing another side of house music and 'soulful electronic' that can't be easily sniffed out in our sometimes stale and boxy mainstream atmosphere. With unforgettable sets by Techno's latest and greatest and exclusive access to the insight of these genre-transforming connoisseurs of Electro at the CTEMF, Electric Roots profiles an otherwise unseen look into this inspirational amped-up world of bass and drum beats.
Starring:
BLACK COFFEE
RICHIE HAWTIN
ESA WILLIAMS
NISKERONE
DIGITAL ROCKIT
KILLER ROBOT
DJ CHRISTOS
Special appearance by JUAN ATKINS and MODEL 500
Executive Producers: Jennifer Washington and Kristian R. Hill
Produced by: Delmar Washington and Jennifer Washington
Written by: Kristian R. Hill and Marlon Royal Reid
Directed and Edited by: Kristian R. Hill
Director of Photography: Moses Mitchell
Audio Post Production: David Pellicciaro
Lucky Devil Sounds
Colorist: Reginald S. Brass
Art Direction: Emily Fernandez and Moses Mitchell
TAROTE', Inc., The Arts Reaching Out Through Education is a non-profit organization designed to help youth and adolescents develop leadership skills, build a sense of purpose and responsibility and learn the importance of discipline and dedication while encouraging artistic creativity in theater and film. Additionally, TAROTE' is determined to educate, empower and encourage an underserved community of homeless artists by providing healthy meals, mental and physical health screenings and innovative cultural outlets that uplift and restore creative self expression.
Michigan Electronic Music Collective (MEMCO) is a group of student DJs, producers, event-goers, and friends striving to spread an appreciation of electronic music in the Ann Arbor area. They throw monthly "Impulse" parties at Club Above and play at other local Ann Arbor venues like Arbor Vitae, Necto, and Alley Bar. They also host ongoing DJ "office hours" for their members to gain experience on club standard DJ equipment. For more information about them, look up "Michigan Electronic Music Collective" on Facebook or @__memco on Instagram!