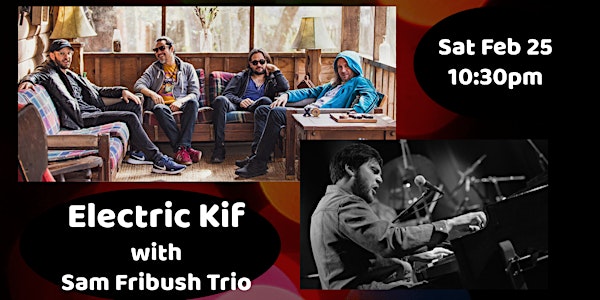 Electric Kif with Sam Fribush Trio
A wide variety of instrumental jazz - rock, jazz fusion and electronic drum & bass
When and where
Location
The Evening Muse 3227 N. Davidson Street Charlotte, NC 28205
Performers
Headliners
More Performers
About this event
2 hours

ALL AGES

Mobile eTicket
Electric Kif are a Miami-based power quartet that explore the boundaries between rock, jazz fusion and electronic drum & bass.
Made up of bassist Rodrigo Zambrano, keyboardist Jason Matthews, drummer Armando Lopez and guitarist Eric Escanes, Electric Kif formed as an outlet for the musicians to stretch out and be themselves between recording sessions and touring with other artists. They played monthly at a tiny place called Lagniappe, which became their home-base in Miami. These nights were the time when the band would dive in to their own musicality, and the chemistry was undeniable. On any given month you could witness fantastic musicianship, mind blowing grooves, and the occasional guest appearance from a national touring artist who knew if they showed up they would be challenged and delighted to play with these cats. Memorable nights included guest spots from Cory Henry, Michael League, Mark Lettieri, Bobby Sparks, and others.
"Each member of the band — is an all-star instrumentalist but not the type who needs everyone to know it. " (Miami New Times)
By 2017 the guys decided to shift gears, and commit to Electric Kif as their primary project. They began touring out of South Florida, and the Electric Kif national journey was under way. They also developed new music, videos, and performed in every market that welcomed them. These efforts brought about appearances at the Rochester International Jazz Festival, Ground Up Music Festival, Bear Creek Festival, Miami Downtown Jazz Festival, Hullaween, and more. The community of presenters and artists began to give back. They also hosted Ground Up Festival pre-shows each year, and have welcomed an array of guests from the Snarky Puppy camp. Soon after they were invited appear with artists including Snarky Puppy, Tauk, Karl Denson's Tiny Universe, Stanley Jordan, The Motet, Marco Benevento, and more.
"Originally setting out to create its own genre — "postnuclear," or electronic music with analog instruments — Electric Kif has slowly gravitated toward a heavier, rock-based sound, though strains of funk and jazz fusion remain embedded in the group's DNA." (Miami New Times)
On the road they were exposed to many other sounds and experiences which brought about great inspiration. During 2018-2019 they wrote and recorded their record Jefe. In support of the release they hit the road again. This time they were in a different place. They toured with some of the artists they met or worked with along the way including Ghost Note, Isaac Sinclair of Tauk, Chris Bullock, Roosevelt Collier, and Shaun Martin. For the Kif this was a treat to work with some of the musicians they admire the most. All the while they continued to share their music and grow their audience.
"Despite producing complex and technically impressive arrangements — and dabbling in genres known for flashy embellishments and minutes-long solos — the Miami-based instrumental fusion band never gets too heady. Instead, the collective shoots for memorable grooves, melodies, and atmospheres." (Miami New Times)
2020 kicked off with some amazing live moments, and many plans for the year ahead. But as the touring world stopped… the band embraced this pause and used the time to create and record again. They did some live stream events (Moksha, Allegria), and have released a series of acoustic live videos and an album with the folks from Sugarshack Sessions. As the year came to a close they finished off their next record, DREAMLIKE, and look forward to its release in August of 2021. Stay tuned.
********
(Sam, Will Darity and Chuck Pinckney)
The funky sound of the Hammond organ is heard in all its greasy glory on two blazing new albums from the Sam Fribush Organ Trio — Vol. I: Riverboat and Vol II: The Root.
Produced by virtuoso guitarist Charlie Hunter, both records find Fribush, Hunter and drummer Geoff Clapp putting their special soulful spin on everything from jazz standards (Yusef Lateef's "Plum Blossom," Billy Strayhorn's "A Flower is a Lovesome Thing"), New Orleans touchstones (Allen Toussaint's "Riverboat," Ellis Marsalis Jr.'s "Swingin' at the Haven"), 70s R&B jams (Billy Preston's "Will It Go Round in Circles," The Impressions' "We Must Be in Love") and modern classics like D'Angelo's "The Root" and Bonnie Raitt's "Let's Give Them Something to Talk About," as well as a couple of Fribush originals. If you dig the likes of Jimmy McGriff, Big John Patton and Brother Jack McDuff, the Sam Fribush Organ Trio is most definitely in your wheelhouse.
Recorded in December 2020 at Stephen Lee Price's Studio in High Point, NC, the sixteen tracks on Vol. I: Riverboat and Vol II: The Root came together with a minimum of fuss and a maximum of groove. "Basically everything was done in one or two takes, and they all sounded great," says Fribush, a jazz piano graduate of the New England Conservatory of Music, who had established a sizeable following in New Orleans before moving back from the Big Easy to his hometown of Greensboro, NC last year. "I guess the muses were with me!"
Vol. I: Riverboat and Vol II: The Root both also give the listener a good idea of what to expect from the Sam Fribush Organ Trio in a live setting, but Fribush himself says there's nothing quite like digging the Trio in person. "When you can feel that Leslie speaker spinning and hear the tubes humming, it just hits you differently," he explains. "We have so much fun together onstage, and we know how to entertain an audience. Plus, the music we play is so versatile: If you want to sit down and listen and get into it from a jazz perspective, you can do that, but it's also really conducive for dancing and having fun with your friends."