Election to Remember-Congressman Tom Suozzi, Anthony Scaramucci & Jed Morey
Virtual Event Presented by Middle Market Alliance of Long Island
About this Event
An Election to Remember- A Fireside Chat w/ Congressman Thomas Suozzi, Anthony Scaramucci & Jed Morey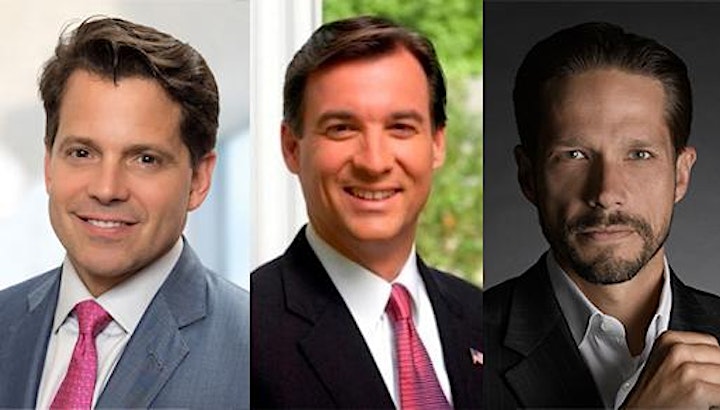 Congressman Thomas Suozzi
Tom Suozzi, a CPA and attorney, is the Congressman representing the Third Congressional District in New York. He serves on the House Ways and Means Committee serving on both the Oversight and Tax Policy subcommittees. He formerly served on the House Foreign Affairs Committee and House Armed Services Committee. Congressman Suozzi is vice chair of the Problems Solvers Caucus, co-chair of the Quiet Skies Caucus and co-chair of the Long Island Sound Caucus.
Congressman Suozzi previously served as mayor of his hometown, Glen Cove, NY from 1994-2001 and as Nassau County Executive from 2002-2009. He is credited with "turnarounds" in both.
As a reformer and a problem solver, in 2004 Suozzi created FixAlbany.com in order to expose and root out corruption in New York state politics and get a cap on local Medicaid expenses. In 2005, he was honored as Governing Magazine's "Public Official of the Year." In 2007, he was appointed to lead a state commission that proposed the first property tax cap, which has now become law. In 2008, the New York State League of Conservation Voters (NYLCV) named him "Environmentalist of the Year."
In 2010 Suozzi returned to the private sector as a "Senior Advisor" to investment banking firm Lazard and as "of counsel" at Harris Beach law firm. Prior to his time in elected office Suozzi worked as a litigator for Shearman & Sterling, law clerk to the Chief Judge of the Eastern District, and an auditor for Arthur Andersen & Co. He resides in Glen Cove with his wife Helene and three children Caroline (21), Joseph (18) and Michael (13).
Anthony Scaramucci
Anthony Scaramucci is the Founder and Co-Managing Partner of SkyBridge Capital. He is the author of four books: The Little Book of Hedge Funds, Goodbye Gordon Gekko, Hopping Over the Rabbit Hole (a 2016 Wall Street Journal best seller), and Trump: The Blue-Collar President.
Prior to founding SkyBridge in 2005, Scaramucci co-founded investment partnership Oscar Capital Management, which was sold to Neuberger Berman, LLC in 2001. Earlier, he was a vice president in Private Wealth Management at Goldman Sachs & Co.
In 2016, Scaramucci was ranked #85 in Worth Magazine's Power 100: The 100 Most Powerful People in Global Finance. In 2011, he received Ernst & Young's "Entrepreneur of the Year – New York" Award in the Financial Services category. Anthony is a member of the Council on Foreign Relations (CFR), vice chair of the Kennedy Center Corporate Fund Board, a board member of both The Brain Tumor Foundation and Business Executives for National Security (BENS), and a Trustee of the United States Olympic & Paralympic Foundation. He was a member of the New York City Financial Services Advisory Committee from 2007 to 2012.
In November 2016, he was named to President-Elect Trump's 16-person Presidential Transition Team Executive Committee. In June 2017, he was named the Chief Strategy Officer of the EXIM Bank. He served as the White House Communications Director for a period in July 2017.
Scaramucci, a native of Long Island, New York, holds a Bachelor of Arts degree in Economics from Tufts University and a Juris Doctor from Harvard Law School.
Jed Morey
Jed Morey is the CEO and founder of Morey Creative Studios, a Diamond HubSpot partner agency based in New York. Morey Creative specializes in content marketing, CRM development, podcast production and accessible web development. Morey Creative Studios is the largest HubSpot partner agency in New York and 13th largest in the nation.
Prior to founding Morey Creative Studios, Morey served as publisher of the Long Island Press for 15 years and is the author of the political book, The Great American Disconnect: Seven Fundamental Threats to Our Democracy. During his tenure at the Press, Morey wrote a political column, which was awarded Best Column by the New York Press Association and the Association of Alternative Newsweeklies. Today he serves as Executive Producer of the award-winning social justice podcast News Beat and host of the Grow for Good podcast. Morey holds a B.S. in business from Skidmore College and an M.B.A. from Hofstra University, where he was the recipient of the Distinguished Young Alumni Award. He lives in Glen Cove, NY with his wife, Eden White, and their two daughters.