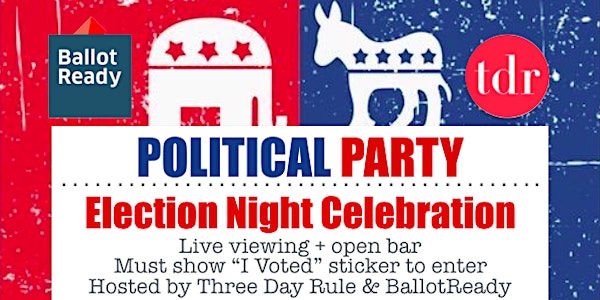 Election Night Party ~ Hosted by TDR & BallotReady
When and where
Location
Village Work Spaces 11845 West Olympic Blvd Los Angeles, CA 90064
Description
Didn't make the list? Join our pool so you can get invites when they first come out. It's totally private, and then our matchmakers can set you up for free! threedayrule.com/free
~ Three Day Rule & BallotReady Present ~
An Election Night Celebration!
It has been the most controversial Presidential Election in our lifetime. Join us live, to watch the results come in, as we celebrate with open bar, lite bites, magic tricks, red carpet entry, a photo booth, and even Virtual Reality experiences! But before you come, make sure *you're informed on the 17 measures on the ballot!
This open bar party is completely free to enter, IF you show your 'I Voted' sticker.
If you don't have an 'I Voted' sticker, you can make a tax-exempt $20 donation at the door to LA-based, educational non-profit Fulfillment Fund
-OR-
If you have an iPhone, you may also get in for free by downloading Anywr, a revolutionary app for meeting interesting people in real life while you're out and about. Download HERE and show your phone at the door.
Other cool stuff going on at the party
---
Enjoy a selection of wines from Winc. Get $25 off your first wine order with code TDR. Shake it up with cocktails from DonQ Rum and Just Chill Beverages, and beer from Santa Monica Brew Works.
Alter your reality, by stepping into a virtual one, courtesy of VRental. Whether you want to swim with whales, walking on other planets, or battle zombies, let VRental turn your next event into a VR party.
Magician Mark Paskell will blow your mind with his card tricks and table magic.
Get face time with Three Day Rule Matchmakers, so they can find out what you're looking for and set you up with their clients for free!
BallotReady is the only nonpartisan online voter guide that provides personalized, easy-to-use, and accessible information about your ballot. From the top of the ticket to the very bottom, BallotReady helps voters compare candidates based on stances on issues, biography, and endorsements. We make it easy to vote informed on every race and referendum.
Parking is $8 with validation.
Single? Join our free database at threedayrule.com/free
Huge Thanks To Our Sponsors
Village Workspaces: Luxury Co-Working