Description
ELECTION NIGHT PARTY
TUESDAY, NOVEMBER 8TH, 2016
DOORS AT 5:00PM

HOSTED BY THE ASSOCIATION LA
110 E. 6TH STREET, DOWNTOWN LA
circa93.com/the-association-la

Join us on Election Night and let's watch together HISTORY being made!
We are a bipartisan bar and hope everyone in the community will come out for what will be an important day in history. We have enjoyed sharing all the presidential debates with our friends since the last presidential election. We believe firmly, that as members of this community, we owe it to ourselves to pause for a moment, reflect, and take it all in as we watch the election coverage culiminate in a presidential win. Who will it be? We don't know. Your guess is as good as ours. But we will surely have plenty of drinks to cheer, cry or drown ourselves in whatever the outcome.
COVERAGE WILL BE SHOWN ALL NIGHT WITH FULL SURROUND SOUND.
• Seating is first come, first served, early arrival suggested for best viewing
• Drink specials offered all night
• All parties welcomed
~ • ~ ~ • ~ ~ • ~ ~ • ~ ~ • ~ ~ • ~ ~ • ~ ~ • ~ ~ • ~ ~ • ~ ~ • ~ ~ • ~ ~ • ~

Election inspired recipes by our head bartender, Scott Cushman.
"The George HW Dragon"
Mezcal, Pineapple, Lime, Honey syrup, Tapatio Hot Sauce
"A Plane to Canada"
Crown Royal, Amaro Nonino, Campari, Lemon Juice
"The Problem Solver"
Bourbon, Cherry Heering, Benedictine, Fernet wash
Drink specials are $10.
~ • ~ ~ • ~ ~ • ~ ~ • ~ ~ • ~ ~ • ~ ~ • ~ ~ • ~ ~ • ~ ~ • ~ ~ • ~ ~ • ~ ~ • ~
RSVP: Http://hillaryvstrump.eventbrite.com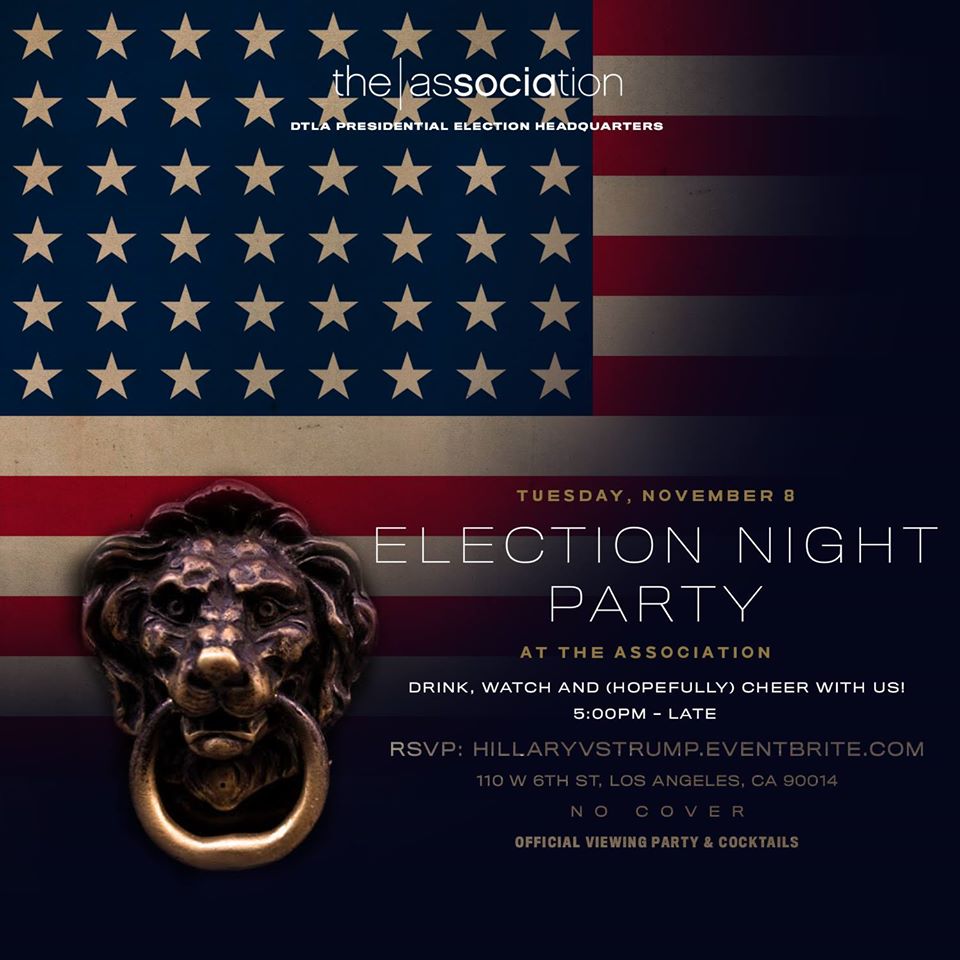 Organizer of Election Night Party at The Association
Established in 2008 The Association, located in the historic Bank District in Downtown, LA, is a low-key, NYC-style lounge, offering classic cocktails in a warm and inviting ambiance.Shielded on the subterranean level of the Pacific Electric Lofts building, The Association's exterior is simply represented by its unique black door with a brass lion head knocker. It is dimly lit and strategically split in two sections--the bar and the lounge area--offering guests variety in space and atmosphere. The musical taste of the venue is considered eclectic, ranging from classic rock to disco, alternative, new age and loungeThe lounge is characterized by its intimate leather banquettes, mirrored light fixtures, brass ornaments and Vegas casino--style, regal carpets.

The Association's cocktail menu, conceptualized by San Francisco based consultant Kent Howard and owner Ashley Joyce, consists of an impressive list of classic concoctions such as America's first-ever created cocktail, the "Sazerac".