ElderCare Network of Lincoln County ~ 20th Anniversary Celebration

Thursday, September 13, 2018 from 5:30 PM to 8:30 PM (EDT)
Event Details
The ElderCare Network of Lincoln County Maine
Celebrating Our Roots, Embracing Our Future
For 20 years the Eldercare Network of Lincoln County has been creating age friendly, community based homes for elders to live in pleasant and safe surroundings with dignity and enjoyment.
"The Greens 20th Anniversary Celebration" kicks off on Thursday evening, September 13, 2108, in the Dining Commons at Lincoln Academy, 81 Academy Hill, Newcastle, Maine. The festivities will begin at 5:30 p.m. with a reception featuring sweet and savory Hors D'Oeuvres presented by Lincoln Academy's culinary team and a musical Interlude with Celtic Harpist Barbara Wright and friends. Dr. Chip Teel, Eldercare Network of Lincoln County's Founder and Board Chair, Andrea Handel, ECN Executive Director, and Bob Hardina, ECN Board Member Emeritus will be sharing the ECN's story and future vision for positive and healthy aging in the Greens age-friendly communities.
Dr. Fossel, Founder and President of Telcoyle, the keynote speaker at the Eldercare Network of Lincoln County's 20th Anniversary Celebration, will discuss how aging works, conceptions and misconceptions of aging and age-related diseases. Enter into Fossel's world of gene expression, discover how the patterns change as we age and how though innovative research one may be able to repair cells with one's own genetic toolbox.
Dr. Fossel, whose presentation begins at 7:00 p.m. received his Ph.D. and MD from Standford University where he studied neurobiology.  A clinical professor of medicine for several decades, he has written articles, and books on aging including a textbook on cell gaining and human disease.  His most recent book, The Telomerase Revolution was praised by the London times and the Wall Street Journal as one of the best science books of the year. Dr. Fossel is president of Telocyte, a global biotechnology company that intends to cure Alzheimer's and other age related diseases. Fossel has been the leader in proposing the use of telomerase to treat human disease for the past two decades. He and his Telcoyle are working to bring telomerase therapy to human trials. Michael is known locally as Les Fossel's world famous brother!
A daylong "What's the Buzz About Reframing Aging? Linking Aging Research, Public Policy and Community Age Positive Symposium" will take place on Friday, September 14 from 8:00 a.m. until 3:30 p.m. in Cheverus Hall at St. Patrick's Catholic Church, Academy Hill, Damariscotta Mills. 
Connecting the Community, all ECN 20th Anniversary Celebration events are free.  Community members across all generations welcome. Donations in support of the Eldercare Network are always appreciated.
For information, to express your interest, to volunteer and/or to become a 20th Anniversary sponsor call 207-563-2148, e-mail gwebber@eldercarenetwork.org or write the ElderCare Network of Lincoln County, P.O. Box 652,  Damariscotta, ME 04543.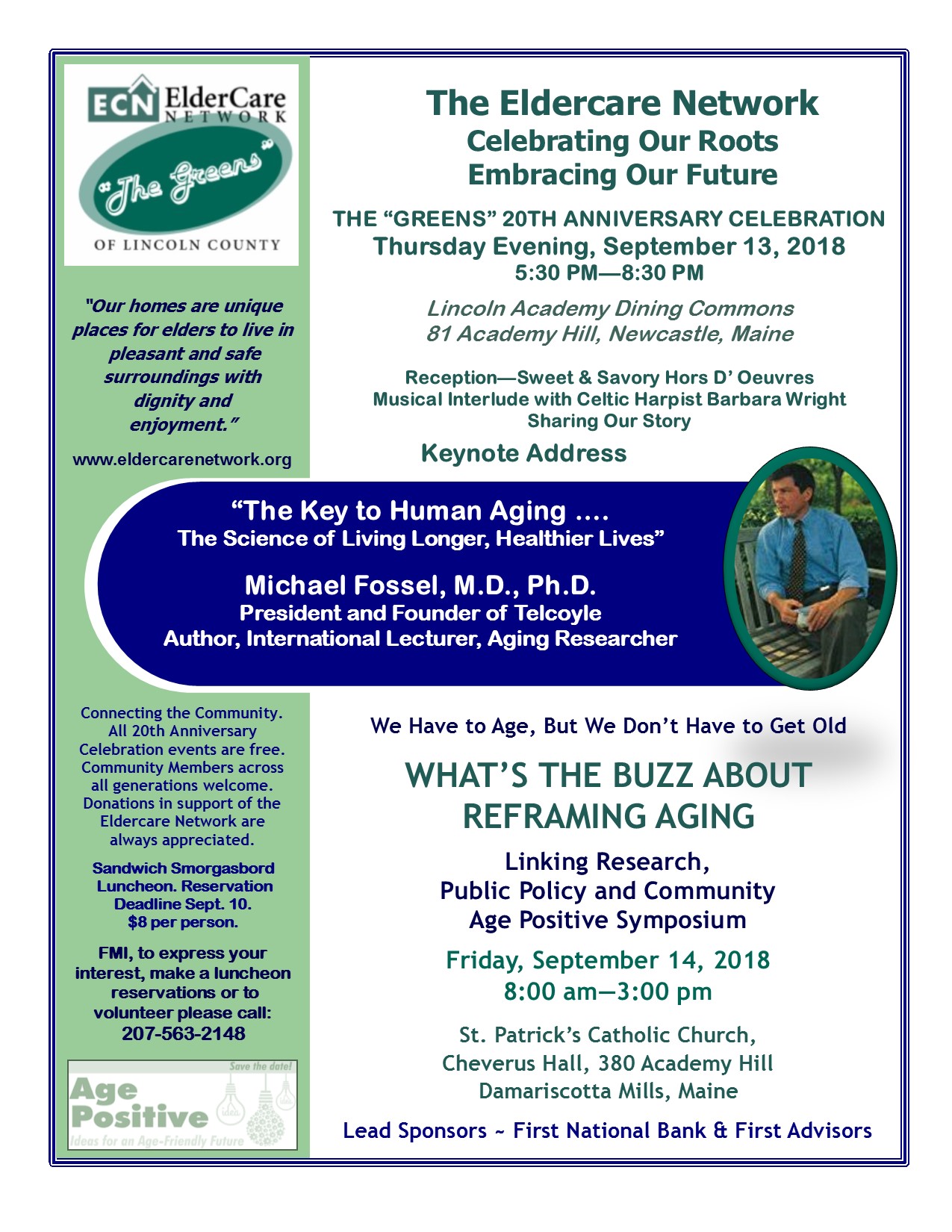 When & Where

Linclon Academy Dining Commons
80 Academy Hill
Newcastle, Maine 04553


Thursday, September 13, 2018 from 5:30 PM to 8:30 PM (EDT)
Add to my calendar
Organizer
ElderCare Network of Lincoln County offers family-style assisted-living services at 7 small homes scattered throughout Lincoln County villages as well as adult day services at each location. Our homes are unique places for older adults to live in pleasant and safe surroundings with dignity and enjoyment.
Established in the mid-1990's, to help make more and better housing options available to frail elders in this rural mid-coast Maine county. While private assisted living developments abound along Maine's coastline, Lincoln County totally lacked options for residents unable to afford private assisted living until ElderCare Network opened its first residential care facility in 1998.
ECN's Mission: We wish to improve the way services are provided to Lincoln County elders, whatever their income, by creating homes that function like a regular household. Our caregivers have the time to get to know the residents, and to offer each one just the right amount of assistance with personal care, medication, bathing and dressing.