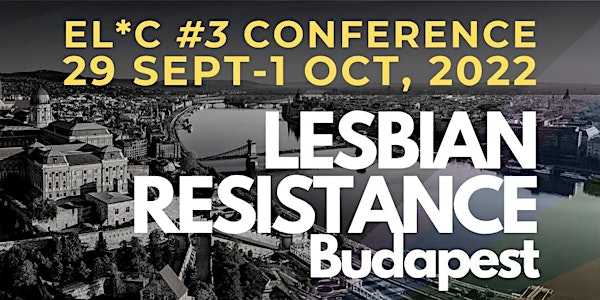 EL*C third international lesbian conference - "LESBIAN RESISTANCE" 2022
Location
Central European University
9 Nádor utca
1051 Budapest
Hungary
We look forward to welcoming you at the EL*C international lesbian conference 2022!! Early registration is strongly advised !!!
About this event
About EL*C
The Eurocentralasian Lesbian* Community – ("ELC") is a lesbian feminist and intersectional network. The EL*C started out of a self-organised space in 2016, recognizing the multitude of needs surrounding the rights, the visibility and the well-being of lesbians throughout Europe and Central Asia. In 2022, EL*C has over 300 individual members and 41 group members. We work to strengthen our community, to make lesbian issues visible to those in power, to build and find together the strategies, the resources and the tools to resist violence and discrimination against lesbians. More info about EL*C can be found here: https://europeanlesbianconference.org/
A bit more about ELC's third conference edition
We look forward to welcoming you at the EL*C international lesbian conference 2022!! For edition #3, our theme is "LESBIAN RESISTANCE: one lesbian is a blessing, hundreds coming together are a revolution!" and we can't wait to come together and share, learn and solidarize with hundreds of lesbians meeting in Budapest Hungary for our third conference happening between 29 Sept-1 Oct, 2022.
The conference is open to grassroot activists, academics, artists, policy makers, authors, politicians, journalists, human rights advocates!
The program is organized in such a way as to offer participants the opportunity to deliver workshops (via an open call), we organize pre-curated discussions (plenaries) and also set up a space for networking and this is also where we bring in cultural productions, parties / artwork. In the past, we've invited keynote speakers, for example, Phyll Opoku-Gyimah, ED of UK Black Pride to Vienna. And Monica Benicio, widow of the human rights activist municipal councilor Marielle Franco traveled to Ukraine for our second conference to be one of our keynotes. Our conferences usually run between 3 and 3.5 days, including a pre-conference opening event. When possible such as in Vienna, we also organise a dyke march, as a way to strengthen lesbian visibility in public space.
Why Budapest?
Going to Budapest is a way to join all other whistleblowers in denouncing the resurgence of far-right politics and of anti-human rights narratives in Europe and other parts of the world. To counter the call to boycott, we want to help visibilize all efforts to spread positive messages about feminism and the LGBTIQ community, especially where these efforts are led by lesbian groups. Our goal is to have as many countries as possible represented from all parts of Europe and Central Asia. By locating the event centrally we hope to attract a wide audience from different regions.
Logistical information (venues and accommodation)
Conference Venue (29 Sept – 1 Oct) : Central European University (Budapest Campus, Nador utca 15)
Conference Hotel : Hotel Danubius Hungaria (for EL*C scholars)
Other hotel suggestions :
Hotel Mercure (Kalvin Square)
Amber Garden View Studios
Getting from the airport to the city center :
Information about 100E bus
Airport shuttle bus 100E is in operation between Liszt Ferenc International Airport and Deák Ferenc tér, one of Budapest's major transport hubs, running via Kálvin tér, another important location in the city. Operating every day of the week
with departures from Deák Ferenc tér in the city between 3:30 and 00:25 and from the airport between 4:10 and 1:05 past midnight
the bus line with an average service frequency of 15-30 minutes on Mondays, Fridays and Sundays, and 20-30 minutes on Tuesdays, Wednesdays, Thursdays and Saturdays provides a convenient, cost-efficient and fast connection between the airport and the city centre.
Data processing
EL*C collects and processes data only for the purposes of registering you at the Conference, in line with art. 6b of the Reg (UE) 2016/679 GDPR. we will not keep it for any other purposes unless you explicitly agree on that. Your data will be accessible only to the members of our team and kept safely until the end of the conference when they will be deleted. All the sensitive data in the registration form are optional.
Please note that if you provide this data, you consent to EL*C using it for the purpose of the organization of the conference. You can withdraw your consent at any moment but this will not affect the lawfulness of our processing before your withdrawal. You can at any point exercise the rights included in Chap. III of the GDPR or address questions concerning the use of your data by contacting us at info@lesbiangenius.net
Limitations to these rights apply as provided by the GDPR and complaints can be lodged with a supervisory authority according to art. 55 of the GDPR. Photo Policy: Please note that the conference will be livestreamed and photos will be taken. A photo policy will be in place, including no-photo spots and no-photo badges provided for people who do not wish to be photographed, and everyone will be informed and invited to respect it.