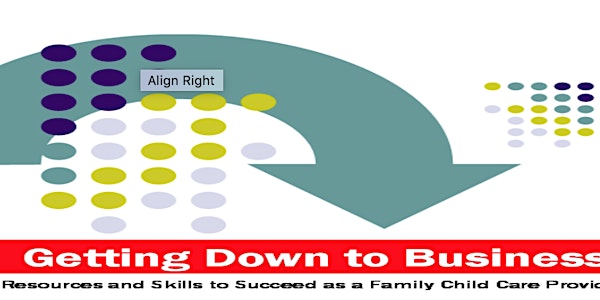 (ELC) Getting Down to Business: The Business of Family Child Care (1)
Session 1 – The Business of Family Child Care
About this event
Getting Down To Business has four topic areas that are covered in the 20-hour class, each session is 5 hours. GDTB series will not move from online to in-person later. We will be keeping these online, no matter the state of COVID. Each session will have a 30-minute lunch break.
3/13/21 Module 1: The Business of Family Child Care
4/10/21 Module 2: Child Development and Learning
4/24/21 Module 3: Policies and Procedures
5/22/21 Module 4: Relationships in Family Child Care
Completing this class fulfills requirements for business training for family child care providers in the proposed licensing requirements. Attendance policy enforced!
Getting Down To Business is designed to increase the business knowledge and skills of family home child care providers. Are you up to a challenge that contains knowledge? Meeting new people with similar interests? Learn something that directly relates to your work. Fulfills requirements for business training licensing requirements.
Zoom links will be sent 3 days before the training date.
*Refunds will not be issued for no-shows or requests received less than one week before the training.
Please make sure you have a working camera, audio capabilities, and are prepared to engage in the training. If you are unable to fully participate or have too many distractions, you will not receive credit for the training.