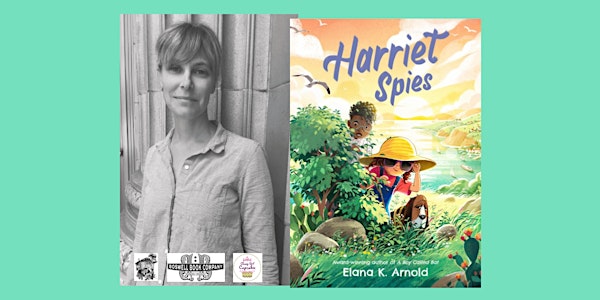 Elana K Arnold, author of HARRIET SPIES - an in-person Boswell event
Elana K Arnold, author of HARRIET SPIES - an in-person Boswell event
When and where
Location
Boswell Book Company 2559 North Downer Avenue Milwaukee, WI 53211
About this event
Boswell Book Company presents an afternoon event with Elana K Arnold, author of Harriet Spies, the sequel to Just Harriet. The first 50 people to register for this event will get a Valentine's Day treat of a mini cupcake from Classy Girl Cupcakes, our cosponsor for this event.
There are a few things you should know about Harriet Wermer:
She always tells the truth. She's loving spending her summer on Marble Island, where she is an A+ mystery-solver. Okay, maybe she doesn't always tell the truth. Actually... she has a tendency to lie quite a bit. Which is why, when one of the guests at her grandmother's bed-and-breakfast finds that their treasured pair of binoculars has gone missing, no one believes Harriet when she said she had nothing to do with it. But this is one time Harriet isn't lying--and she knows that if she can find the binoculars and figure out who really took them, she can prove it. With her cat, Matzo Ball, her grandmother's basset hound, Moneypenny, and Harriet's new friend, Clarence, helping her out, Harriet knows she can crack the case. But when the culprit isn't who Harriet expects, it's up to her to decide how important the truth really is.
Elana K. Arnold is the award-winning author of many books for children and teens, including The House That Wasn't There, the National Book Award finalist What Girls Are Made Of, and the Global Read Aloud selection A Boy Called Bat. She is a member of the faculty at Hamline University's MFA in writing for children and young adults program.
Click here to order your copy of Harriet Spies from Boswell. Signed copies and personalization available on pre-orders. Please note that signed copies will not be shipped until after the event.