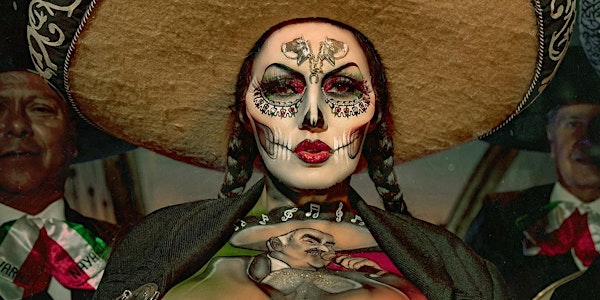 EL VELORIO 12 YEAR ANNIVERSARY
EL VELORIO 12 YEAR ANNIVERSARY MUSIC & ARTS FESTIVAL
When and where
Location
Plaza De La Raza 3540 North Mission Road Los Angeles, CA 90031
About this event
Antonio Pelayo presents,
EL VELORIO
12 YEAR ANNIVERSARY Day of the Dead MUSIC & ARTS FESTIVAL
Hosted by Alysha Del Valle & Danny Trejo
MAIN STAGE
Headliner TROPA MAGICA
Spaghetti Cumbia
Mariachi
Angel Ng
Tara New
Amoraa J
Cota The Barber
DJ Gargamel
SECOND STAGE
SELAH
DJ Chris Rox
DJs El Meneaito
Fashion Show by Loretta Vampz
Bike Show by JR Kustoms
Art Exhibit Themed: Tribute to the Mexican Legend Vicente Fernandez, curated by Juan J. Sanjuan III
Participating Artists:
Aaron Hernandez , Adrian Castro, Alan Luna, Alfie Numeric, Antonio Barajas , Annie Mickle ,Alexis Monroe , Albert Acosta, Arlene Rivera, Arhyen Ibanez, Arturo Rivas, Becka Ramirez Big Ray, Bryan Mestizo Arreola , Caren Isalas, Carla Marie Guerra, Cesar Aldana, Cesar Velazquez, Cindy Hermosillo, Chandy Mendez, Chato, Christine Michelle Verduzco, David Rodriguez, Dave Sanchez, Diana Diaz, Dofre, El Happy, Elizabeth Gomez, Elisa Torres Edison Roman, Enrique Cuevas, Eric Lopez, Erik Guzman, Esmeralda Ezz, Estela Gama Emilia Cruz, Fabi Mungia, Francis Loquet, Frank Romero, Gabriel Pietro, George Yepes, Gil Arreola, Gloria Palomino, Hector Zavala, Henry Gomez, Hope Garcia, Ignacio Mejia, Isaac Pelayo, Isabella Leticia Duco-Figueroa, Ignacio Mejia, Imelda Chavira, Jacqueline Torres, Jay Eye, Jasmin Marin, Jorge Beltran, Jacky Boy Mora, Janelly Barragan, Jasmin Iraheta, Jesus Molina, Jesus Romero, Jessica Ortega , Johnny Roman, Joe Black, Joshua Renteria, Jimmy Castro, Juan Gonzalez, Juan Almader, Julian Gonzalez, RS Kustoms, Jose Lozano, Lalo Alcaraz Leticia Reyes, Lea Monique, Luis Enriquez, Maya Gonzales, Manny Torres, Maricarmen Ramirez Martin Roman , Marlene Calderon, Margaret Garcia, Maritza Torres, Maria Anaya, Maria Kane, Melissa Leon , Miguel Pichardo, Miguel Figueroa, Michael Nguyen, Michael Lopez, Marvin Bonola, Mitchell Leal, Mike MADLOSANGELES, Mr Rich, Monica Belni, Natalie Ruiz-Alfaro, Neyblack, Noe Ortega, Orlando Perez, Omar Escorcia, Pablo Damas, Paul Martinez, Pavel Acevedo, Priscilla Martinez, Pepz, Pepe Nueva York, Priscilla Martinez, Rafa Ruiz, Randy Garcia Raul RIvas, Regi Toscano, Richard Romeros, Rico Espinoza, Rick Escalante, Rick Ortega Roberto Islas Islas, Ruben Jimenez, Salvador Correa, Sergio Martinez, Sergio Gallardo Stan "Saints" Nuńez, Stephanie Ortiz, Sofia Pereyra, Sonia Romero, Skulliesdraw, Susie Q Sue Franco, TeeMari, Tony Reyes, Trish Blaze, Violeta Amaral, Valerie Avila, Vanessa Reyes Veronica Aldana, Yani1124, Yesenia Calvillo, Yolanda Gonzalez, Wendy Gonzalez, Wizroks One Zea
A Benefit for Chefs Supporting Chefs a non profit that feeds the ones in Need
Sponsored by: Black Widow Investigations, Titos Vodka, Estrella Beer, Vezbi , Salvadores Mezcal, Elite web Technology, Northgate Markets, Crafting with Cin, City of Los Angeles
~~~~~~~~~~~~~~~~~~~~~~~~~~~~~~~~~~~~~~~~~~~~~~~~~~~~~~~~~~~~~~~~~~
DISCLAIMER: All event attendees must be 21+ with a valid photo ID upon check-in. No in and outs are permitted. Upon entering our events, you are allowing our photographers and videographers to include you in video footage for any purposes including movie filming and photography. We reserve the right to use, reproduce and distribute any video and photography produced at our events. Solicitors are not allowed on the premises. Passing out flyers and/or promoting other events at or during our events is strictly prohibited and is grounds for removal. Ticket sales are final, NO REFUNDS. Talent is subject to change at anytime. Parking is very limited, Uber/Lyft is highly recommended. Cash, Credit Cards, PayPal, Venmo accepted at the event, ATMs will be available. No bags, backpacks or cameras permitted.