El Son de la Negra: Invisible Blackness and the Makings of Mexican Culture
Sales Have Ended
Registrations are closed
Thank you for confirming your attendance. We look forward to seeing you March 16 at 2:30PM!
Sales Have Ended
Registrations are closed
Thank you for confirming your attendance. We look forward to seeing you March 16 at 2:30PM!
Description
El Son de la Negra: Invisible Blackness and the Makings of Mexican Culture
A Talk by Dr. Christine Arce from the University of Miami
From colonial discourses of black magic to the underlying rhythms of son jarocho, blackness in México has been excised from the national imaginary. Despite the recent interim poll conducted in 2015, in which 1.38 million Mexicans identified as Afro-descendant, in concert with the burgeoning scholarly attention unearthing the black presence in México, Afro-Mexicans are not considered relevant despite their continued presence since the Spanish Invasion. Blackness has at best been exceptionalized as a product of Caribbean migration, or at worst, criminalized and summarily disappeared. Mexican cultural production, in turn, is not only an incredible artifact of the African presence, but also witnesses the living cultural and social practices that constitute a specifically black contribution to Mexican culture and history. In short, this presentation will trace the importance of Afro-Mexicans in Mexican history through a look at their representation in, and contribution to, the arts.
Dr. B. Christine Arce is an assistant professor at the University of Miami and works on issues of race, gender and non-Western epistemologies in the cultural production of Mexico, Brazil and the Caribbean. Dr. Arce's forthcoming book, México's Nobodies (2017), this year's winner of the Victoria Urbano Award, explores the long obviated contributions of women and blacks to Mexican culture and history.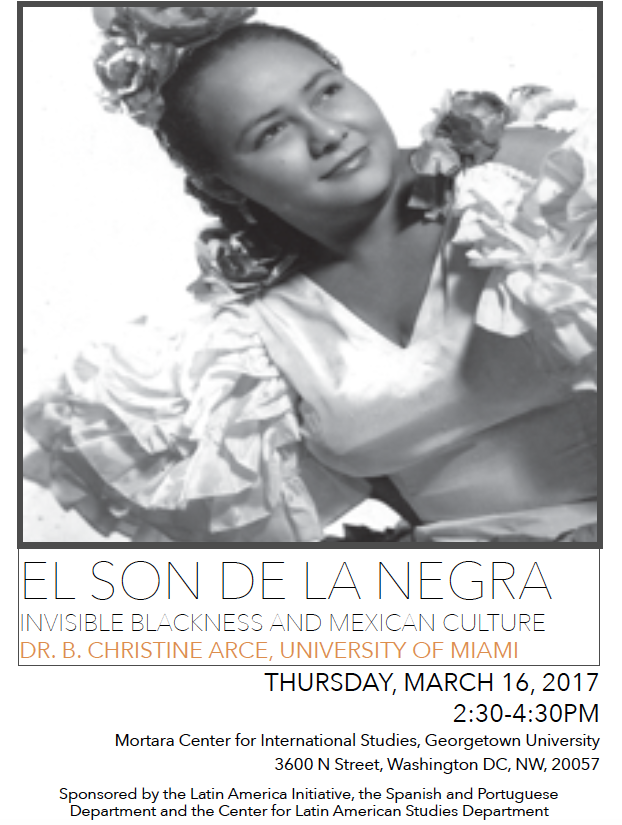 Accommodation requests related to a disability should be made by emailing Carmen.Trigo@georgetown.edu. You can also fill out the following form. A good faith effort will be made to fulfill requests.
Date and Time
Location
Mortara Center for International Studies
36th Street Northwest
Washington, DC 20007