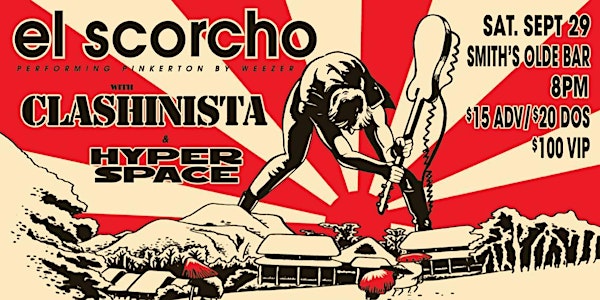 Location
Music Room at Smith's Olde Bar
1578 Piedmont Avenue NE
Atlanta, GA 30324
About this event
EL SCORCHO / CLASHINISTA
Hyperspace
*****************************
EL SCORCHO
El Scorcho formed in the summer of 2004 with the goal of creating the highest quality Weezer experience next to actually seeing Weezer live. Their first show at the legendary "Lenny's" in Atlanta, GA was sold-out; the result set the stage of a successful future for El Scorcho. El Scorcho performs the best of the "Blue" and "Pinkerton" albums as well as the hits Buddy Holly, Hash Pipe, Undone - The Sweater Song, Beverly Hills, plus deeper cuts and rarities. The "Quintessential Weezer Tribute Band" quickly grew into one into one of the highest in-demand tribute acts across the Southeast. After Karl Koch (Weezer's "5th member" and website administrator) caught word of El Scorcho, he immediately started to post show dates and news clips about the tribute act on Weezer's website, http://weezer.com. El Scorcho had the privilege of performing on-stage with Weezer during their 2008 tour of the "Red" Album along side other Weezer fans. El Scorcho helped to organize The Beer and Whiskey Fest, a festival that includes beer, whiskey, and Bar-be-que sponsors and gives proceeds to a non-profit organization. The initial event generated over $5,000 for the victims of Hurricane Katrina and continues to be a huge Labor Day fund-raising event in Atlanta, GA.
CLASHINISTA
Covering all stages of the Clash's career, Atlanta music scene veterans present a convincing aural and visual tribute to the "Only Band That Matters."
HYPERSPACE
Hyperspace is a "Geek Rock" band from Atlanta, Georgia. Formed in September 2011. The band mixes punk, distorted guitars, and catchy songs to create their own brand of "Geek Rock".