Description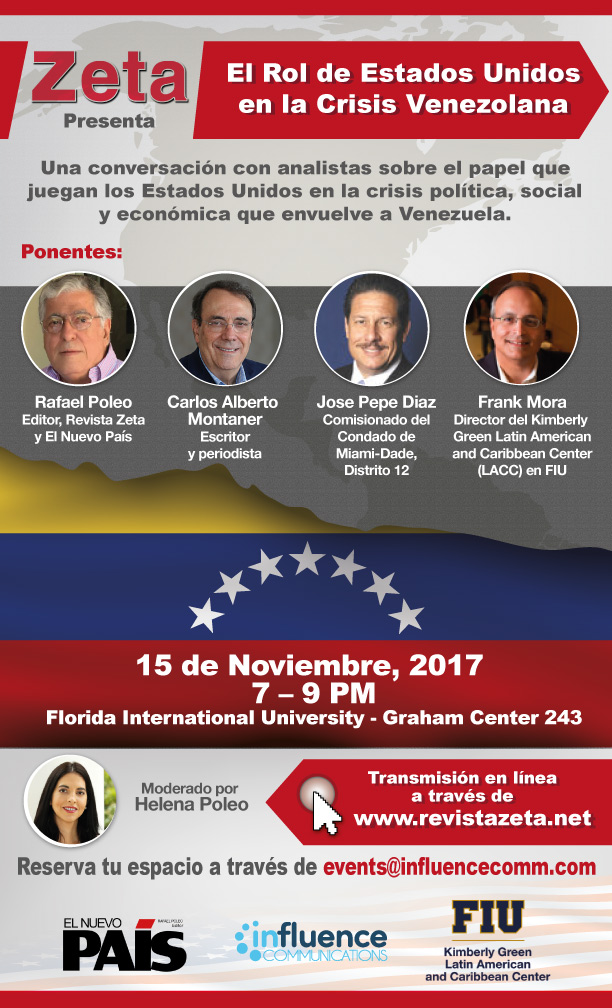 Zeta Magazine, the most widely-read magazine of information and analysis in Venezuela for 43 years, is organizing the first the first Zeta Forum analyzing the role of the United States in the current crisis in Venezuela, to be held at Florida International University on Wednesday November 15, 2017.
In that sense, Zeta and his brother newspaper El Nuevo País, the paper of better acceptance in Venezuela for 29 years, has created a space for discussion analyzing political perspectives from all possible approaches. This initiative has already been put in motion in Caracas, Madrid and now Miami.
The current situation in Venezuela is in part due to the new international policy of the Trump administration, in which Maduro's actions have become a central point of discussion. The new administration in Washington will be decisive in the destiny of the Venezuelan democracy, which is why Zeta and El Nuevo País is focusing on this issue for the first forum in Miami.
We have assembled an impressive group of speakers to discuss these important issues, and the audience of this forum includes students, journalists, editors, researchers, analysts, and influencers related to the case of Venezuelan or interested in its knowledge and dissemination.
The speakers are: Frank Mora, Director of the Kimberly Green Latin American and Caribbean Center and Professor in the Department of Politics & International Relations at Florida International University; Miami-Dade County Commissioner Jose Pepe Diaz; Venezuelan journalist Rafael Poleo and Cuban writer and journalist Carlos Alberto Montaner. The panel will be conducted in Spanish.