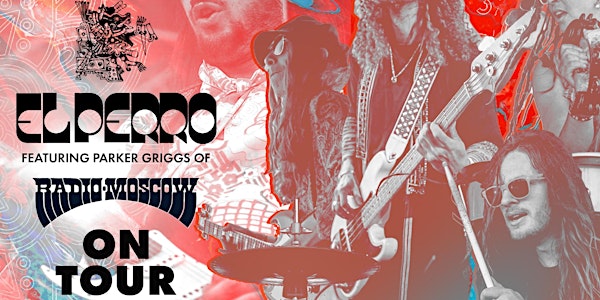 El Perro, Bone Church, and Sun Voyager
UNDER 21 WITH PARENT OR LEGAL GUARDIAN
El Perro, featuring Parker Griggs of Radio Moscow, headlines this psychedelic freakout with local heroes, Bone Church, and NYC's Sun Voyager
When and where
Location
The State House 310 State St New Haven, CT 06510
About this event
3 hours

UNDER 21 WITH PARENT OR LEGAL GUARDIAN

Mobile eTicket
EL PERRO is a brand-new band led by guitarist/vocalist/songwriter/producer Parker Griggs (Radio Moscow). The five piece psychedelic/funk/rock project features the talents of Jaron Yancey –second guitar, Shawn Davis –bass guitar, Lonnie Blanton –drums (ex Radio Moscow), and Tawny Harrington –percussion.
The heady combination of psych rock, funk, latin rock, and soul comes together in one blistering wave of shredding. Indeed, this may be a new direction for the Radio Moscow musician, but it is still 100% cranked guitar rock at the core. – GLIDE MAGAZINE
Bone Church is a heavy Rock & Roll band from New Haven, CT. Formed in 2016, they're primarily influenced by the era when rock was transforming into the earliest forms of heavy metal, but still had its feet planted in the blues. Classic bands like Black Sabbath, Led Zeppelin, and Hendrix provide the sonic inspiration; along with newer influences from the likes of Earthless, Uncle Acid, and Pallbearer, to name a few. Elements of Doom, Metal, and psychedelia are incorporated to complete the sound.
https://bonechurch1.bandcamp.com/releases
"They poured a foundation of solid, guitar-hewn, heavy concrete-like rock, then added skeletal rhythmic reinforcement akin to rebar. They moderate the density, and intensity, of both constructs with emotional temperament that's riveted into place with vocal swagger." (https://www.riffrelevant.com/2017/11/11/bone-church-st-ep-review-debut/)
Sun Voyager
With an inordinate amount of reverb and wah, SUN VOYAGER have pushed their experimentalism to the max, utilising organic jam sessions to create an album that effortlessly ebbs and flows whilst showing off the band's passion and chemistry for their music. The band have demonstrated that stepping outside the confines and methods of modern songwriting presents a world of endless creative opportunity. – Distorted Sound Magazine