[Main Event] Hands-on space education activities, space talks, prizes, inflatable planetariums, space art, and much more
About this event
The 2019 2nd annual El Paso Space Festival is bigger, better, and back by popular demand! We invite you to come and learn more about past, present and future space exploration. With the help of over 20 different organizations, this year's space festival will offer fun space adventures for everyone. Explore Earth and space phenomena and learn about current NASA Research as you and your family launch stomp rockets, explore how water moves in a watershed, make and investigate moon craters, and much more!
Schedule
[10:00 am - 3:00 pm] hands-on space educational activity booths, guest speakers, workshops, prizes, NASA VR Workshop, and much more
[11:00 am ] 2019 El Paso Space Festival group photo
[3:00 pm - 6:00 pm] solar telescope viewing with the Sun City Astronomers
[7:00 pm - 9:00 pm] International Observe the Moon Day activities with EPCC and the Sun City Astronomers
How do you get a free tickets to this event AND win space prizes?
Select a 'Elks TTP Campaign - Toiletry Donation Ticket' upon checkout
Present your toiletry donations at a check in table
Pick up your 'Space Passport'
Visit booths collecting stamps for each activity
Turn in your completed space passport for a chance to win a prize
Bring a donation of toiletries to the Space Festival
More special space activities for this event are coming soon and will be share via email upon registration.
This event is the MAIN EVENT of the week-long 2019 El Paso Space Festival. For more information about the 2019 El Paso Space Festival, please visit: http://www.insightselpaso.org/2019-el-paso-space-festival/
#EPSpaceFestival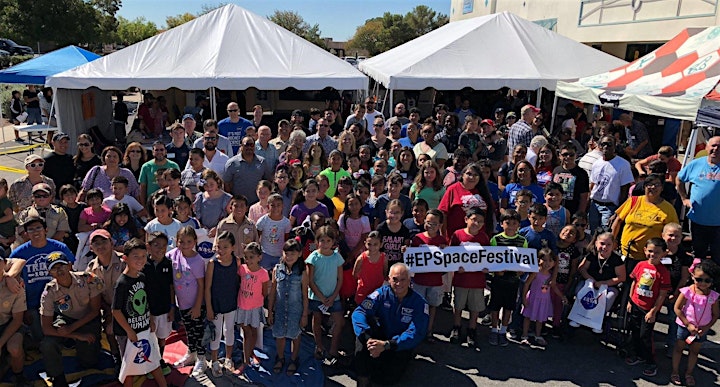 Organizer of El Paso Space Festival: Space Adventure Extravaganza
We seek to bring Science, Technology, Engineering, Arts and Mathematics (STEAM) to life in our community by providing engaging, hands-on, and on-site learning experiences to our community.
The Insights El Paso Science Center Inc. was founded in 1980. It is a private, not-for-profit organization with a mission of promoting science education through exploratory, interactive learning experiences for people of all ages. Science, Technology, Engineering, Arts and Mathematics (STEAM) education is dedicated to inspiring wonder and encouraging critical thinking.  Insights El Paso is currently focused on outreach, bringing informal science education to everyone in El Paso and the surrounding areas.
Please Contact Insights if you have any additional questions:
(915) 534-0000
info@insightselpaso.org