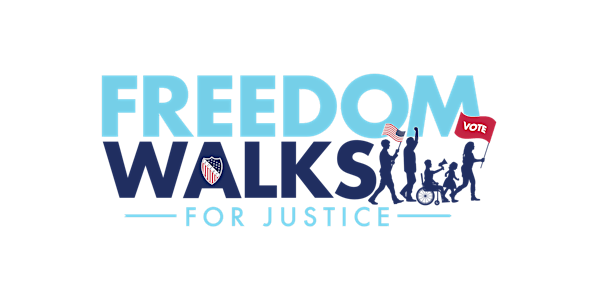 EL PASO SOLIDARITY WALK
Let's walk together. Join this movement of action in El Paso.
About this event
We are really excited to see you in El Paso, TX for one of the locally-led Freedom Walks!
The Freedom Walks are a 3-week campaign to build a stronger, broader coalition of local and national networks across the United States. Our goal is to elevate the issues affecting our communities leading to the 2020 elections. It is time to harness the power of our communities, together!
Today, we are struggling to defend our fundamental freedoms after more than half a century since the height of the civil rights movement. Our communities cannot allow targeted hate and discrimination to infringe our values of freedom. Instead, we will create a collaborative effort to advance justice and dignity for all through a bold spirit of coalition-building. This action is vital as we witness the relentless attacks on minority communities, immigrants and refugees, LGBTQ and religious minorities, among others. Together, we can confront the deep pain and division in our country head-on with the Freedom Walks message: We walk, Mobilize, and Vote.
What: El Paso Freedom Walk
Where:
Start at Ascarate Park, 6900 Delta Dr., El Paso, TX 79905
End and community gathering at Crime Victims Memorial, 610 N. Yarbrough, El Paso, TX 79915
When: November 3, 2019, 8:00 am
RSVP: HERE
How can you participate and join this movement?
What else can you do if you are not in District of Columbia or the other 14 cities?
There is another very simple way to help, Lead a Solidarity Walk HERE
For more general information and to get updates about the campaign, join our master list HERE or visit our website at www.FreedomWalk.org
*******About Freedom Walks for Justice*******
The Freedom Walks for Justice is a national campaign being led by LULAC. Following the example by the Freedom Riders, LULAC is organizing local and national leaders to walk in unity across 14 different cities in eight states across the U.S.and the District of Columbia from October 15 - November 3, 2019. The Freedom Walks will include: a one-mile march, a community gathering at the end-point, and community resources to inform all participants and serve as a hub for civic engagement, including voter registration. The first walks will start on the U.S.-Mexico border city of Brownsville, Texas, and Corpus Christi, Texas, LULAC's birthplace in 1929, and end in Washington, D.C. on November 3, 2019-- one year out of Election Day 2020. For more info: www.freedomwalks.org