Sales Have Ended
Ticket sales have ended
PLEASE SEND ME A DIRECT MESSAGE ON INSTAGRAM WITH PROOF OF PURCHASE
Sales Have Ended
Ticket sales have ended
PLEASE SEND ME A DIRECT MESSAGE ON INSTAGRAM WITH PROOF OF PURCHASE
EL MERCADO NOCTURNO BY MOVIMIENTO XICANO 08/13
About this event
WELCOME TO EL MERCADO BY MOVIMIENTO XICANO, PROUDLY SERVING SMALL CHINGONA BUSINESSES IN SAN DIEGO, CALIFORNIA RUNNED BY A LOCAL XICANA.
OUR MAIN GOAL AT EL MERCADO IS TO CREATE A SPACE WHERE VENDORS FEEL COMFORTABLE, EMPOWERED AND RECOGNIZED.
EL MERCADO IS CURRENTLY OPERATING AT A PRIVATE VENUE NEAR DOWTOWN SAN DIEGO. WE TYPICALLY HAVE 2 MERCADOS A MONTH WITH ABOUT 35 VENDORS, VARYING FROM FOOD, HANDCRAFTED ITEMS, JEWLERY, ART, ALCOHOL, MUNCHIES AND MUCH MORE!
WHAT ARE THE QUALIFICATIONS TO BE PART OF OUR MERCADO… AMBITION!! WETHER YOU HAVE 100K FOLLOWERS, OR 30 FOLLOWERS, WE WANT YOU TO START SOMEWHERE. THERE IS NO PROGRESSION IN FEAR, STEP OUT OF YOUR COMFORT ZONE AND VEND AT OUR MERCADO!!
EVENT DETAILS
EVENT SET UP IS STRICTLY AT 5:00PM, ANYONE ARRIVING LATER THAN 5:30PM WILL NOT BE ALLOWED TO SET UP
EVENT WILL BE RUNNING FROM 6PM TO 10PM, VENDORS SHALL BE CLEARING UP BY 9:45PM
PLEASE REGISTER WITH YOUR IG NAME AS WE WILL BE CREATING A GROUP MESSAGE TO DISCUSS DETAILS
INDOOR VENDOR SPACE IS LIMITED TO 6X6 AREA, L SHAPE SET UP IS REQUIRED
OUTSIDE VENDOR SPACE IS 10X10, TENT IS REQUIRED, LIGHTING IS REQUIRED, EXTENSION CORD IS REQUIRED (OUTSIDE SPACE IS IDEAL FOR A BIGGER SET UP)
SEATING CHART WILL BE CREATED, YOU WILL BE GIVEN A NUMBER VIA GROUP MESSAGE ON INSTAGRAM
ALL MAIN FOOD VENDORS WILL BE PLACED OUTSIDE (SNACKS, MUNCHIES, TOSTILOCOS, DESSERTS, ARE NOT CONSIDERED MAIN FOOD ITEMS)
PLEASE CHOOSE YOUR CATEGORY BASED ON ITEMS BEING SOLD. IF YOU CANNOT LOCATE YOUR CATEGORY, PLEASE CHOOSE THE ETC. TICKET OPTION OR THE OUTSIDE 10X10 OPTION.
TABLES ARE AVAILABLE, FIRST COME FIRST SERVICE BASIS. LIMIT (2) 4X4 TABLES PER VENDOR. CHAIRS ARE ALSO AVAILABLE, NO LIMIT. PLEASE REQUEST TABLES AHEAD OF TIME. CHOOSE ADD-ON OPTION TO YOUR TICKET PURCHASE FOR NO ADDITIONAL COST.
NO BOOTH SHARING
PLEASE REGISTER YOUR BUSINESS HOW IT APPEARS ON INSTAGRAM!!!!!!!!!!!!
***NO REFUNDS ONCE YOU SUBMIT PAYMENT***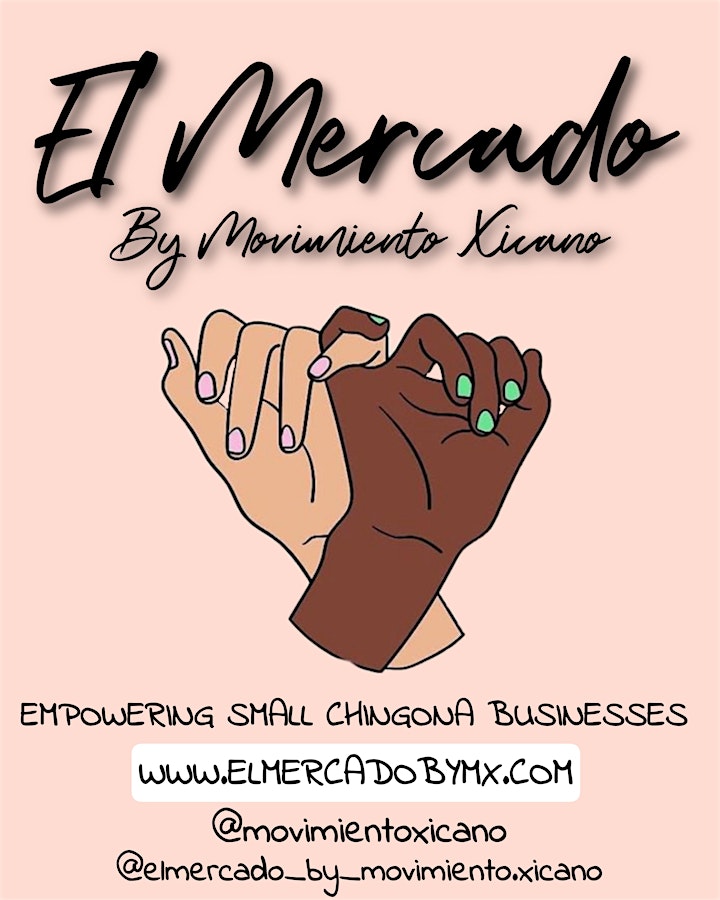 UPCOMING EVENT
MERCADO NOCTURNO
FRIDAY, JUNE 25TH FROM 6PM TO 10PM