El libro emprendedor: Conversatorio

Sunday, May 20, 2018 from 1:00 PM to 2:00 PM (AST)
Event Details
---
El libro emprendedor: Conversatorio
¿Sabías que hay libros emprendedores? Son el mejor medio para llevar tu mensaje a través del mundo y aumentar tu credibilidad e influencia como profesional y emprendedor.
Otros profesionales como tú han autopublicado exitosamente este tipo de libros y desean compartir sus experiencias contigo en el conversatorio: El libro emprendedor.
Este evento es una alianza colaborativa entre la librería Casa Norberto y nuestro programa de mentoría Emprende con tu Libro, creado por la formadora de emprendedores y autora, Anita Paniagua. Es el único programa diseñado con la metodología EmprendeSer®, que cuenta con estrategias probadas y procesos de negocio, mercadeo y autopublicación para que crees un libro transformador como base para tu modelo de negocio.
Nos acompañarán los autores:
1) Karmen Olmo, autora de Tu Mundo Happixs: 9 rutas para iluminar días nublados
2) Dra. Nelissa Domínguez, autora de Aceptad@, Planifica la entrada a la universidad de tus sueños con los secretos de tu consejera
3) Myrna I. Pérez, autora de El baúl para la manifestación, Un relato para revelar en la crisis el propósito escondido en el alma
4) Verónica Avilés, autora de La magia de reinventarte, 10 pasos para encontrar para qué eres bueno, atreverte y emprender exitosamente
5) Angel De Jesús, autor de Brilla, 5 estrategias para pulir tus talentos y transformarlos en superfortalezas
6) Indira Molina, autora de Transforma tus espacios, libera tu mente, 5 herramientas para que organices tu hogar de una vez y por todas
7) José Negrón, autor de ¡Wow!,¡qué interesante es la Biblia!, Preguntas para pensar, preguntas para creer
8) Dra. Anissa Hernández, autora de Una transformación al amor: A todos los héroes y heroínas que hemos sobrevivido al maltrato infantil
En este conversatorio los autores compartirán:
Cómo lograron autopublicar sus libros y posicionarse en sus respectivas industrias.

Las herramientas que presentan en sus libros y que son clave para tu desarrollo personal y profesional

El equipo de mentoría y producción de Emprende con tu Libro conversará sobre el proceso de autopublicación que debes seguir para que tú también logres emprender con tu libro.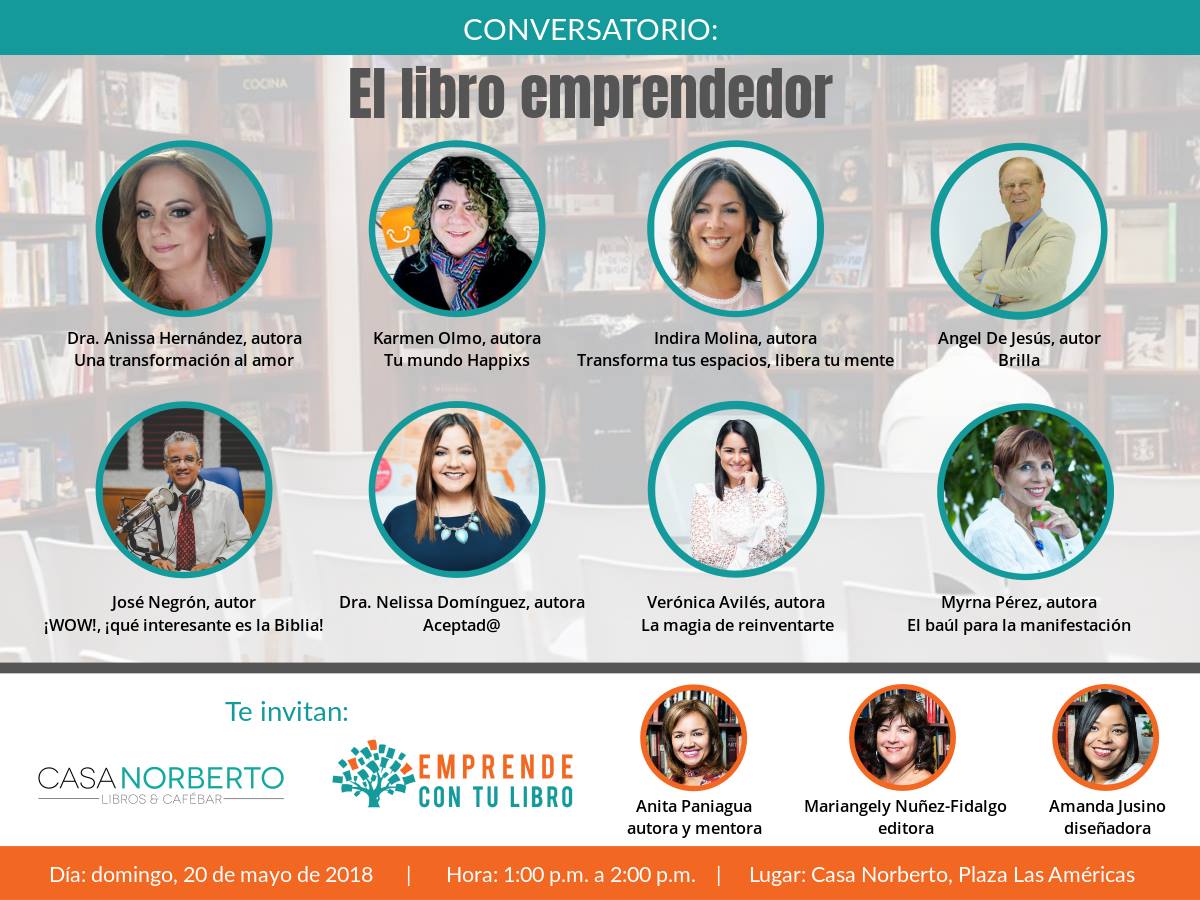 ---
---
¿Quién es el equipo de Emprende con tu Libro?
Anita Paniagua
Autora best-seller, formadora de emprendedores y fundadora del programa de mentoría Emprende con tu Libro. Comprometida con la creación y publicación de herramientas de mercadeo y negocio que transforman a expertos en emprendedores que trascienden. Sus publicaciones han sido acogidas por las más prestigiosas instituciones educativas de negocio. Ha impactado sobre 1,200 personas con su programa Emprende con tu Libro, en más de 50 países.
Mariangely Núñez Fidalgo
Editora estratégica, con más de 25 años de experiencia en redacción creativa, creación y desarrollo de estrategias de comunicación y conceptos para campañas publicitarias, relaciones públicas y promoción de productos y servicios dirigidos a distintos públicos. Experta en la proyección de imagen a través de la palabra y en la creación de frases o lemas que se quedan en la mente del público. Constantemente, sus autores le confirman que, gracias a su edición, los lectores se enamoran de sus libros y no pueden soltar su lectura hasta el final.
Amanda Jusino
Brand Coach con más de 10 años de experiencia como profesora de diseño y diseñadora gráfica. Fundadora de la Academia de Branding, especialista en diseño de publicaciones, desarrollo de imagen corporativa de pequeños y medianos empresarios y de plataformas digitales de marca personal. Ofrece conferencias, talleres y cursos, tanto presenciales como en línea, especializados en sistemas digitales para negocios.
¡Te esperamos!
When & Where

Casa Norberto Libros & Cafébar
525 Avenida Franklin Delano Roosevelt
San Juan, San Juan 00918
Puerto Rico

Sunday, May 20, 2018 from 1:00 PM to 2:00 PM (AST)
Add to my calendar
Organizer
Autora del libro más vendido, EmprendeSer®: herramientas para desarrollar a tu ser emprendedor. Formadora de emprendedores, mentora de autopublicación y creadora del programa para profesionales y emprendedores, Emprende con tu Libro, el cual ha impactado sobre 900 emprendedores en más de 50 países en sus modalidades presencial y digital. Su trayectoria y experiencia en negocios, mercadeo y modelos de negocio digital, la han llevado a desarrollar una exitosa práctica privada internacional que le ha permitido realizar su propósito de crear y publicar herramientas de negocio que transforman a expertos en emprendedores y autores que trascienden.