El Hackathon 2015 - Washington D.C. #LATISM

Wednesday, October 28, 2015 at 5:00 PM

-

Friday, October 30, 2015 at 6:00 PM (EDT)
Event Details
El Hackathon 2015 - Washington D.C. #LATISM15
Igniting the Latino Community to Drive the Innovation Economy.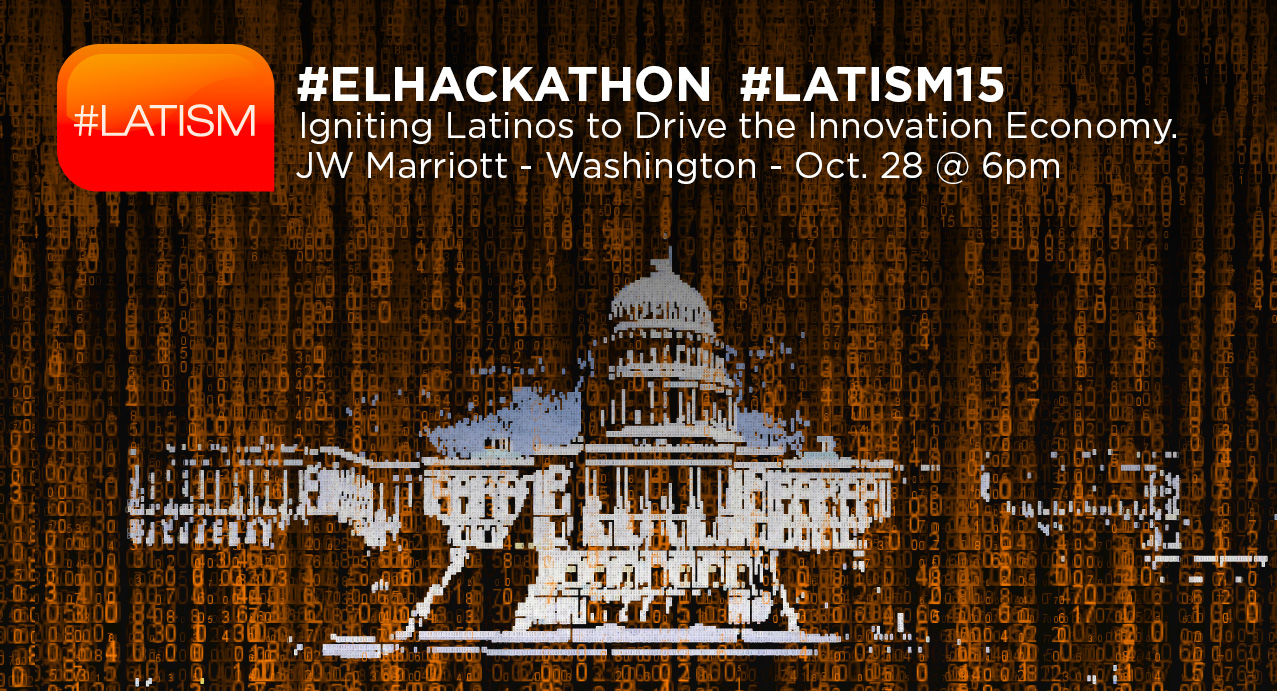 El Hackathon - The National LATISM Hacking Marathon (Hack-athon); a 40hr event for developers, entrepreneurs, innovators and designers to join forces and engage in collaborative computer programming. The goal is to build a "Hack" over the duration of the hackathon and introduce new technologies or concepts that solve problems for the Latino community or tap into the Latino market. El Hackathons is a launch pad for ideas, a place where developers, designers, entrepreneurs and curious folk can meet and build creative projects. We encourage you to develop fun projects that take into consideration issues revolving education, health, business in the Lationo community. You don't have to be an expert developer to participate; you just need to have the drive to learn and play with code!
Attendence is FREE for people who wish to participate in the Hackathon.
El Hackathon is part of the #Latism15 conference. Hackathon participants do not need a conference ticket. You just need a laptop a great idea and the energy to work for 40 hours on your project!
To find out more about the #Latism15 conference, go here:
http://conference.latism.org/register/
We will host the event at the JW Marriott Hotel in Washington D.C.
LOCATION:
The Comference Conference Room (The LATISM Hackathon Room)
JW Marriott Hotel in Washington D.C.
1331 Pennsylvania Avenue Northwest
Whashington, DC 20004
Prizes:
1st Place: $2,000
2nd Place: $1,000
3rd Place: $500
More prizes are on the works, stay tuned!
Prizes by MongoDB : Two MongoDB World 16 tickets

Prizes by Consumer Reports : Electronics and Subscriptions!

Also Participating: 
FEMA | Homeland Security.
Schedule (Subject to change):
Wednesday:
6:00 PM: Registration 
6:30PM: Hacker Welcome
7:00pm: Hackathon starts. Networking and team building
8:00 PM: Snacks
Rest of the night:  Hacking
Thursday:
9:00 AM:   Breakfast
10:00 AM:  Hacking continues
11:00 PM:   Collaboration Session
1:00 PM: Lunch
3:00 PM:   Workshop
4:00 PM:   Workshop
4:30 PM:   Cafecito Break
5:00 PM:   Snacks
6:00 PM:   Hacking
7:30 PM:   Dinner - LATISM Gala Awards (optional)
Rest of the night:  Hacking
Friday:
9:00 AM:   Breakfast is served
10:00 AM: Status update 
10:30 AM   Submit Hack Presentation Open
11:00 AM:  Hack Submissions Closed
11:30 AM:  Presentations begin
12:30 PM: Presentations End
1:00 PM:   Winners Announced
1:15 PM:   Lunch
2:30 PM:   Top 3, Demos to #LATISM15 Conference audience (10 min each) 
3:00 PM:   Hackathon closing remarks 
5:00 PM: LATISM Closing Reception
Judges:
TBA
Judging Criteria:

Creativity
Design
Technical Ability
Impact on the Latino community (Value Proposition)
Call for Volunteers:
Want to help organize the Hackathon? Get in touch with Oscar on twitter to volunteer! contact @oscargt
El Hackathon Rules:
1. Code
All projects must be programmed at El Hackathon. Code must be fresh and not pasted from previous projects. Frameworks (like wordpress, bootstrap, angular js, processing/arduino etc.) or APIs (google,facebook, instagram,foursquare, twitter, etc.) to speed up development are highly encouraged. Make sure you list which frameworks were used. Prior to El Hackathon you may work on your logo, wireframes, design, idea validation, mockups, you name it. But no coding beforehand.
2. Code Review
Hacker teams will be subject to a code-review to ensure everything was built at the hackathon.
3. Remember this is a hack!
Feel free to use any frameworks, hosting service, languages, tools, workarounds, tricks or shortcuts you've discovered over the years to help you build quicker.
4. Teams
you must have at least one other person in your team to participate, no robots allowed as your only teammate. Ideal team size is 3-4 people. Robots, androids and other "chatarras" can tag along if they really want.
5. What to Build
Execute a unique idea around our theme; community, health, education and business.
6. Intellectual Property
Ownership of I.P. and code belongs to the team that created it. Your team has full ownership of your product and are free to do as they wish with it.
7. Submissions
We will be using a TBA system to organize and list project for review. A group of judges will take a look at all the projects and make a decision based on your project demo.
8. Last and Most Important Rule
HAVE FUN! It's El Hackathon! A chance to experiment, collaborate and socialize for the sake of creativity and innovation.
Location: JW Marriott, Washington, DC
When & Where

JW Marriott Washington, DC
1331 Pennsylvania Avenue Northwest
Washington, DC 20004


Wednesday, October 28, 2015 at 5:00 PM

-

Friday, October 30, 2015 at 6:00 PM (EDT)
Add to my calendar
Organizer
About LATISM
At the heart of Latinos in Tech Innovation & Social Media (LATISM) is a commitment to integral action for and by Latinos. We believe in community action and our mission is the manifestation of that commitment. LATISM actively engages in digital communities to ensure that online discourse more accurately reflects the rich diversity of thought, heritage and culture in our changing society.