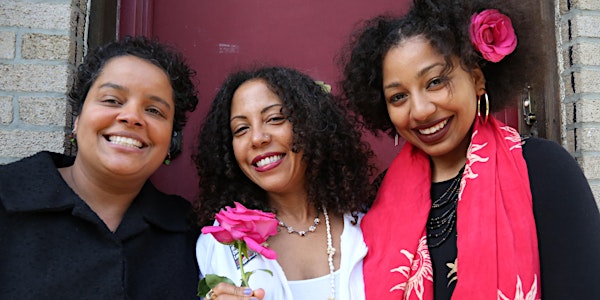 El Día Internacional de la Mujer Afrolatinoamericana
When and where
Location
Howard University Founders Library Washington, DC 20059
Refund Policy
Refunds up to 7 days before event
Description
VIDAAFROLATINA.ORG HAS JUST LAUNCHED--VISIT OUR WEBSITE FOR MORE INFORMATION!
International Afro-Latin American, Afro-Caribbean and Diaspora Women's Day

Día Internacional de la Mujer Afrolatinoamericana, Afrocaribeña y de la Diáspora

Dia Internacional da Mulher Afro-Latino-Americana, Afro-Caribenha e da Diáspora
Throughout Latin America, July 25 is a day of recognition and celebration of Black women. This year, International Afro-Latin American, Afro-Caribbean and Diaspora Women's Day will be commemorated in the U.S. This community gathering is designed to honor our collective histories and celebrate ourselves as Black Latinx women and girls. We will also plant seeds for upcoming action on several issues including child sexual abuse, immigration and international advocacy—from a Black Latinx perspective.
Through stellar speakers, engaging panels, empowering art and dance workshops and interactive strategy sessions, we will elevate our voices in a space where our multi-dimensional identities will be acknowledged and respected, instead of erased or marginalized. This event will serve as a call to action for ongoing wellness support and social justice work that unapologetically centers Black Latin American women.
The primary objectives of this historic community gathering are:
1) To prioritize personal and group wellness, and to speak truth to the sexual violence we and our girls have experienced. We will share self-care practices and resources for maintaining healthy families, communities and nations.
2) To affirm our identity as African-descendant women, fortifying our individual and collective self-concept.
3) To deepen sisterhood among Afro-Latinx, other Black women and our communities. With a foundation of unity and mutual understanding, we can achieve common goals from a position of strength.
4) To create an agenda of priority policy issues specific to Black Latin American women in the U.S. and abroad, including but not limited to sexual violence, health, immigration and international advocacy.
Lunch will be provided.
If the registration fee is a hardship for you, please email us at VidaAfrolatina@gmail.com. We will not turn anyone away from this community gathering.
WE LOOK FORWARD TO SEEING YOU ON JULY 25!