El Centro Hispano 25th Anniversary Gala

Saturday, June 10, 2017 from 6:00 PM to 11:59 PM (EDT)
Event Details
In 2017, El Centro Hispano will be celebrating 25 years of service and support to the Hispanic/Latino community in Durham, Carrboro, Chapel Hill and surrounding areas with our Anniversary Gala – our fith to date – which feature an exciting live auction along with dinner, dancing, a Latin band and the presentation of the Gilbertson-Clark Visionary Award.
This Gala benefits our Latino immigrant families in need. Our community needs your support now more than ever

You are cordially invited to join us as we reflect on our work over the past 25 years and mark another year of public service.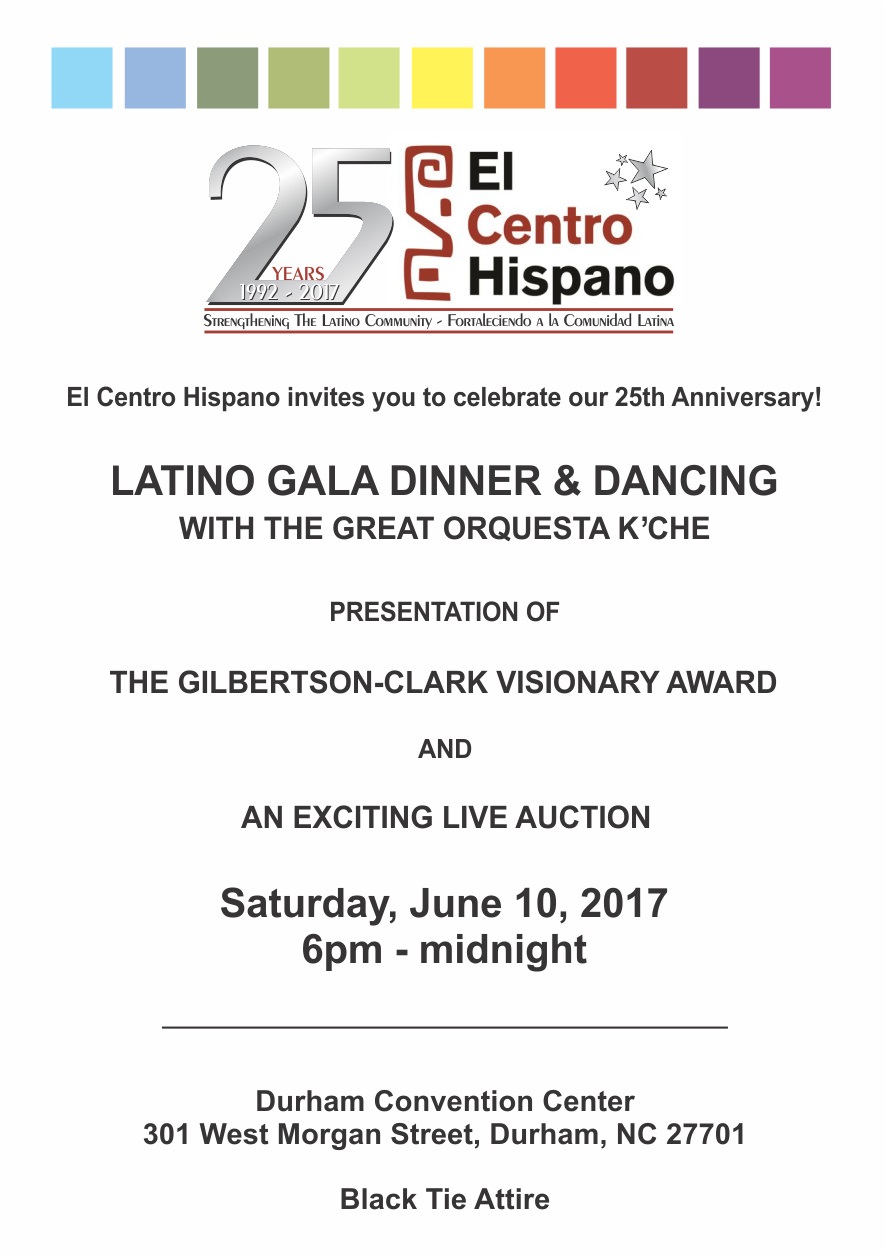 (suggested) 
  We hope to see you at our Latino Gala Dinner & Dancing !!! 

 Thank you to our sponsors:  
Presenter Sponsors
Silver Sponsor  

Bronze Sponsors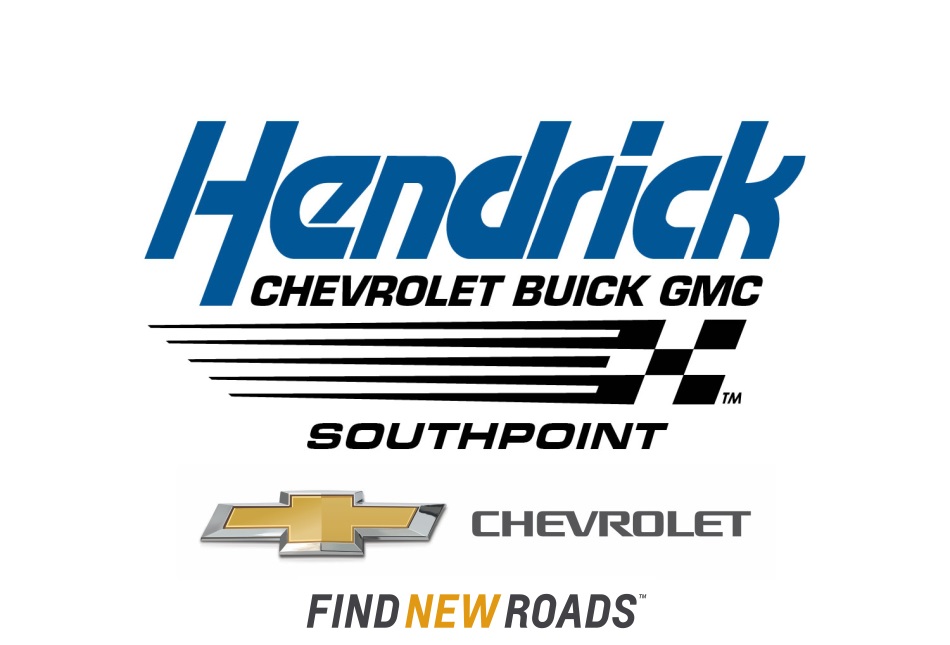 Friend Sponsors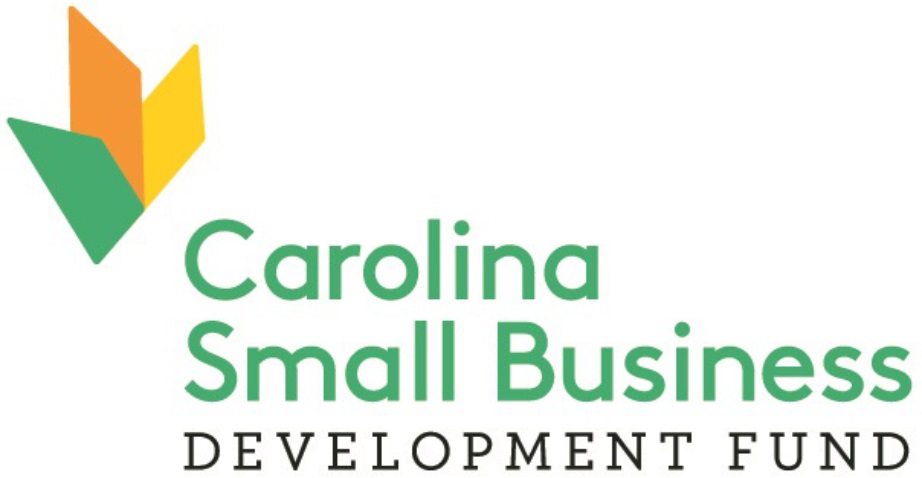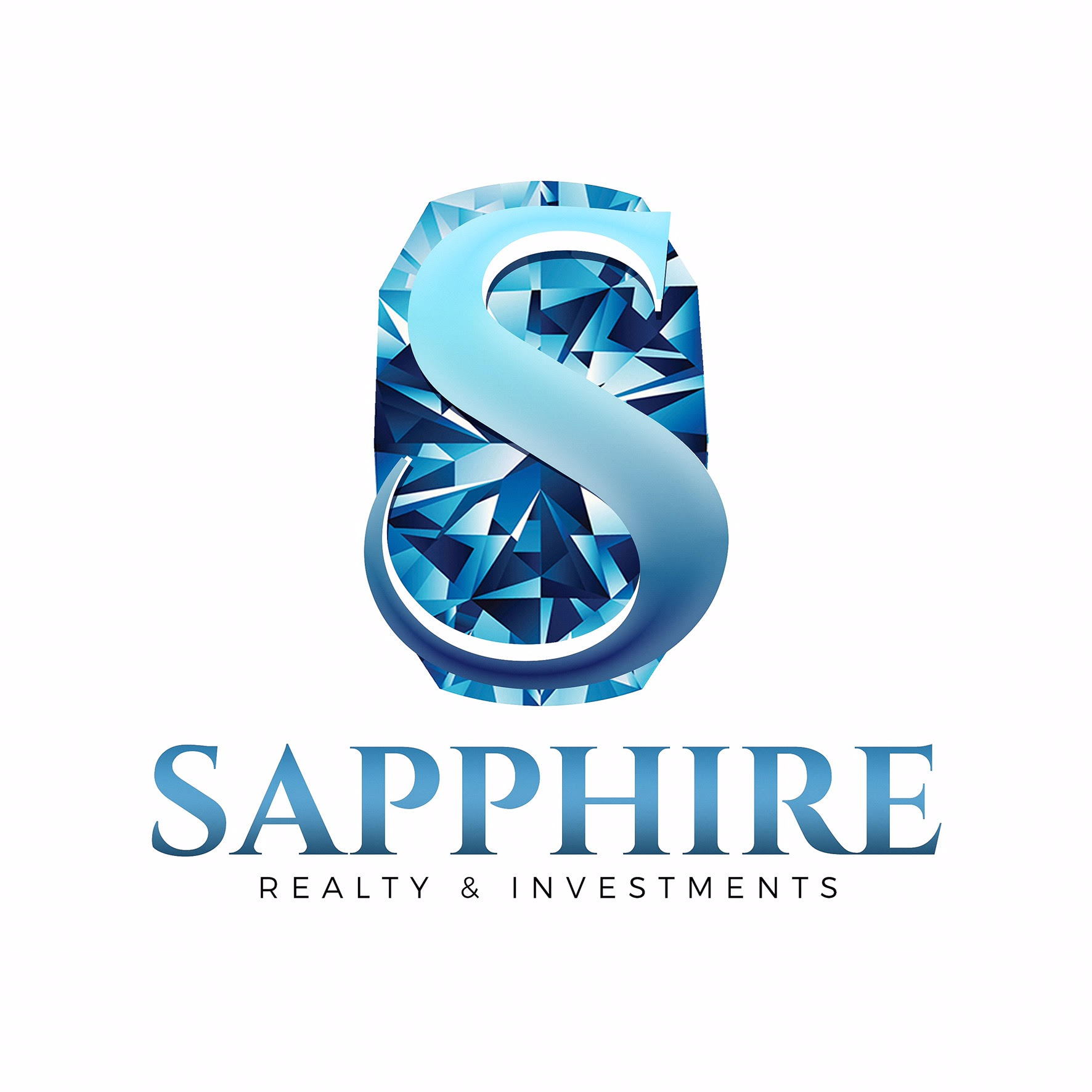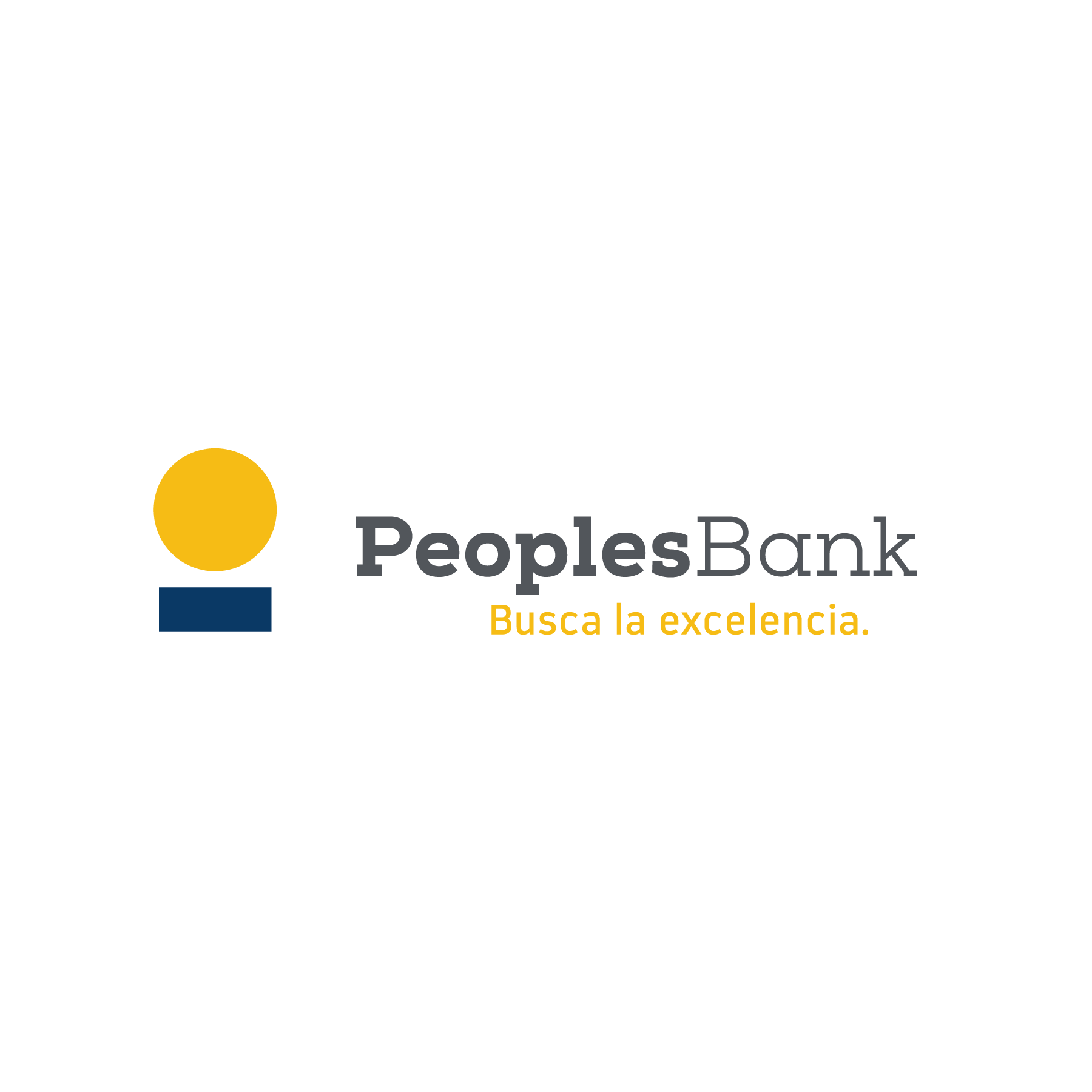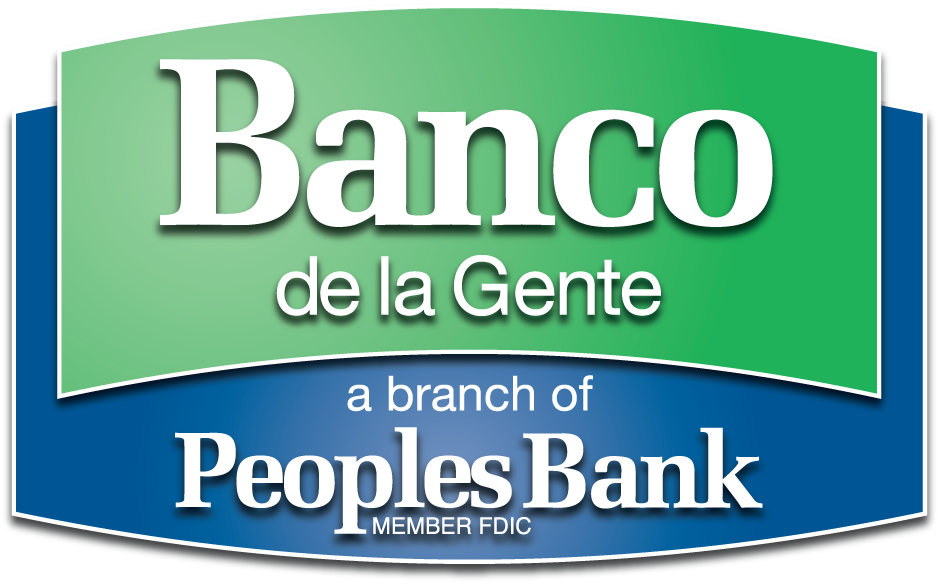 Table Supporters
Carol Gallione
Christa Gibson
Ed Blount, MD
Erik Valera
Judith Montenegro
Rebecca reyes
Unidos por El Centro
Winkie LaForce
City of Durham - Neighborhood Improvement Services 
Sponsorship opportunities still available
For further information about our sponsorship opportunities, please contact:
Francisco J. Duque - Development & HR Director
 919-687-4635 ext.34.  fduque@elcentronc.org
When & Where

Durham Convention Center
301 West Morgan Street
Durham, NC 27701


Saturday, June 10, 2017 from 6:00 PM to 11:59 PM (EDT)
Add to my calendar
Organizer
El Centro Hispano, Inc
El Centro Hispano, Inc (ECH) is the largest 501 (c) (3) Latino-led/Latino-serving organization in the State and has been working with and on behalf of the Latino community in Durham, Orange, and neighboring counties since 1992. ECH has two locations, one in the City of Durham and the other in the Town of Carrboro-Chapel Hill. We also have a satellite post at the Mexican Consulate in Raleigh.
Our vision is the Hispanic/Latino community strengthening North Carolina.
Mission and Purpose: The organization works to strengthen the community, build bridges, and serve as advocates for equity and inclusion of Hispanics /Latinos in the Triangle area of North Carolina. We achieve these purposes by making advancements in Education, Economic Development, and Health & Well-being. 
Our core Initiatives:
1) Education Program focus on increasing school readiness, academic achievement, and college access; enhancing parent involvement; expanding adult literacy, English proficiency, and elementary; and building employability skills. Programs include Pre-K Enrichment classroom, K-12 tutoring, college preparation program, Mothered, Circle of Parents, English as Second Language classes, Spanish classes, Plaza Comunitaria (a collaboration with the Mexican National Institute of Adult Education), computer classes, and citizenship classes.
2) Economic Development Program focus on expanding economic opportunities and financial capabilities of Latinos through work creation, workforce training, and financial counseling. In April 2015, the Center for Employment and Leadership (CEL), also known as the Worker's Center, opened its doors in Carrboro to connect job seekers with employment and job skills training. CEL primarily serves day laborers, domestic workers, and area employers Staff also conduct outreach, community education, and advocacy for worker protection, workplace safety, income/job security, and fair wages.
3) Health and Well-being Programs embrace a holistic approach to building health and healthy communities for Latinos by addressing the social determinants of health and eliminating disparities and gaps in service delivery. Interventions focus on Health Promotion and Disease Prevention, Access to Healthcare, and Community (Direct) Support Services. Community Support Services seek to increase access to information, tools, and resources needed by community members to address their needs and/or achieve their goals. Services include information and referral, case management, linkage to area resources, interpretation/translation, legal clinics, immigrant assistance, community forums, and other enabling support or consultation needed. By providing these services, the staff gather data, identify concerns, and track service barriers to later work with service providers on making improvements
4) Community Engagement and Advocacy Program is a recently modified initiative within the organization that seeks to increase the capacity of community members to respond to, advocate for, and address issues affecting the lives of Latinos in the Triangle area; assuring representation and inclusion of Latinos and their concerns in planning and decision-making. Efforts seek to gather and provide accurate information about the Latino community, assist with community assessments, build awareness of issues affecting Latinos, inform policy, develop leadership within the community, conduct grassroots outreach, facilitate community mobilization and action, foster and support collaborative action and inspire cross-cultural appreciation. Programs include Youth Leaders in Action (YLA)/Jovenes Lideres en Accion (JLA), LGBT Leadership & Support Groups (EntreAmigos, EntreNosotras, Mujeres en Accion, and Hola Latino), Voter Registration Drives, and community forums. As an affiliate of UnidosUs (fomerly National Council of La Raza), ECH is well positioned to address issues, changing policies, and connect local initiatives to a network of advocates and allies across the nation.
El Centro Hispano 25th Anniversary Gala