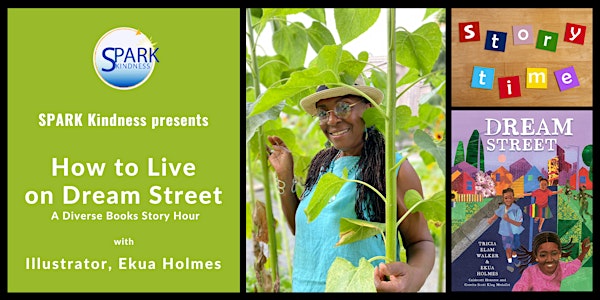 Ekua Holmes Presents How to Live on Dream Street:A Diverse Books Story Hour
SPARK Kindness presents How to Live on Dream Street: A Diverse Books Story Hour with Illustrator Ekua Holmes (a FREE in person event)
Date and time
Saturday, June 3 · 2 - 3pm EDT
Location
Natick High School 15 West St Natick, MA 01760
About this event
Join us as award winning illustrator and artist Ekua Holmes reads "Dream Street" about a special street bursting with joy, hope, and dreams and shares about the creative process of illustrating the book. The story encourages all readers to get to know the characters in their neighborhoods, to lift up the dreams of others in their families and communities and to believe in the future. Dream Street speaks to the importance of community and how each person has unique qualities to share. Families will also be able to participate in hands-on activities connected to the book.
This special story hour will take place at the Natick High School Library.
For the whole community (book is geared for children ages 4-8)
SPARK Kindness is an Autism Welcoming Organization
We strive to host inclusive, accessible events that support all attendees. We can provide early arrival options and/or reserved seating for you and your group. We can also provide a sensitivity responsive event toolkit (with a copy of the book, noise cancelling headphones, and fidget toys) upon request. To request this or another accommodation or access inquiry, please contact Leah at lparkermoldover@sparkkindness.org.
At this time, we have been unable to schedule ASL interpreters for this event. Please email Leah (lparkermoldover@sparkkindness.org) as soon as possible if you need ASL interpretation to access this program.
About Ekua Holmes
Ekua Holmes' work is collage based and her subjects, made from cut and torn papers, investigate family histories, relationship dynamics, childhood impressions, the power of hope, faith and self-determination.
Remembering a Roxbury childhood of wonder and delight she considers herself a part of a long line of Roxbury imagemakers. In this spirit, she supports those who have a calling in the arts as well as keeping her own studio practice ignited. She has created and led workshops, been a visiting artist and lecturer, and held artist residencies in public and private institutions throughout New England. In her first public art initiative, she received a Now + There Public Art Accelerator Fellowship and launched The Roxbury Sunflower Project (#RoxburySunflowerProject), now in its sixth year, in which she facilitates the planting of 10,000 sunflower seeds in her native Roxbury, MA.
Well known for her work in illustrating children's literature, Holmes is the recipient of a Caldecott Honor, Coretta Scott King's John Steptoe New Talent Illustrator award, Robert Siebert and Horn Book awards for her illustrations in "Voice of Freedom: Fannie Lou Hamer, Spirit of the Civil Rights Movement, written by Carole Boston Weatherford, her first illustration project. In 2018, she won the coveted Coretta Scott King Award for Illustration for the book, Out of Wonder: Poems Celebrating Poets; and in 2019 she won the 2019 Coretta Scott King Award again for her illustrations for "Stuff of Stars," written by Marion Dane Bauer.
Holmes is a recent recipient of the 2021 Newell Flather Award for Leadership in Public Art. Founded in 2020, the Newell Flather Award for Leadership in Public Art annually honors two Massachusetts artists/curators/arts administrators in public art who have demonstrated leadership in contributing to the evolving field of public art and inspiring more just, vibrant, and welcoming public spaces and public life.
Ms. Holmes currently serves as Commissioner and Vice Chair of the Boston Art Commission, which oversees the placement and maintenance of public works of art on and in city of Boston properties. She is also currently Associate Director at the Center for Art and Community Partnerships at MassArt where she manages and coordinates sparc! the ArtMobile, an art-inspiring, art-transforming vehicle retrofitted to contribute to community based, multidisciplinary arts programming currently focused in Mission Hill, Roxbury and Dorchester, MA. She received her BFA in Photography from MassArt.
Learn more at www.ekuaholmes.com
About the organizer
Every time we do something that helps a community grow more kind, resilient and welcoming, we SPARK Kindness. Together we can make sure no one feels alone, bullied, unsupported, or unconnected—every day and especially in the most challenging times.
Join us for proactive, strengths-based, community-based Ÿprograms that give you resources and tools to increase connection, resilience, and inclusion for yourself and others.