Description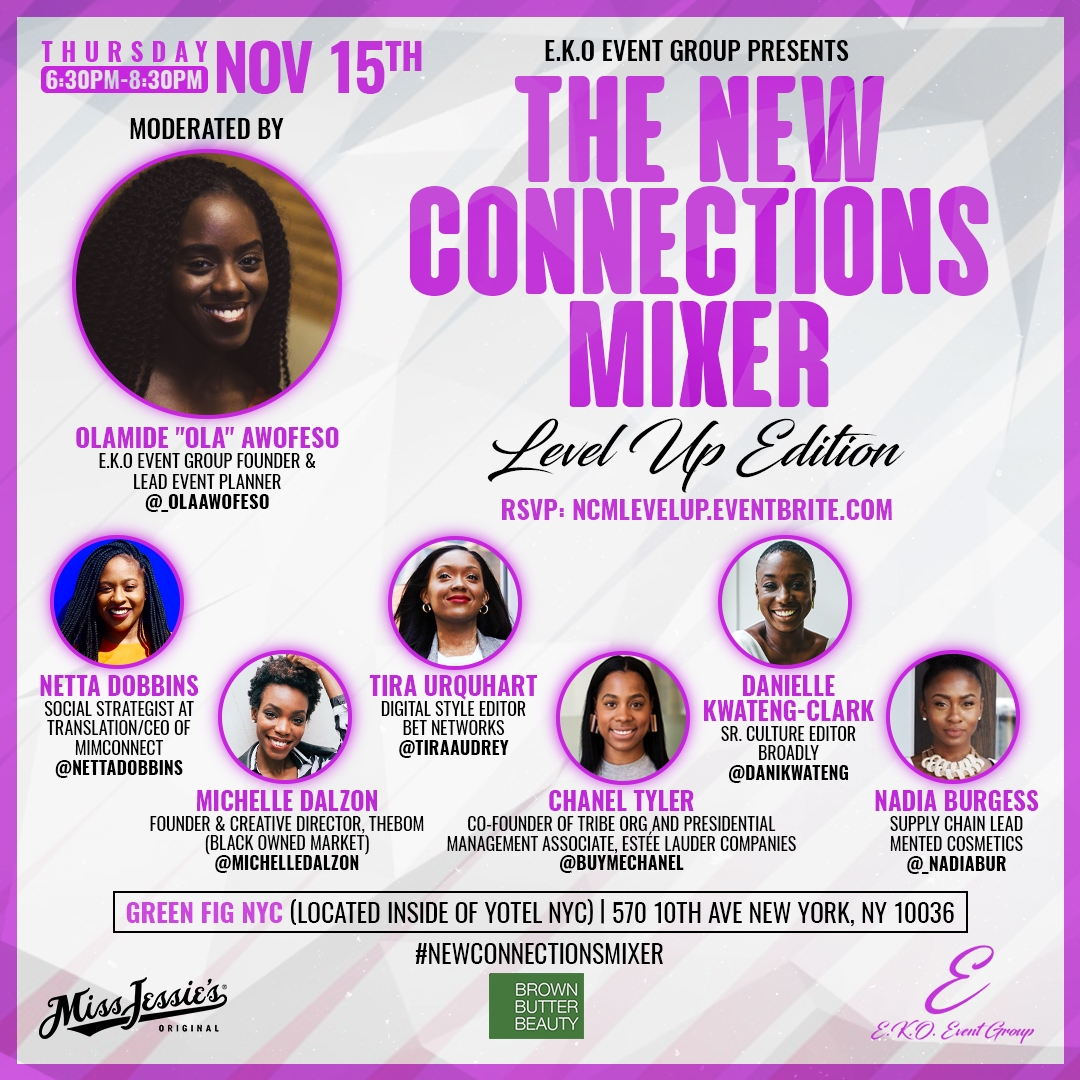 Ever wondered how to take your career or business to the the next level?
Join us for an evening featuring women who have catapulted their career to working for top companies in media, music, fashion and some while even managing their own companies. Our panelists will share their experiences as they balance their 9-5 and other hustles, how they're using their roles as a positive influence to impact society, leveling up in 2019 plus more.
Moderator: Olamide " Ola" Awofeso- Founder of E.K.O Event Group & Lead Event Planner
Panelists Include:
Chanel Tyler- Cofounder of TRIBE Org & Presidential Management Associate, Estée Lauder Companies
Tira Audrey- Digital Style Editor, BET/Viacom Networks
Nadia Burgess- Supply Chain Lead, Mented Cosmetics
Netta Dobbins- Social Strategist Translation/CEO of MiM Connect
Michelle Dalzon- Founder & Creative Director, theBOM ( Black Owned Market)
Danielle Kwateng Clark- Senior Culture Editor, Broadly ( VICE's women's news vertical)
Thank you to our event sponsor: Miss Jessie's & Brown Butter Beauty
About our panelists
Tira Audrey- Tira has worked in the fashion industry for 8 years. After college, she started her career in Product Development and Merchandising and realized that she didn't want to continue on this path. She quit her job went back to school for styling and became a 26-year-old intern. I interned and freelanced for several stylists until landing her dream job at Cosmopolitan magazine. At Cosmo, she was the Closet Assistant and worked her way from the ground up to Associate Fashion Editor. With the print magazine industry on the decline, Tira knew she needed to transition into digital for longevity in her career. Soon after, she started contributing to Cosmopolitan.com and then landed her role as Digital Style Editor at BET Networks.
Netta Dobins- Netta is a marketer, publicist and social media expert from Nashville who currently resides in Brooklyn, NY. With over 5+ years experience in the media industry, Netta has had the opportunity to work with multi-million dollar clients like Clive Davis, NBA, Nike, State Farm, Google and more. Netta is the co-founder of Minorities in Media Connect (Mimconnect). Mimconnect is a career resource and networking platform designed to connect professionals of color to job opportunities and a peer-to-peer network.Outside of work, you can find Netta chilling outdoors, finding new artists on Spotify (all genres!) or drinking margaritas at a local mexican restaurant.
Danielle Kwateng- Clark- Danielle is the senior culture editor at Broadly, VICE's women's news vertical. There, she heads all entertainment content including television, film, and music coverage. Previously, she worked at ESSENCE as the entertainment editor for their website and has also written for Teen Vogue, Racked, Glamour, and Mic. In 2016 she created The Volta, an e-commerce site that sells goods from women of the African diaspora and host events. Her passion is and has always been, to highlight the stories of Black women that intersect with art, fashion, and pop culture.
Michelle Dalzon- Michelle is the Founder & Creative Director of theBOM aka The Black-Owned Market, a shopping experience that connects Black-Owned brands to conscious consumers. Michelle's appreciation and support of Black-Owned businesses stems from watching her parents who for the past 30 years have run a thriving beauty supply store in Somerville, MA. As a descendant of Black business owners, Michelle knows first-hand how the Black community benefits from patronizing Black businesses. Through theBOM, Michelle aims to increase Black dollar circulation, generate capital for Black-Owned businesses, and provide the support that is needed for Black businesses to succeed.
Chanel Tyler- Chanel is a Chicago native, who has spent the past eight years in New York City carving out a unique and meaningful place for herself within the luxury and beauty spaces. As a Marketing Strategist for Estée Lauder Companies (ELC) and the Co-Founder of TRIBE Org, a supportive space and professional collective that celebrates black women working in Beauty, Fashion and Consumer Packaged Goods, Chanel's unstoppable drive is fueled by her passion to not only point out challenges around diversity, inclusivity, representation and leadership within these spaces, but to also create solutions that directly effect change.
Chanel joined ELC as a part of their fast tracked executive management program, the Presidential Management Associate (PMA) program, in the fall of 2017. She currently focuses on global product marketing, multi-ethnic strategy and consumer engagement for prestige beauty brands. In the spring of 2017 Chanel earned a Master of Business Administration (MBA) with a specialization in Luxury Marketing and Real Estate from Columbia Business School. In addition to her MBA, Chanel also holds a Bachelors of Arts in Economics from Spelman College.Chanel founded TRIBE Org (@tribe_org) with Alexis Avent and Crystal Sai in March 2018 to incite critical conversation around black women and representation in advertising and marketing, as well as call attention to the spending power and cultural authority of the black consumer. TRIBE has since grown from a passion project to a full on movement, with over 400 community members and 22 executive board members.
#newconnectionsmixer
**All food will be distributed on a first come first served basis*