Event Information
Location
Long Center for the Performing Arts
701 West Riverside Dr.
Austin, TX 78704
Description
*Please Note: Seating will be first-come, first-serve. Box office and venue lobby open at 12:30pm and performance hall doors open at 1pm. No one will be turned away due to lack of funds. The maximum # of tickets reservable via this site is twelve (12), if you would like to reserve tickets for a larger group please email David Lobel at dslobel@diasporamusicgroup.com

We are delighted and honored to invite you to the powerful and inspiring EKATVA show here in Austin, TX. As a gift to the greater central Texas community, tickets for the show are free and the performance is suitable for those young and old - bring the entire family!
Donations are gladly accepted and will go towards local venue costs (rental, staffing, technical, etc), travel and logistics, meals for the cast and crew and much more.

"Ekatva" is a Sanskrit word for "oneness" or "unity." In partnership with leading Indian performing arts school Darpana Dance Academy, EKATVA has been an inspiring journey of 16 children from the slums who present a 90-minute dance drama about Mahatma Gandhi's ideals of strength, peace and of course, oneness.
EKATVA is an energizing humanitarian performance by an inspiring Indian NGO called Manav Sadhna, a partner organization of the Gandhi Ashram in Ahmedabad, India, which serves thousands of families in Ahmedabad's slums.
Having performed more than a dozen shows throughout India to over-capacity audiences, EKATVA is now embarking on an exciting tour through the US.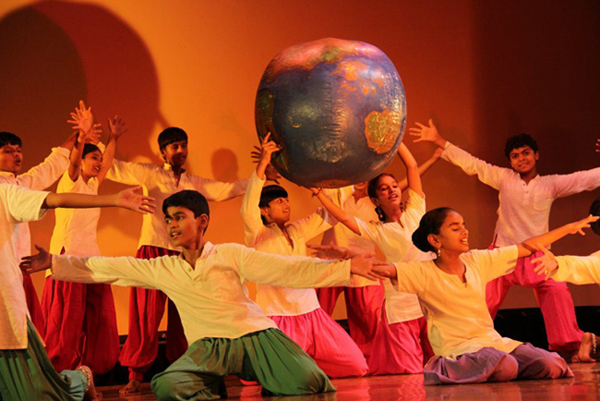 The concept and choreography of EKAVTA is based on a similar tour conducted over 10 years ago, called EKTA (Sanskrit for "Unity"). In 2000, Manav Sadhna trained 14 slum children in partnership with Darpana Academy, to develop a theatrical/dance drama show that toured across the USA. Half of those children are now teachers at Manav Sadhna. Ten years later, over 250 children were auditioned at Manav Sadhna: 8 boys and 8 girls were finally selected to form EKATVA.
"EKATVA represents the power of art and music to transform the lives of children everywhere. For each of the children involved with EKATVA, art and music have provided a means and a path to build self-confidence, self-reliance, and compassion…all central to the spirit and message of Mahatma Gandhi," says Robin Sukhadia, Project Ahimsa International Grants Program Director.
As with any tour, there are many costs that go into the creation and execution of the 2012 Oneness Tour. Beyond covering the costs of our local show, any proceeds from our tickets will serve as a valuable donation towards the following expenses:
Child Development

: health, nutrition, local daily transportation, activities, materials

Creative Production Development

: direction, choreography, music, costumes, props

Administrative

: passports, visas, legal, insurance, etc.

Logistics

: flights, domestic transportation, food, venues, marketing
The entire EKATVA and Manav Sadhna family looks forward to warmly welcoming you to our upcoming Austin show. We appreciate your heartfelt support of this endeavor in the spirit of Oneness.
Date and time
Location
Long Center for the Performing Arts
701 West Riverside Dr.
Austin, TX 78704