Description
Please join us for a screening of the East German film Ete und Ali followed by a Q & A with Director Peter Kahane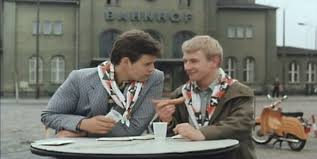 Ete und Ali
East Germany (DEFA) | 1985 | 89 min | In German; English Subtitles| Directed by Peter Kahane
Set in provincial East Germany in the early 1980s, Ete and Ali, an incongruous and inseparable pair, are fresh out of the army. Presented with a seemingly wide-open future, the two decide to travel—but need to retrieve their passports first. Ete hesitates to go home and confront his estranged young wife—but Ali encourages him to win her back.
Peter Kahane's feature film debut—a coming-of-age story with a melancholic twist—captures the drama and humor of male friendship and rivalry. It is a masterpiece of keen observations of young adults in the GDR.
1986-Interfilm Award, Max Ophüls Film Festival 1986-Best Young Male Actor (Jörg Schüttauf) at the 4th National GDR Film Festival Karl-Marx-Stadt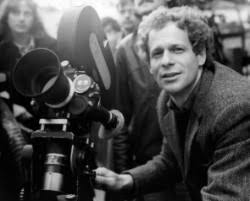 Peter Kahane was born on May 30, 1949 in Prague. His father worked as a journalist and a foreign correspondent and his mother was an artist. He first studied at the Humboldt University in Berlin, where, in 1971, he attained certification to teach both French and Russian.
After completing a year of service in the National People's Army from 1974 to 1975, Kahane began studying at the Academy for Film and Television in Potsdam-Babelsberg. After graduating in 1979, Kahane worked as an assistant to directors such as Heiner Carow and Egon Schlegel.
Kahanes debut film Weiberwirtschaft appeared in 1984. The ensuing years were some of the most productive and critically successful in Kahane's career, marked by one of his best known films, Ete und Ali. Kahane's subsequent film, Vorspiel, was similar in its focus on daily life and was equally well received. Both were honored with prizes at the Max Ophüls Film Festival.
Die Architekten, Kahane's most critical and politically engaged film, was begun in 1989 – the year the Berlin Wall fell – and released the following year. It was awarded the Special Prize at the National Feature Film Festival of the GDR, as well as the Prize of the Catholic Film Commission.
After the fall of the Berlin Wall and German unification, Kahane took a short break to assess the film scene, before releasing Cosimas Lexikon in 1992, and then waited seven more years to make his next feature Bis zum Horizont und weiter in 1999, which was received with enthusiasm. Since the mid-1990s, Kahane has also been directing and writing screen plays for TV movies.
This screening is supported by the DEFA-Stiftung, DEFA Film Library at UMass Amherst, Frederick A. DeLuca Foundation, International Association of New Haven.