Description
THE FINE PRINT
- Regularly priced $20 at the door, just $5 via eventbrite
- There is a TWO drink minimum per guest. Running early, enjoy a drink in the lobby bar, but be warned, this will not be included as one of your two drinks required to purchase in the showrooms. There is also a menu of pizza, sandwiches and other snacks to nibble on.
- There are no refunds. No exceptions. If there is an emergency of any kind, email info@fpny.org to get reservations to another show.
- Discount tickets sponsored by http://www.nycomedytickets.com/ and http://www.corporate-comedy.us/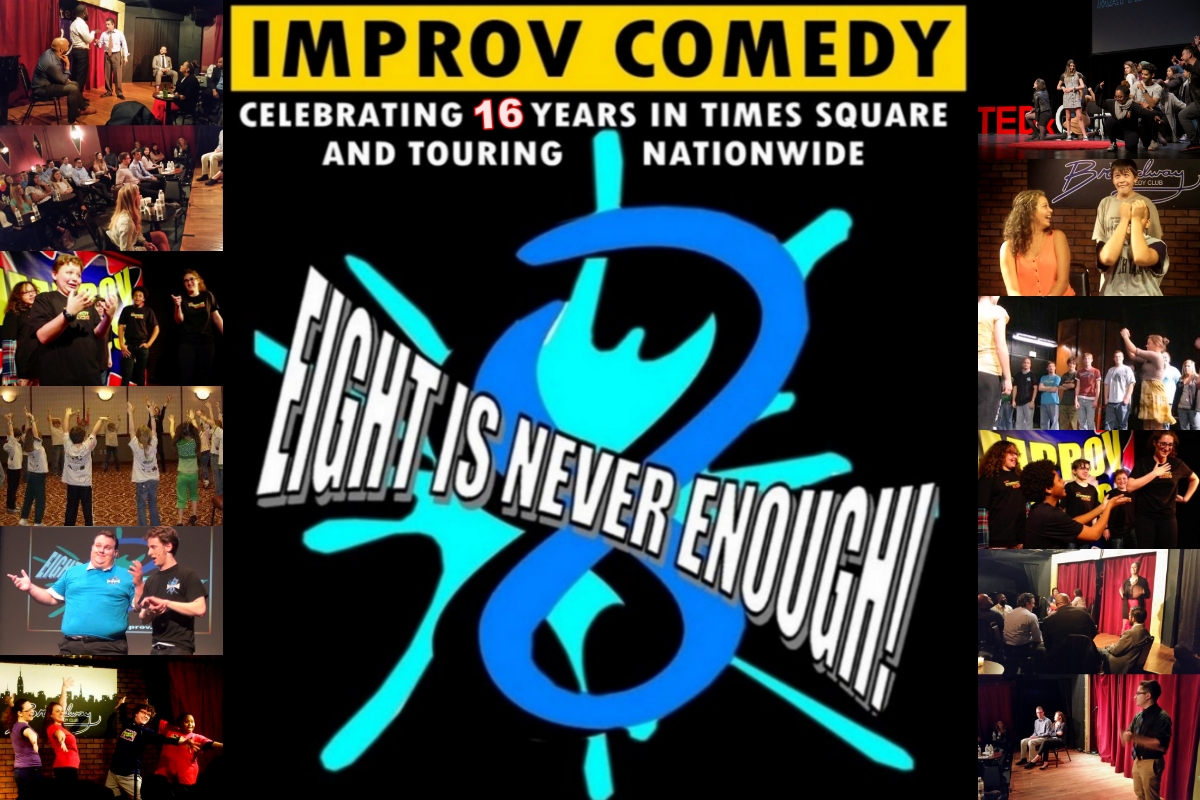 Come be a part of the show!!!
The cast of EIGHT IS NEVER ENOUGH delivers high energy fast paced interactive comedy improvised on the spot based on audience suggestions. Every 5 minutes the MC interacts directly with the crowd and you decide what the next scene or song is about. Politics, Sports, your favorite TV shows and films and New York City itself all serve as topical subjects. Many games require the help of audience volunteers on stage to more directly steer the comedy pros. NO TWO SHOWS ARE EVER THE SAME!
All professional comedy cast includes international talent from STAGE, TV and FILM including WALT FRASIER (Billions, Friends of the People, Royal Pains, Blue Bloods, Letterman, MTV), AMELIA FOWLER (Top Five w/ Chris Rock, Power, Bull, Mysteries of Laura, Orange is the New Black, Blue Bloods), THOMAS BURNS SCULLY (Comedy Central's Broad City, HBO's The Rock n' Roll Project, and IVANA MENDEZ (StartUp on SONY Crackle, Wrecked on TBS).
Tickets at the door $20 There is a two drink minimum per guest Doors open 30-minutes before show time
For the most up to date schedules on shows and classes go to
This site offers better than the typical group rates. So if you are just looking for a small group to attend a public show, simply purchase tickets here.
Are you looking for a holiday party, corporate team building etc?
Email eightimprov@gmail.com
Walt Frasier, the artistic director of EIGHT IS NEVER ENOUGH IMPROV, has an extensive client list, using Improv comedy to teach team, leadership, sales and service to HSBC, Macy's, 360i, JP Morgan Chase, IBM, Morgan Stanley, Master Card, American Express, NYC Schools (DOE VENDOR), Microsoft/BING, Twitter, Louis Vuitton, Coach, Home Depot, Enrst & Young, GM, KRAFT, UBS, UNILEAVER, HBO, and 100s more
Learn more about how Improv comedy teaches PSYCHOLOGICAL SAFETY
WANT TO PERFORM? Why not take a class in comedy. These classes start all with Improvisation to help find your comedy voice. You can drop in a class almost any weekend. Every one signed up for full sessions will get to perform on a showcase. Starting this fall we have monthly showcases for both kids & adults!