Description
LIVE FROM

TIMES SQUARE




Interactive Musical Comedy Improvised Off Broadway NYC
The cast of EIGHT IS NEVER ENOUGH delivers high energy fast paced interactive comedy improvised on the spot based on audience suggestions. Every 5 minutes the MC interacts directly with the crowd and you decide what the next scene or song is about. Politics, Sports, your favorite TV shows and films and New York City itself all serve as topical subjects. Many games require the help of audience volunteers on stage to more directly steer the comedy pros. NO TWO SHOWS ARE EVER THE SAME!
All professional comedy cast includes international talent from STAGE, TV and FILM including WALT FRASIER (Billions, Friends of the People, Royal Pains, Blue Bloods, Letterman, MTV), AMELIA FOWLER (Top Five w/ Chris Rock, Power, Bull, Mysteries of Laura, Orange is the New Black, Blue Bloods), THOMAS BURNS SCULLY (Comedy Central's Broad City, HBO's The Rock n' Roll Project, and IVANA MENDEZ (StartUp on SONY Crackle, Wrecked on TBS).
COME BE A PART OF THE SHOW!
Saturdays/Sundays 3pm $25 plus 1 drink minimum
Evening Shows $25 plus 2 drink minimum
GO VIP - $35 tickets includes a drink NO ADDITIONAL PURCHASE REQUIRED!!!!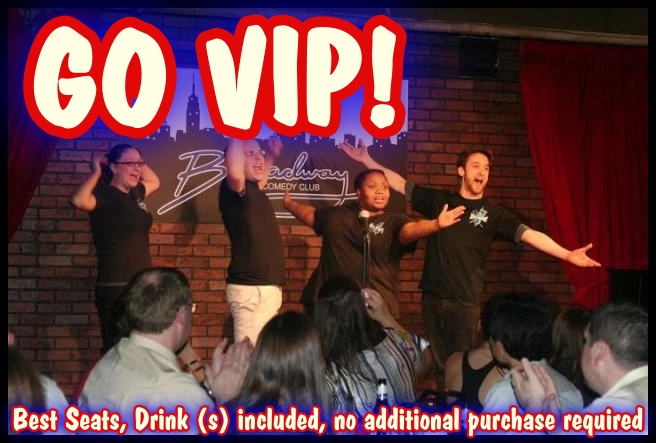 SUMMER 2019 - Added shows for Family Staycations!!!!
Wednesdays 3pm $25 - NO additional purchase required
Additional shows added as per group needs


GROUP SALES 10 or more
For private events, group sales and more information about shows classes contact
IMPROV THEATER LLC
212-568-6560
eightimprov@gmail.com
$15pp SHOW ONLY
$25pp Show, Pizza/Beverage (plus a free workshop for non profit groups)

Before 5pm MOnday-Friday
$600 up to 50ppl
$1200 up to 140ppl
$1500 up to 150ppl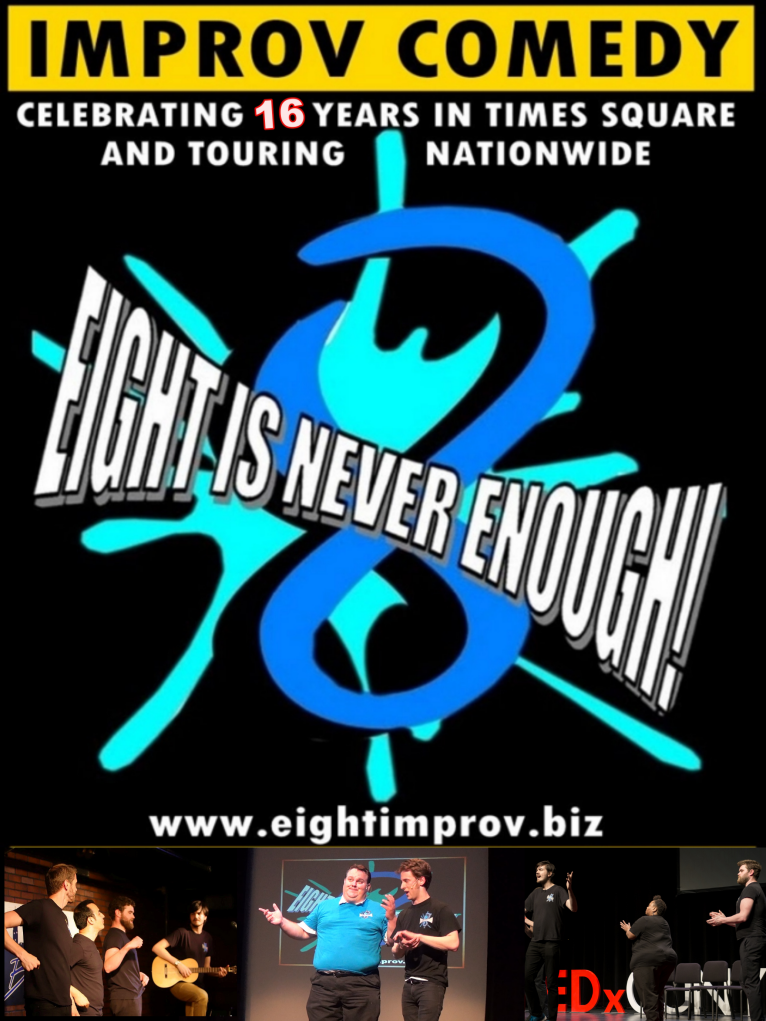 ADULT COMEDY CLASSES
Saturdays 10am Morning Jam
$40 to drop in
Come play with us at this class/jam session
designed for talent of all levels to discover them
selves and network with other NYC professionals
from all lines of work. This is a public version of our
corporate workshop used to teach team,
leadership, sales and service. Overcome self
confidence issues - especially regarding to public
speaking/social anxiety - by playing games in a
safe space. Our goal is psychological safety - the
#1 factor determining team success!

CLASSES for KIDS & TEENS
10am Saturdays Comedy 4 Teens (13-17)
12pm Saturdays Comedy 4 Kids (8-12)
Broadway Comedy Club
318 West 53rd Street
$40 to drop in
$250 for 8-week sessions (offered winter, spring
and fall) includes performance showcase, bonus
classes and free admission to public shows
Our classes for kids & teens combine Improv and
Stand-Up Comedy. The focus for most weeks is
Improv comedy, with 75 minutes of playing
warm-up, technique building and performance
games. The next 30-45 minutes is run like a real
stand-up comedy open mic. Students craft stories
of observation and experience into hilarious
original comedy routines.