Description
Join us for our 2nd Annual Eid ul-Adha Prayer and Celebration at the Orange County Convention Center with Guest Khateeb Imam Zaid Shakir! Prayer will be held in the WEST CONCOURSE, HALL F (WF). Refer to map below for drop-off and parking details. Doors open at 8:00 AM, Takbirat begin at 9:00 AM, and prayer will start promptly at 9:30 AM insha'Allah! Kids activity and Bazaar begin immediately following prayer. DON'T FORGET TO PRINT YOUR TICKET AND BRING IT WITH YOU TO SAVE TIME AT CHEK-IN! There will be a mandatory $5/person registration fee AFTER 11:59 PM on Wednesday, August 30th and on-site.
The event includes:
Eid Prayer

Activities for the Kids

Shopping Bazaar

Halal Food Vendors
Eid Orlando is dedicated to uniting the Central Florida Muslim community for a festive, family-friendly Eid prayer and celebration. Eid Orlando is organized by local volunteers, through the generosity of business and individual sponsors.
Important Drop Off and Parking Details:
Eid ul-Adha Prayer will be held on the OPPOSITE END OF THE WEST CONCOURSE as Eid ul-Fitr. The walk from the parking lot is long, so we encourage you to give yourself ample time before Salat and DROP OFF YOUR FAMILY BEFORE PARKING! There is construction in the middle of the West Councourse drop-off loop, so MAKE SURE YOU ENTER VIA EXHIBIT DRIVE, as Hall WF is the first hall from that side.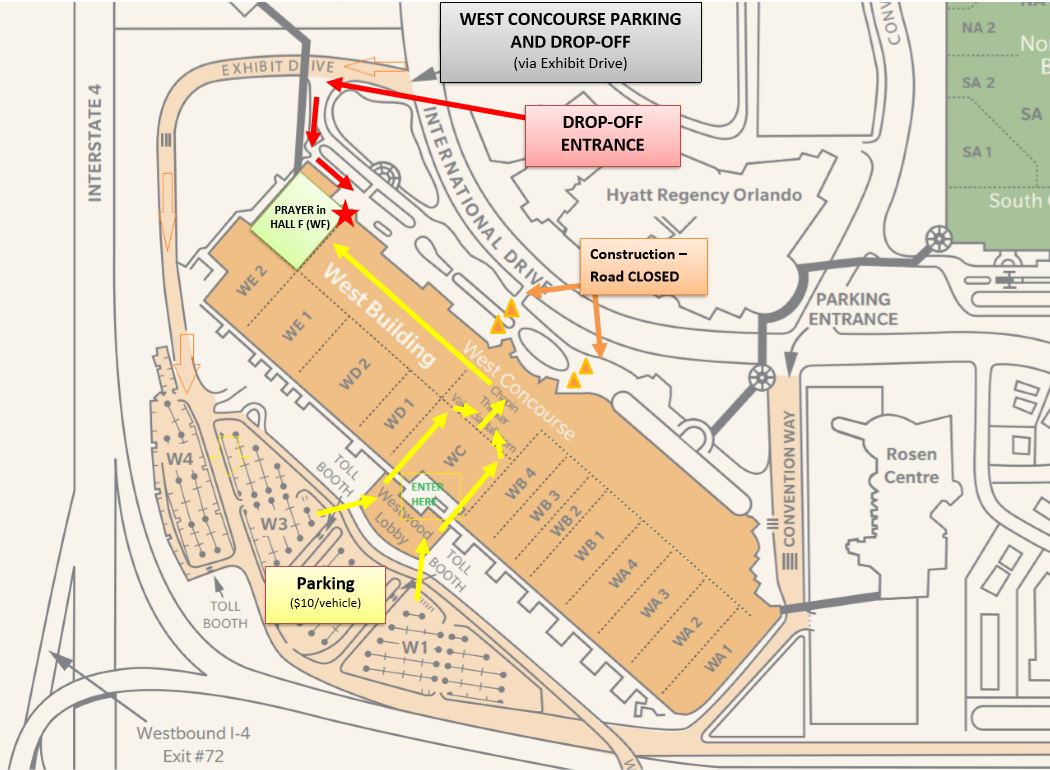 ---
FAQs
---
Is there a fee for the ticket?
There is no fee for those who register in advance. There is a suggested donation of $5/person to help offset the expenses. Free advanced registration end on Wednesday, 8/30, at 11:59PM. After that, late and on-site registration is $5/person.
TO AVOID PROCESSING FEES, YOU CAN REGISTER FOR FREE AND MAIL YOUR FAMILY'S DONATIONS. Mail checks, payable to Eid Orlando, to: Eid Orlando, P.O. Box 690982, Orlando, FL 32869.
---
Do I have to bring my printed ticket to the event?
Yes. Your ticket will be checked upon entry of the event. Because we are expecting 4000+ people, the only way Eid Orlando can ensure everyone has adequate space is to make registration MANDATORY. Again, this is so we can make sure there is a spot for YOU! :) Please register online and bring your ticket to avoid delays.
---
What are my transportation/parking options for getting to and from the event?
The West Concourse parking lot will be available for parking at a reduced fee of $10. We HIGHLY RECOMMEND all drivers to drop off family members, especially elderly and those who require assistance, at the designated "Drop-off Zone" at the front entrance prior to parking. THIS EID THE DROP OFF ZONE MUST BE ACCESSED THROUGH THE EXHIBIT DRIVE ENTRANCE (see map above). Additional parking is available at the Rosen Centre Hotel. Carpooling is highly encouraged as parking may become limited.
---
What time will Eid Salaat begin?
Takbirat will begin at 9:00am and Eid Salaat will begin Insha'Allah at 9:30am sharp. We anticipate long lines and traffic to the convention center, so we highly recommend that you plan to arrive 45 - 60 minutes prior to the the start of prayer so you have ample time to park, walk over, and ensure your spot in the main hall. Doors open at 8:00am.
---
Should I bring my own prayer rug?
The prayer hall will be CARPETED and chairs available for those who require them. We still encourage you to bring prayer rugs, if so desired.
---
What time will the kids activities begin as well as food for purchase?
Insha'Allah the activities/food vendors will open right after prayer is finished.
---
What types of activites will be available for kids?
Insha'Allah arrangements have been made for all ages to enjoy, including teenagers!
---
Will there be HALAL food available?
Yes. Insha'Allah multiple vendors will be present to serve our many guests. Eid Orlando has made arrangements with the Orange County Convention Center for HALAL food to be available for purchase. Cash and credit cards will be accepted.
---
How can I contact the organizer with any questions?
Please contact us at eidorlando@gmail.com for any futher questions.