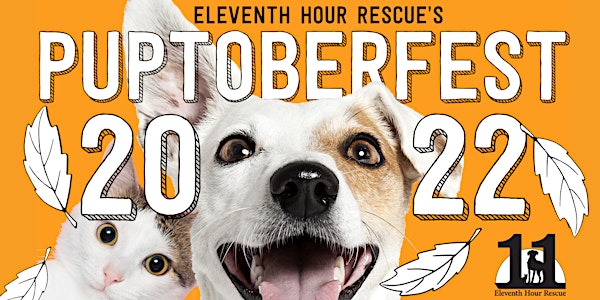 EHR's Puptoberfest 2022 Event Tickets Pre-Sale
Family & dog friendly event to raise money for a great cause, featuring vendors, food trucks, adoptable animals, kids activities, and more!
When and where
Location
Horseshoe Lake 72 Eyland Ave Roxbury Township, NJ 07876
About this event
We have SPONSORSHIP opportunities that include booth space and advertising! Check out our information packet for a breakdown on the options.
----------------------------------------
On Saturday, October 1, we will be celebrating our 18th Annual Puptoberfest at Horseshoe Lake in Succasunna, NJ from 11am - 4:30pm. This is an outdoor, rain or shine event. This is an event which raises money to support the continuing efforts of Eleventh Hour Rescue with locations in Flanders, Kearny, Rockaway Mall, and Roxbury Mall. It is a day-long outing for families and their dogs featuring vendors, food trucks, tricky tray, adoptions, activities, and more.
WHEN: Saturday, October 1st from 11a to 4:30p
WHERE: Horseshoe Lake, 72 Eyland Ave, Roxbury Township, NJ
Dogs allowed, but NO RETRACTABLE LEASHES
$10 for adult attendees
$5 for student attendees
Free for kids under 5yro
Puptoberfest is a family and dog friendly, super fun event and EHR's trademarked annual fundraising event. The original purpose remains the same - a reunion for our adopted dogs & volunteers, and over the years it has grown to be that and also a huge community event.
Over 7,000 attendees, adoptable dogs and cats , 50+ vendors, 10 food trucks, live band, kid and dog activities, games, 50/50, Tricky Tray, Terrie Carr and WDHA Radio – all who believe in the no-kill philosophy that no dog or cat deserves to die simply because it does not have a home.
WHAT IS HAPPENING AT PUPTOBERFEST?
Dog & Cat Adoptions (be sure to fill out an application prior so that you are ready to adopt (good for 6 months) - www.EHRdogs.org
Free Rabies Clinic
Terri Carr and WDHA broadcasting
Live Music
Dog Costumes
Memory Lane – displays a picture of every dog/cat adopted through EHR over the years
Tote Bag from Picatinny Credit Union given to the first 1,500 attendees
Kids' area with games & activities, prizes, and inflatable fun
Glitter Tattoos (temporary)
EHR Merchandise for sale as well as info about fostering & volunteering
High Dollar 50/50 raffle tickets for sale. Winner pulled next day, potential $15,000 payout
Tricky Tray with 60+ Baskets
10 Food Trucks
50+ Vendors
---------------------------------------------------------------
WHAT WE DO: Eleventh Hour Rescue is made up of dedicated volunteers who believe that innocent pets deserve love and a place to live where they are honored and cared for. Our focus is on rescuing dogs and cats at their Eleventh Hour-- when they are scheduled to be put to death by shelters that can no longer care for them. We give them all the medical attention they require, a place to live, and through our adoption services, a second chance at a happy and fulfilled life. We get paid in kisses, purrs, and tail wags. We cannot stop. We will not stop, until all the cages are empty.
WHY PARTICIPATE: Every dollar raised helps Eleventh Hour Rescue continue our mission of rescuing dogs and cats on death row, providing much needed medical care and finding them loving homes. Eleventh Hour Rescue is the largest 100% no-kill rescue in New Jersey and in 2021 alone rescued and re-homed 3000+ dogs and cats. We provide a loving environment for all our animals until they are adopted. We never give up hope for each and every one of them.
For more information, please contact puptoberfest@ehrdogs.org