eHealth Innovation Contest Pre-selection & Press Launch
Description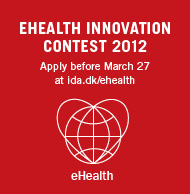 The pre-selection and press launch for the eHealth Innovation Contest will take place on April 17 at The Danish Society of Engineers, IDA, Kalvebod Brygge 31-33, 1780 Copenhagen V.
Prior to the ceremony, behind closed doors, a prominent jury of experts from industry, research and academia will select the eight best ideas to proceed to the finals that are hosted at the Bella Center on May 9 - as part of the official program for the EU conference, eHealth Week 2012.

12:00 Welcome
12:15 Opening remarks by Frida Frost, Chairman of IDA
12:30 The IBM Global Entrepreneurship Program, by Anders Quitzau, Innovation Executive, IBM
13:00 Jury recognition of the 8 finalists and winner of a free exhibition space at eHealth Week
13:25 Pitch by the winner
13:35 Networking reception

Like 'eHealth Innovation contest 2012' on facebook www.facebook.com/ehealthinnovation
For more information on the contest please see www.ida.dk/ehealth

Sign up now!

If you have any questions please contact Maj Højring at:
mbh@ida.dk or (+45) 33 18 47 91.